The Winnipeg Fatboy
This is a guest post written by one of my most dedicated Food Questers, Denton Froese. He recently took a trip to Western Canada and investigated the Winnipeg Fatboy for me. Thanks, Denton!
Corydon Avenue in Winnipeg is marked as "Corso Italia" – it was originally the "Little Italy" district in Winnipeg, but over the years, it's grown to host an international collection of restaurants, with cuisine from Korea, Vietnam, Japan, Greece, and even Georgia sharing real estate with the old Italian groceries. And among these restaurants is Daly Burgers, a diner which has been there for almost 30 years serving burgers which are known as "Fat Boys".
The first thing to know about the Winnipeg Fat Boy, though, is that you don't have to fear it. The name conjures images of heart attacks and eating contests, of "quantity over quality" and of drunken dares at
3:00 AM
. When I placed my order, I loosened my belt to get ready… but surprisingly, it was just a normal-sized burger for a normal price.
That's not to say it's a normal burger, though. The distinguishing feature of a Fat Boy is that the hamburger patty is topped with chili, but other essential components include mustard, mayonnaise, and pickles cut into large spears. The chili itself isn't a mix of beans or four-alarm spices – instead, it's a meat sauce like you'd find in pasta, and it's a chief contributor to the Fat Boy's characteristic messiness. If this sounds familiar to anyone, it's because this is also what goes into a Coney Island Hot Dog.
There are ways to dress up your order, with double patties or extra chili, but I ordered "The Boss" from Daly Burgers. According to the grill cooks, that one is a Fat Boy in the traditional style.
Since it's really just a meat sauce, the chili isn't very spicy – it adds more texture than it does flavour. Instead, the most distinctive taste experience in a Fat Boy is from crunching through the sauce-covered pickle. Large pickle spears are definitely an essential and unmistakable part of the burger. The mustard and mayo also lend a strong flavour, which blends nicely into the chili sauce.
I honestly found Daly Burger's patties to be of middling quality – it was nothing I couldn't find on supermarket shelves. Still, with the bacon and chili in the burger, there's enough in the taste that you won't be dissatisfied. Along with their excellent french fries and a solid milkshake, it's easy to see why this place is a popular destination.
To get a second opinion, I also went to Dairi-Wip, a long-beloved drive-in stand on Marion Street. Service there was quick and efficient – no credit or debit cards are accepted, but the staff is easily able to track the orders shouted back and forth on a busy summer weekend. Seating is limited to the picnic tables in the parking lot, but for a place called Dairi-Wip, that's perfectly appropriate.
Once again, the sauce in the Fat Boy was a collaboration of mustard, mayo, and "meat sauce" chili. The pickles were a bit more mellow, and the patty had a bit more of that grease-and-charcoal flavour that reminds me of summer vacation, so I enjoyed this one a bit better. On the other hand, my cousin preferred Daly Burger's version. The fries at Dairi-Wip are shoestring style, though, which seemed like a poor match for such a messy burger.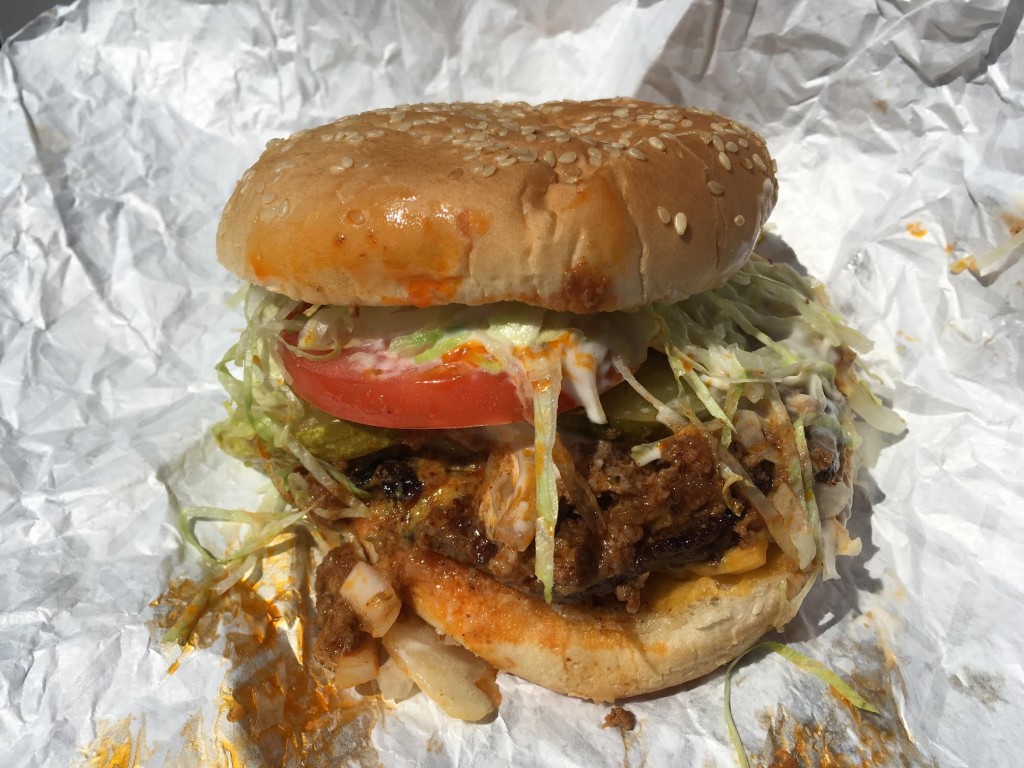 I only had the chance to review these two, but there's no shortage of diners in Winnipeg which boast of a Fat Boy worth trying. Suggested locales on my list for next time include The Red Top, VJ's, George's, Junior's, and Mrs. Mike's — and also Boonburger, which offers a vegetarian version called the "Fit Boy"!
This brings me to the second truth about the Winnipeg Fat Boy: you don't have to search for it, because it will probably find you before you find it. It's true that a certain combination of ingredients are required for a "true" Fat Boy, but almost any burger you order in a Winnipeg diner will be a Fat Boy to some extent. Indeed, for many unassuming burgers, the chili is added to it automatically!
In conclusion, if you want to enjoy a messy burger with creamy chili sauce running down your hands while you crunch into the pickles, you're in for a treat. Don't worry too much about finding the "best" Fat Boy or the most "authentic" one — it's a pretty relaxed burger for a pretty relaxed city.