Iconic Foods of Canada: Alberta
Oh, to be Alberta bound. Some go for the oil jobs, others for the mountains, (myself, for the wondrous foods of Alberta!) but there's something for everyone. There's Star Trek and Dinosaurs! There's salt springs and skiing! There's ranch land and rodeos! Hell, up until last year there was even a gay rodeo.
Alberta is a great road trip province, full of national parks and UNESCO Heritage Sites. It's got Canada's oldest national park, Banff, where elk roam the streets, and also Canada's largest national park, Wood Buffalo. Then there's Jasper, Elk Island, Waterton Lakes, Frank Slide, Head-Smash-In-Buffalo-Jump, Lake Louise, Dinosaur Provincial Park and the list goes on.
Alberta's capital, Edmonton, is "Canada's Festival City" and the West Edmonton Mall is the largest shopping mall in North America, fully equipped with a wave pool, roller coaster, skating rink, casino and shooting range. The Calgary Stampede ("The Greatest Outdoor Show on Earth") is one of the world's most famous rodeos and one of Canada's largest festivals, but don't forget the '88 Olympics! (Calgarians won't let you, anyway). You want to go bobsledding on a real Olympic track? Check out Canada Olympic Park.
Contrary to stereotypes, Alberta is not all cowboys, rig pigs and rough necks. Calgary is one of the most multicultural cities in Canada, with the fourth largest Chinatown. Meanwhile, Edmonton's Heritage Festival (which claims to be the world's largest) features 70 pavilions representing over 90 countries and cultures. But if you really want to don your cowboy hat, nobody will look twice at you. We are in beef country, after all.
Much thanks to Stan Blade for the banner image.
1. Perogies
By: Phil from Baconhound
Phil Wilson is an award-winning blogger, Twitter personality, food writer and influencer. His main focus is on finding the best food in Edmonton, and to highlight the people making it.
Perogy appetizer from Rge Road –
photo by Eat This Town
"Regional foods are a reflection of the people, which, given Central Alberta's high Ukrainian population, makes it easy to see why perogies are an iconic food in this area. No matter how you spell it, and I can think of at least a half dozen variations off the top of my head, once you douse them with butter and sour cream, and maybe some fried onions and bacon for good measure, the ensuing delight is universal.
A perogy is Atkins' worst nightmare; it's basically carbs stuffed into carbs after all, but the good Doctor would be wise not to get between a baba and her tasty dumplings. That wouldn't end well.
Perogies come stuffed with almost anything you can think of, from potato and cheddar, to cottage cheese, saurkraut, or even meats, but what's even more interesting is the variety of places you can find to enjoy them.
To get the full perogy experience, you really need to search out one of the many community dinners happening monthly in a place you might not expect: church.
Most Ukrainian Churches in Central Alberta fill their huge banquet halls many times per year with hungry diners anxious to get a taste of some authentic perogies with Ukrainian sausage and all the fixings. Here you'll find many members of the congregation hand making perogies from scratch, and same goes for many community halls in rural Alberta.
Rural towns in Alberta are also keen to celebrate this doughy delight, with evidence of the Ukrainian influence best seen in towns East of Edmonton such as Vegreville, home to the worlds largest Pysanka (Ukrainian Easter Egg), Mundare, which is home to the worlds largest ring of sausage (12.8 meters), and of course the Perogy capital, Glendon, boasting the worlds largest Perogy at a whopping 25 ft. tall.
Restaurants occasionally get in on the fun too, and Edmonton's celebrated restaurant, Rge Rd, makes one of the most elevated versions around. Their perogies are stuffed with potato and local Sylvan Star Gouda, and served on a bed of braised onion cream, and are perhaps the restaurant's signature dish."
2. Bison
After closing her bakery in the 90's, Julie Van Rosendaal published her first cookbook: One Smart Cookie: All Your Favourite Cookies, Squares, Brownies And Biscotti… With Less Fat. Since then she has written several best selling cookbooks and has been a CBC Radio food columnist for 10 plus years. Julie is a food writer and editor for nationwide publications, but most enjoys hanging out in her own Calgary kitchen.
"At one time, an estimated 30 million plains and woods bison roamed the Canadian prairies. After nearing extinction by the early 1900s, conservation efforts are bringing bison back to the high plains. It's getting easier to find at butcher shops around Alberta; if you have never cooked with it, it's worth a try — bison is lean, and high in iron. But people tend to treat it like beef and overcook it, making it dry. Cooking with bison is similar to cooking with beef in terms of what it might replace in a recipe, but it may take awhile to break an ingrained beef habit; a good rule of thumb is to cook bison for about a third less time, or about half the time you'd normally take grilling burgers.
On the other hand, low and slow is the way to go when cooking any sort of stewing meat, so bison is ideal in stews and braises. Steaks and roasts are best rare to medium, and need not go further than about 155°F – a meat thermometer makes it easy. If the whole idea makes you nervous, start with ground bison, which is simple to use in place of beef in chili, pasta sauces, meatballs and meatloaf, on its own or cut with beef."
See Julie's recipe for Braised Bison Short Ribs.
3. Bloody Caesar
By: Carmen Cheng from Food Karma Blog
Carmen is a Vancouver transplant to Alberta and an expert on Calgary's culinary scene. Check out her Twitter and Instagram where she shares her food and adventures because "Sharing food is sharing life".


"Invented in Calgary, there is much debate about the specific origins of the Bloody Caesar. One legend claims that Caesars were invented at the aptly named Caesar's Steak House. However, most researchers agree that this drink was invented in 1969 by bar manager Walter Chell at the Calgary Inn (where the Westin Calgary is now located). Walter was inspired by the flavours in Spaghetti Vongole (spaghetti with clam sauce), when he created this signature drink for the inn's Italian restaurant. The inclusion of clam juice adds depth and umami to this hearty cocktail.
Caesars have seen resurgence in popularity in the past few years. Modern twists on this cocktail may include flavoured vodka, or Tabasco substitutes such as kimchi and horseradish. Hungry diners can often find Caesars loaded with a variety of toppings ranging from the traditional celery sticks to more epic toppings such as bacon, grilled cheese sandwiches, fried chicken, and even burgers!
Ask any Canadian and most will tell you that the Bloody Caesar, more commonly known as "Caesar", is superior over the American Bloody Mary!"
Did You Know? In addition to chuckwagons and public drunkenness the Calgary Stampede is known for its food. Free pancake breakfasts are held all across the city. Mini doughnuts and bbq beef on a bun are midway classics, but every year the boundaries are pushed with delights like scorpion pizza and $100 hot dogs. Stampede 2017 featured deep fried jell-o, funnel cake poutine, "unicorn cookie dough" and crispy chicken feet on a stick.
4. Ginger Beef
Ginger beef is Calgary's contribution to the world of westernized Chinese food and one of the most iconic foods of Alberta. It is largely thought to have originated at the Silver Inn and rose to popularity in the 80's.
Calgarians didn't always have a taste for authentic Chinese food. Chef George Wong helped to bridge the gap between grilled cheese sandwiches and ma-po tofu when he dusted off an old beef recipe he had adapted to the English pub palate whilst living in the UK. He battered and deep fried strips of beef and tossed them in a spicy sweet sauce. He called it: "Deep fried shredded beef in chili sauce" and it was a Calgary hit!
"Ginger Beef" (as it has come to be known) is available at every Chinese restaurant in Calgary, and even some pub menus.
5. Green Onion Cakes
Green Onion Cake appetizer at Blue Plate Diner
Happy Garden opened in Edmonton in 1979, specializing in home-style Mandarin food. Owner, Siu To, included a dish from his homeland in Northern China that would go on to be an Edmonton classic.
Green onion cakes are a flatbread cooked on a griddle (or deep fried) and usually served with sambal oelek pepper sauce. Because they were easy to pre-prep and hawk at markets, To decided to sell them at Taste of Edmonton, the Edmonton Folk Music Festival and the Edmonton International Fringe Festival, and to this day green onion cakes continue to be festival fare in Edmonton.
Nowadays they are widely available at Chinese and Vietnamese restaurants, pubs, food trucks and even trendy restos. In 2015 there was a push to make green onion cakes the official food of Edmonton, but for now they maintain unofficial status.
6. Alberta Beef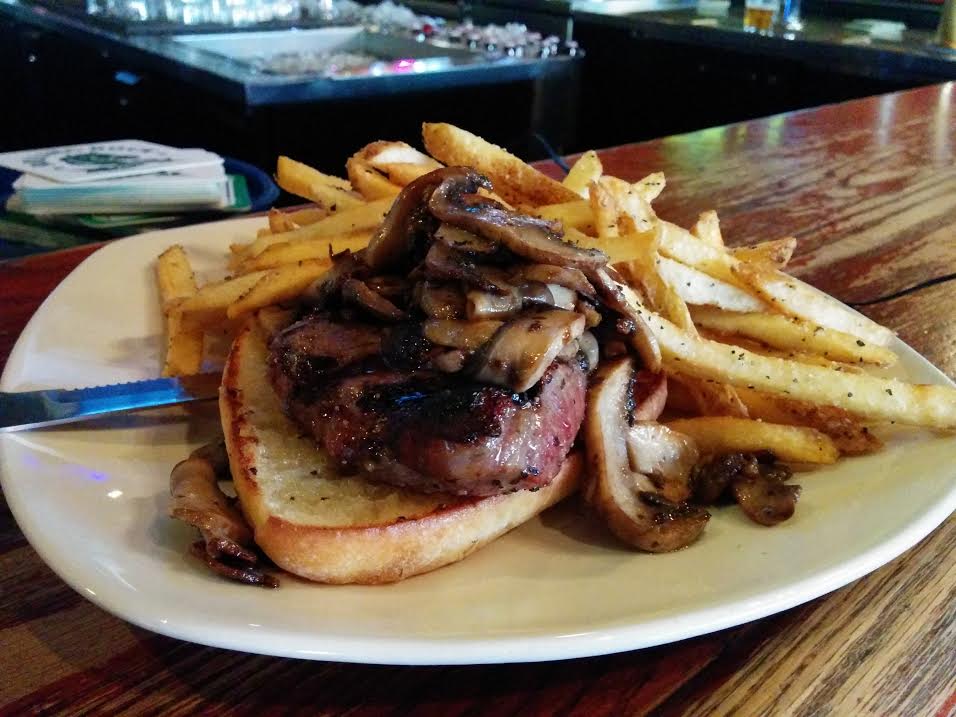 A 6oz steak sandwich at Watchman's Pub in Calgary – $10.95
Alberta is the leading producer of Canadian beef, and enjoys international repute for its juicy and tender, well marbled cuts. Alberta Beef is said to be superior due to the abundance of pasture land in the province and the locally grown barley with which the cattle are "finished" (as opposed to corn).
But here's some food for thought: Did you know that Alberta Beef is a brand and that the cattle are not necessarily raised in Alberta? A steer from Montana could end up on your plate as "Alberta Beef" so long as it "became beef" at a packing plant in Alberta.
With that said, Alberta-raised beef can be a thing of beauty when purchased from a good farmer or butcher and expertly prepared.
Where to have it?
The Longview Steakhouse is considered by many to be the spot to eat Alberta beef.
Steak nights at The Bruce Hotel, a rural steakhouse an hour east of Edmonton, are highly recommended.
Two notable steak houses in Calgary are Caesar's Steak House, for an old school 70's experience with red carpet and tuxedo'd waitstaff, and Vintage Chophouse & Tavern, for a more modern experience. Meanwhile Smuggler's Inn is a prime rib institution.
Edmonton's got Von's Steak House & Oyster Bar, but you can also get a great hunk of meat at farm-to-table Rge Road.
But beef eating in Alberta does not end at the backyard barbecue or pricey steakhouse. Every pub in Alberta is judged by the merits of its steak sandwich; a 6oz-8oz hunk of beef on a piece of garlic bread should be very good and very cheap.
Not as common, sadly, are the infamous "Prairie Oysters".
7. Puffed Wheat Squares
Photo Courtesy of Dinner With Julie
Puffed wheat squares are a popular confection in Alberta, whether at potlucks or bakeries and cafes. I am told that no good Alberta kitchen is without a big bag of puffed wheat cereal in the pantry, waiting for the next church social or school bake sale.
Puffed wheat cereal is combined with corn syrup, brown sugar, vanilla and cocoa powder to make a sweet chewy morsel.
See the recipe at Dinner With Julie.
8. Taber Corn
Taber, Alberta is one of the sunniest regions in Canada and so it is the "Corn Capital". Every year the town celebrates the 2 day Taber Cornfest.
Taber's sweet, crisp corn is said to be so flavourful due to the sunny days and cool Alberta nights. It's popularity has actually resulted in a wave of fraudulent corn! Buyer beware: check that your corn is certified by local growers.
Did You Know? Alberta produces 40% of Canada's honey and is the fifth largest honey producing region in the world. Falher, Alberta is the honey capital of Canada, boasting a 22ft honey bee statue and the Falher Honey Festival. Another sweet attraction is the Chinook Honey Company which offers tours and tastings of their hives and meadery!
9. Edmonton-style Donairs
The pioneer of the Edmonton Donair was Lebanese immigrant, Chawki El-Homeira, who left Nova Scotia for the oil fields of Northern Alberta in 1978… just before a major oil glut. So "Charles Smart", as he would later be called, found himself driving a cab instead, and eventually opened a sub shop on Whyte Ave. It was here that he started making the donair recipe he had learned in Dartmouth, Nova Scotia.
The Edmonton Donair is a different animal than its Halifax predecessor (not literally, though chicken donairs are in fact common). Edmonton donairs are tidier, handheld pita wraps often served in a combo with fries and a pop. Cheese is a common addition, but the major point of contention is that Edmonton donairs include lettuce whereas Halifax donairs do not.
In 2016 I visited Edmonton to do a donair quest, and my favourite donair shop was Swiss Donair.
Did You Know? Edmonton recently made 8th on a list of the best places to eat pizza in the world, according Condé Nast Traveler Magazine's Reader's Choice Awards. Daniel Young, American author of Where to Eat Pizza
 praised the city for its "old school" pizza joints.
10. Vietnamese Subs
Vietnamese subs are a product of French colonialism, combining French things like baguettes, mayonnaise and pâté with Vietnamese ingredients like cilantro, chilies, cucumbers and pickled carrots and daikon. They are native to Vietnam but you'll find them in any city with a sizable Vietnamese community.
Alberta has the fourth largest Vietnamese population in Canada, but the largest by percentage. Calgary in particular has a strong Vietnamese presence, with phở and sub shops on every corner.
I would go as far as to say that Vietnamese subs (a.k.a. banh mi, though that is not the preferred term in Alberta) are Calgary's street food par excellence and one of my favourite foods of Alberta.
A Vietnamese sub in Calgary is large and toasted, topped with cilantro, cucumber, onion, chilies and julienned pickled carrots (rarely daikon). Common condiments are pâté, mayonnaise, soy sauce, cheese, and butter or lard. The most popular variety is probably Satay Beef (because: beef) but Assorted Cold Cut, Lemongrass Chicken and Pork Meatball are other favourites. Bubble tea is often sold alongside as a refreshment.
Probably the most popular sub shop in Calgary is Thi Thi, not to be confused with Thai Tai (it is Thi Thi you want – trust me!). Other favourites are Kim Anh, La Cay, Sate Sub and Saigon Deli. A more gastrofabulous experience can be found at Watercress Express or Subs 'n' Bubbles.
Popular Edmonton sub shops are Nhon Hoa and Van Loc.
Other Foods of Alberta: Sausages (esp. Stawnichy's of Mundare and Spolumbo's of Calgary).