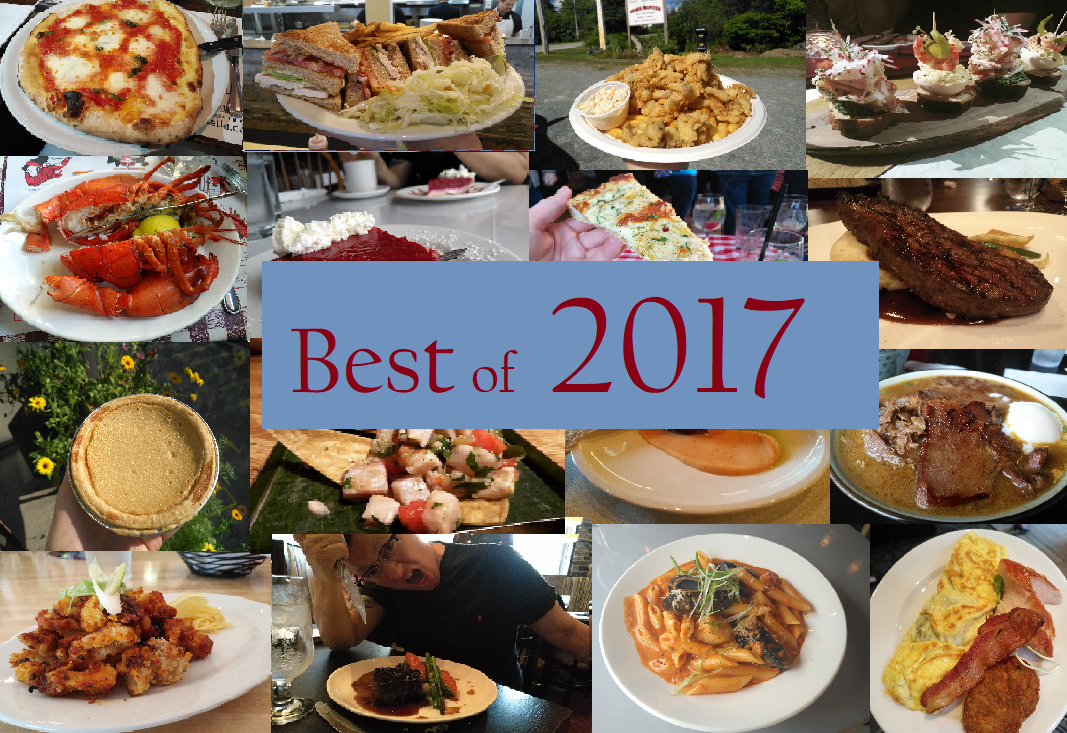 Best Meals of 2017
Whoosh! There goes 2017! I spent much of the year celebrating Canada 150 with my Iconic Foods of Canada series in which I partnered with bloggers from all over Canada, asking them to write about a unique regional food in their province. See the top 10 iconic foods for each province here.
On Canada Day I published a list of 150 Canadian Foods for Canada 150 and I had the opportunity to try some of these foods while visiting PEI and New Brunswick this spring/summer. We even drove all the way to Bouctouche so I could try poutine râpée – yes, I'm a little crazy!
The Iconic Foods of Nova Scotia was by far my most popular post of 2017, and I also gave a presentation at the Halifax Central Library this fall entitled: Nova Scotia Foods 101.
I had some food adventures outside of the Maritimes as well. Our annual trip to Calgary just happened to coincide with YYC Burger Week, so I got to celebrate two burger festivals this year! I gotta say… Halifax Burger Week may be bigger and louder, but Calgary's burger game is on point!
We also checked out Calgary's own Blowers & Grafton, a pizza corner themed restaurant that serves Pictou County Pizza (sort of) and a proper Halifax-style donair (finally!).
I furthered my pizza experience this year with a trip to Chicago, where I tried Chicago pan crust and thin crust for the first time and realized my dream of seeing the Cubs play at Wrigley Field!  Read all about my Chicago pizza journey!
Moving into the future, this is what you can expect:
Chinese Food!, Ramen!… and other Asian dining experiences.
Pizza Quests! … and a deeper showcase of some of Nova Scotia's most iconic pizzerias.
Nova Scotia Food Profiles – Summer Guides and Road Trips!
I would also like to announce the addition of Murray Wong to the Eat This Town team. He will soon be in charge of his own chapter of Eat This Town: Ottawa so give him a follow, say hi and keep an eye out for his eloquent Halifax guest posts.
It was a busy year, and 2018 will be even busier! I don't blog about every meal I eat, and I don't generally blog about fine dining, but every year I write a post about my most memorable meals and here they are:
Best Meals of 2017 (Upscale)
1. Highwayman
1673 Barrington St, Halifax
I remember it clearly: LuShark took one look at the menu and said, "Oh, look at this pretentious, overpriced hipster food. I've been to Spain. Tapas should be free or cheap."
It didn't take long before she had done a complete 180, swooning over each small plate to come to our table. From the bread and olives to the iberico ham, from the playful pinxtos to the succulent beef, WE LOVED THIS MEAL. We loved everything about it. The atmosphere, the service, the drinks… oh the drinks! The Highwayman has a menu entirely devoted to gin & tonics. This is my kind of place.
There were four of us and we paid about $45 each, which is entirely reasonable for such a ballin' meal.
2. Il Trullo
 67 Kings Wharf Pl #102, Dartmouth
Il Trullo is an upscale Italian restaurant located within the King's Wharf complex, complete with its cityscape view. For a couple of years now, it's been my favourite stall at the Savour Food & Wine Festival and I've been drooling over their Instagram feed. Finally, for my birthday this year we ventured across the harbour to check it out. We were not disappointed! We enjoyed a lovely lasagna, some squid ink pasta and my personal favourite: the mushroom ravioli.
Il Trullo also has this unique small bites dessert menu, allowing you to mix and match a bunch of $3 desserts, like truffles and chocolate ravioli. But I had to go for the chocolate-lined cannoli, which I had been dreaming about since the Savour Food & Wine Festival. I believe it is the best in the city!
3. Studio East
6021 Cunard St, Halifax
We actually went to Studio East as part of my Ramen Quest (coming soon!) and were blown away by the service, food, drinks and vibrant ambiance at Studio East. It was a bustling Tiki Wednesday, and we had to wait at the bar for a table. The amicable bartender made us this amazing and potent cocktail in a whole pineapple. We were warm and happy.
Poke tuna tacos and warm sushi rolls graced our table, but the pièce de résistance was the Ultimate Pork Ramen. It was just full of goodness: char siu bbq pork, crispy pork cheek, braised pork belly, marinated egg, Chinese fried donut, two kinds of mushrooms and lots of springy noodles. There was so much to taste and explore, and every bite exceeded our hopes and dreams. A+
Honourable Mentions: Barrington Steak House and Mappatura Bistro
Barrington Steak House introduced me to my new favourite oyster: Colville Bays, while the PEI beef tenderloin encrusted with blue cheese was to die for. Meanwhile, Mappatura Bistro excelled on its NYE service with a fabulous prix fixe menu and wine pairings. Terry's halibut cannot be beat.
Best Meals of 2017 (Outside NS)
1. Pulcinella (Calgary)
1147 Kensington Crescent NW, Calgary, AB
Pulcinella is one of Calgary's older Neapolitan-style pizzerias, but I only tried it for the first time this past summer. Wow! This is easily the best margherita pizza I've ever had. We enjoyed it with a bottle of Sovrana 2013 Barbera D'Alba that blew our socks off!
2. New Glasgow Lobster Suppers (PEI)
604 Route 258, New Glasgow, PE
We visited PEI this summer because LuShark was running the 10k race across the Confederation Bridge as part of BridgeFest 15o. While on the island we indulged in the bounty of Iconic Foods and the absolute highlight of the trip (other than LuShark's stellar athletic performance) was our meal at New Glasgow Lobster Suppers.
We each ordered a 1 1/2 lb lobster ($43.95) which included rolls, salads, chowder, dessert, non-alcoholic beverages, and all the mussels you could possibly eat. Oh, there were mussels! We were asked if we wanted a full bucket or half bucket, not realizing that a full bucket was about the size of a commercial ice cream tub! This was an insanely satisfying feast for a seafood glutton!
I didn't realize that LuShark had never had a proper lobster dinner! Until this day, she thought lobster was just a vehicle for butter. Now she was eating roe and tomalley like a pro!
3. Vito & Nick's (Chicago)
8433 S Pulaski Rd, Chicago, IL
Sometimes a meal is memorable because of the efforts taken to arrive at that moment, when a steaming pizza sits in front of you, amidst pints of Old Style, after a 45 minute Uber ride through some of the roughest neighbourhoods in Chicago's south side.
I have always wanted to try Chicago thin crust ever since seeing the segment on Vito & Nick's on Diners, Drive-Ins and Dives. What was this antithesis to deep dish so beloved on the south side?
This "tavern style pizza" has been made here since 1946, eaten alongside beers after a hard days work. It's got a crisp, cracker thin crust, zesty sauce and the most amazing house-made sausage. It might not look like much, but it was one of the best pizzas I've ever had!
Read about my Chicago Pizza Adventures!
Best Meals of 2017: Appetizers/Small Plates
1. Poke Sushi Taco – Studio East
This taco has a shell of roasted nori tempura and is filled with raw ahi tuna, sushi rice, guacamole, pineapple, "Asian slaw", sweet soy, spicy aïoli, bonito flake, and cilantro. A total flavour explosion for $8 – take my money!
2. Lamb Tartar – Little Oak
As far as I know, Little Oak is the only spot in town serving orange wine by the glass. No, the wine is not flavoured with oranges. It is made from white wine grapes that have had their skins left on. While I went to Little Oak to try the orange wine (which I found it to be quite cheese friendly), I would return solely for the superb lamb tartar.
Little Oak's menu is always changing, but there is no doubt in my mind that I would be satisfied with any of their small plates.
3. Pinxtos – Highwayman
Pinxtos are Spanish/Basque snacks that are pinned to a piece of bread by a toothpick. Highwayman has a whole pinxtos menu (also a tapas, small plate and raw bar menu – and don't forget the gin & tonics!) from which we tried the Shrimp & Deviled Egg and the Pork Belly & Radish. The bread alone at the Highwayman is a worth a mention, but the carefully selected toppings are creative and fun to both eat and admire.
4. Pork Dumplings – El Chino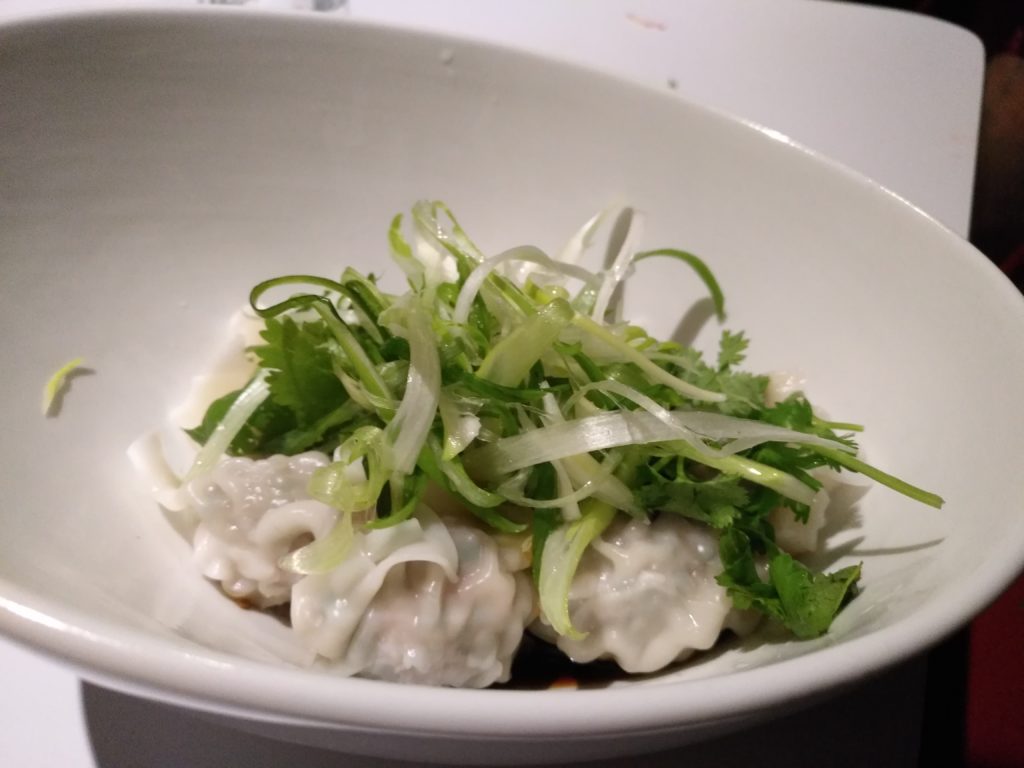 I wasn't sold on the tacos, but the tequila cocktails and dumplings ($12) are worth a visit alone. Are these the best dumplings in Halifax?! I don't know, but they are the best dumplings I've had!
5. Ceviche – Frontera Grill (Chicago)
Chicago is known for its wealth of Mexican food and is also home to Rick Bayless, a celebrity chef who has dedicated his life to authentic Mexican food since the 70's. He opened up his first restaurant, Frontera Grill in 1987, which specializes in contemporary regional Mexican cuisine. So that was my choice for my one "nice" meal in Chicago. The Classic Frontera Ceviche (Hawaiian albacore, lime, tomatoes, olives, cilantro, green chile. tostaditas) was the highlight of my meal.
Best Pub Food of 2017
I enjoyed several adventures this year with the Halifax Dive Bar Dining Society. This is a group of dive bar enthusiasts (led by Halifax ReTales) who meet for dinner on a roughly monthly basis. We made some great discoveries this year, like the OPP Sauce Chicken Wings at the Old Port Pub (which isn't a dive bar, as it turns out). But our most magical dive bar discovery was definitely Hoghorn BBQ. This was also my most memorable pub dinner of 2017….
1. Hoghorn BBQ – Barbecue Platter
This southern barbecue joint had recently and quietly taken over The Hub on Tacoma Dr. We were the only ones there on that fateful Sunday, and weren't expecting much. From the special offer "Dinosaur Ribs" to the hand-cut fries and the mouthwatering brisket – we were more than impressed.
Hoghorn Barbecue has had much success since our visit (and our word-of-mouth/social media reach), but has recently closed down in search of a new venue. Stay tuned!
2. The Old Triangle – Pub Style Curry and Chips
5136 Prince St, Halifax
I'm not one to order the same dish every time I go to a restaurant (it goes against my food bloggers' code) but I have trouble not ordering this every time I'm at the Old Triangle. Chicken curry and mushy peas on French fries is the stuff of my dreams, and the OT executes it perfectly. If this doesn't float your boat, you can just request some curry gravy for your fries. Write me a thank you card later!
We took visiting friends and relatives to the Triangle several times this year and it's always a hit! Other favs are the Paddy Fernandez Nachos, the Irish Nachos, and the fish 'n chips. What is your go-to dish at the Old Triangle? – let me know so I can try it out!
3. Battery Park – Burgers and Calamari
62 Ochterloney St, Dartmouth
We treated my Dad for his birthday here because he loves beer, calamari and burgers, and Battery Park promised all three! Delicious local craft beer? Check! Superb calamari? Check! Some of the tastiest burgers in town? You can bet your ass! Our visit occurred before Ace Burger became exclusive to Battery Park, and at the time of our visit the burgers served were not technically Ace Burger. But same people, same kitchen – same good shit.
I returned to Battery Park over the holidays, and we enjoyed the Ace Burger offerings just as much. The cod tacos also get a nod (and I rarely nod for fish tacos).
Honourable Mentions: The Henry House and Staggers Pub
We go to the Henry House a lot and the food is mostly solid. While I am no longer a proponent of the nachos and I think the Ploughman's Lunch is a rip-off, a visiting friend praised the lamb shank and I'm always a fan of the pot pies. A new favourite this year is the beef dip.
Stagger's Pub – our dive bar meal was enjoyed by all. We felt very welcomed here. A special nod goes to the chicken fingers and hand-cut fries!
Best Meals of 2017: Brunch
1. Mappatura Bistro
5883 Spring Garden Rd, Halifax
You can read about it here, but everything from my vodka rose sauce penne with seafood, to Terry's famous calamari to the lemon tart for dessert (not to mention the phenomenal eggs benedict) – this is easily one of the best brunches to be had. Mappatura Bistro is quickly turning into my family's go-to neighbourhood restaurant.
Honourable Mention: Prince George Hotel (Brunch Buffet)
It's got perfectly cooked omelettes, hot smoked salmon, fancy desserts, sushi, and the best hash brown potato patties! If you're going to buffet your brunch, you may as well go all out!
Best Meals of 2017: Desserts
1. Raspberry Cream Cheese Pie – The Preserve Company (PEI)
2841 New Glasgow Rd, New Glasgow, PE
Chef Ilona Daniel chose the Raspberry Cream Cheese Pie from the PEI Preserve Co. as her Iconic Food of Prince Edward Island for my Canada 150 Series. I made sure to check this out when I was on the island over the summer and it did not disappoint! It reminded me of another favourite dessert (the raspberry pie at the Train Station Inn). This is the perfect sweet stop for a PEI road trip.
2. Cannoli – Il Trullo
67 Kings Wharf Pl #102, Dartmouth, NS
I first sampled Il Trullo's cannoli at the Savour Food and Wine Festival and I couldn't stop thinking about it. Naturally, this is what I ordered with my birthday dinner this year! It is lined with chocolate and just perfect.
3. Sugar Pie – White Sails Bakery
12930 Peggys Cove Rd, Tantallon, NS
If you haven't had the sugar pie from the White Sails Bakery, you've got all next summer to get on it! The bakery is located on the Peggy's Cove loop (closer to the Tantallaon side) and specializes in Quebecois foods like smoked meat sandwiches, poutine, and the amazing tarte au sucre. You can get a full sized or personal sized pie, but be careful because you will devour all of it.
Random – Best Sandwich of 2017:
Agricola Street Brasserie – Muffuletta
I've had all sorts of good sandwiches this year but the sandwich I can't get out of my head is the muffaletta that Agricola Street Brasserie had on their menu for their Sicilian Takeover last February. I hope they bring it back someday!
Best Meals of 2016
Best Meals of 2015
Best Meals of 2014
Best Meals of 2013