The Legend of Eggs Halifax
On December 7th, 2020, a nationwide search was sparked when someone on the popular Bravo show, Below Deck, ordered something called "Eggs Halifax". Below Deck viewers and Canadian foodies were perplexed:
What is eggs Halifax? Where is it served? Is it served in Halifax? Why is it called that? Who is calling it that? WTF?
It was becoming more mysterious than the legend of Oak Island.
Eggs, cooked Halifax style?! COULD IT BE that the city of Halifax has a style of eggs, unbeknownst to its own residents?
Similar to The Curse of Oak Island, Below Deck is a reality show, depicting the lives of the crew members aboard a superyacht. On the episode that aired on December 7th, 2020, someone asked Chef Rachel Hargrove to make them "Eggs Halifax".
I have never seen the show, but on December 8th, I got a message from my blogging friend, Marie, asking if I might know why she suddenly had a huge wave of traffic to her post about "Halifax Meat Paste Egg Rolls".
We soon realized that the internet was not in pursuit of the questionable egg roll stylizings of Halifax, but something to do with our eggs. The Below Deck subreddit was desperately trying to figure out what "eggs Halifax" was, followed by the Halifax subreddit. Then, on December 9th, Dan Clapson posted the question on the Canadian food blog, Eat North: What is Eggs Halifax?
Dan, who is based in Calgary, took to Twitter, asking if anyone had heard of the dish.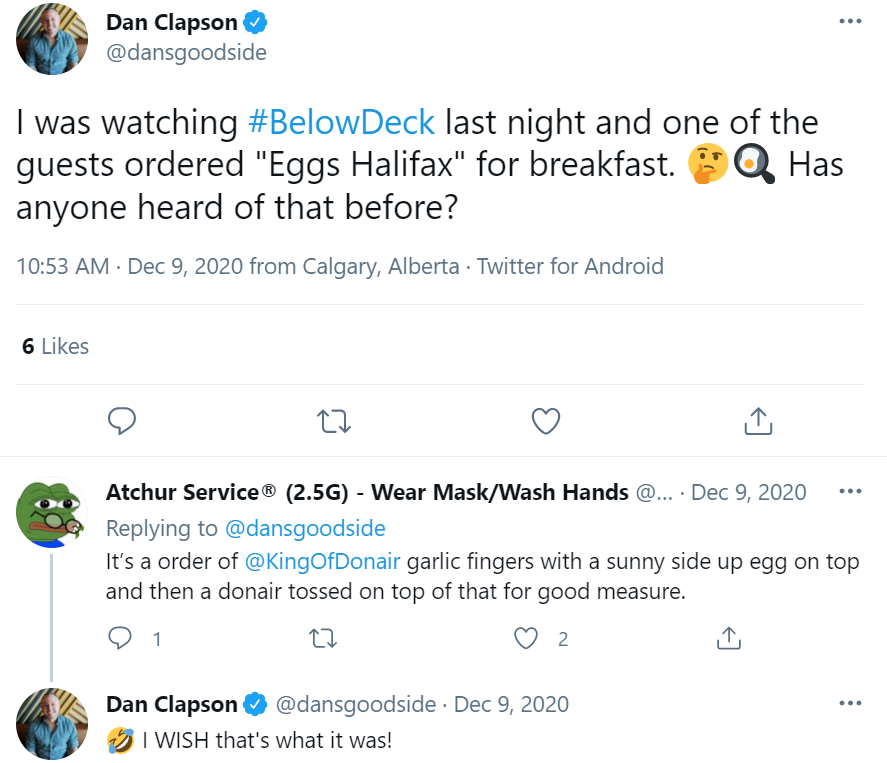 Dan's internet sleuthing revealed a dish called "Eggs Halifax" served at Elle's Bistro. This is one of my favourite Halifax restaurants, and I'm quite familiar with the "Eggs Halifax" which is tea biscuits topped with poached eggs and seafood chowder. Delicious.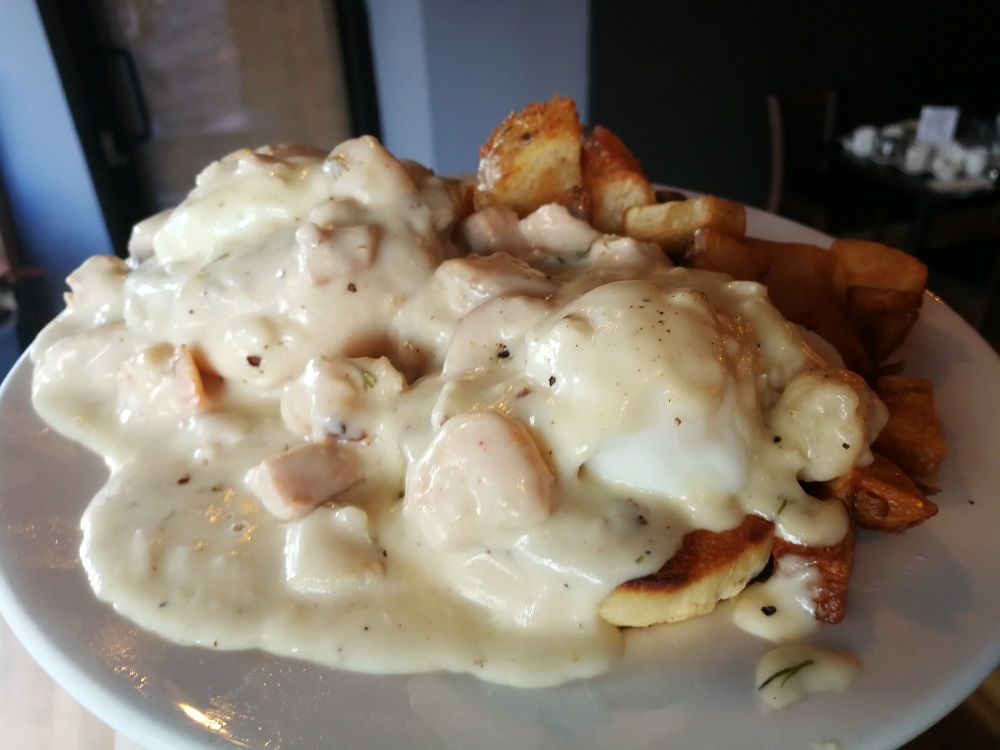 But this is a signature dish exclusive to Elle's Bistro.
A restaurant in Halifax, serving "eggs Halifax?! COULD IT BE that the passengers and crew on Below Deck were familiar with this signature Halifax brunch?
Then on December 17th, 2020, Bravo TV revealed that Chef Rachel Hargrove had explained the dish on Twitter. I couldn't find the Tweet, but Bravo quoted Rachel as responding:
"[it's] Benny with Smoked salmon".
I reached out to Chef Rachel Hargrove, hoping to find out more. She replied to me:
"I have always called it that since being in Nova Scotia."
Eggs Benny with smoked salmon is a common enough dish in Nova Scotia, but smoked salmon Benny is hardly exclusive or original to us. Nor do we call it "eggs Halifax". What gives?
My Original Theory
My theory was that New York restaurants named the dish after the "Nova Lox" they used instead of Canadian bacon on this version of a Benny. Just as there is no such bacon called "Canadian bacon" in Canada, some of you might be scratching your heads when I say "Nova Lox".
Whereas a kosher delicatessen sells meats but no dairy, Jewish appetizing stores (like the famous Russ & Daughters), sell fish and dairy products (but not meat). Basically, this is where you go to get a bagel with lox and cream cheese. For salmon options, you might see Scottish smoked salmon, Irish smoked salmon, pastrami cured salmon, lox, gravlox, kippered salmon, and something called "Gaspé Nova". (Rather than explaining the differences, I will direct you to Bon Appétit's guide.)
It is called Nova Lox because the fish used to come from Nova Scotia (back when Nova Scotia still had a commercial salmon fishery). I don't know why it is sometimes called "Gaspé Nova", but my guess would be that the fish also game from Gaspé, Quebec.
In current usage, "Nova Lox" essentially refers to any cold smoked salmon (to differentiate it from lox).
But how do we get from Nova Lox to Eggs Halifax?
A Redditor on the Below Deck subreddit discovered "Eggs Halifax" on the menu at a restaurant called The Laurel Diner in Long Beach, New York. This supported my theory of the New York connection! But when I contacted the The Laurel Diner, they told me they got the name from another restaurant.
Then I found two restaurants in Fort Lauderdale Beach that serve the dish: Spazio Italian Restaurant and Cafe Ibiza.
I searched the "Eggs Halifax" hashtag on Instagram and there were 11 posts. Of those 11:
– 4 were tagged in the Fort Lauderdale area
– 1 was at a restaurant called the Beach Cafe in New York
– 2 were in New England (NH & MA)
– 1 was in Virginia.
Eggs Halifax, in Virginia? COULD IT BE that this smoked salmon Benny is named after… Halifax, Virginia?!
Sure enough, the Amphora Diner Deluxe in Herndon, Virginia serves Eggs Halifax.
I reached out to the Amphora Diner, but didn't get a response. However, a Virginia truffle company, virginia_truffles, who had posted a picture of "Eggs Halifax" on Instagram, did respond to my query as to whether Halifax, Virginia is known for this dish:
"No," they responded. "Although Halifax is a lovely place. It was a dish we made for brunch using the last of our Perigord Truffle. I'm not sure of the origins of the dish".
What's in a name? That which we (don't) call "eggs Halifax" by any other name would taste as sweet.
When I started investigating this dish, I realized that an eggs Benedict with smoked salmon goes by many names. Perhaps delving into the naming conventions of other locales will help unravel the legend of eggs Halifax.
Eggs Atlantic
This seems to be one of the most popular names for the dish (tied with Eggs Royale). It makes sense, as there are many countries on the Atlantic Ocean known for salmon. It could also refer to the species (i.e. Atlantic Salmon). Interestingly, I found an Australian brunch restaurant in Veitnam, called Godmother Bake & Brunch, who say their Eggs Atlantic is a best seller.
Eggs Royale
This is tied for the most popular name for the dish. When I polled a UK subreddit, this was the unanimous answer for the name of the dish. However, The Breakfast Bible claims that this is an Antipodian favourite. (I had to look that up – it means people from Australia and New Zealand).
If I had to guess, I would say that the dish is named after a hotel.
Eggs Pacifico
This is less common, and perhaps the Pacific's response to Eggs Atlantic. The Blue Fox in Victoria, BC (the brunch capital of Canada) serves an Eggs Pacifico with wild smoked salmon, red onion, avocado, and chipotle aioli. Aside from the Blue Fox, I could only find "Eggs Pacifico" in Asian countries, like Singapore and Mianmar.
Eggs Norwegian (or Norvégienne or Copenhagen)
This makes sense, as Norway and Denmark are known for their smoked salmon. It is popular on a Smørrebrød (open-faced sandwich), with hard boiled eggs. And one of the most popular breakfast dishes in Norway is laks og eggerøre (scrambled eggs and smoked salmon). According to Hurtigruten:
"While fish can essentially be served with just about any type of meal (and is), smoked salmon and scrambled eggs is one of those premiere Norwegian breakfast recipes that everyone has their own variation of. An essential way to indulge in some laks og eggerøre is by ordering it in an open-face sandwich style topped with ansjos, which are a type of anchovy native to Norway. You'll also find a variety of sauces that add flavor to the dish, especially eclectic combinations like wine and herb sauces."
Suffice to say, the combination of salmon and eggs is popular in Norway. However, when I searched Oslo's restaurant menus for salmon Bennys, "Eggs Royale" seemed to be the common name.
Eggs Norvégienne" appears on the menu at Café Saturnus in Stockholm, and it seems to be the preferred term by some New York restaurants. At Tartine, the "Eggs Norvégienne" is made with gravlox rather than smoked salmon.
Eggs Hemingway
This one stumped me at first. But user hockeyrugby speculated on r/AskFoodHistorians that Hemingway was known to fish salmon on the Idaho River, and that his grandson, John, wrote an article for the Atlantic Salmon Journal in 2014. The New Jersey Stage reports:
"There was another side of Hemingway, besides the image of a macho blood sportsmen and brawler as seen in various movies and biographies," says Martin Silverstone, Editor of the Atlantic Salmon Journal. "He was genuinely concerned about the natural world and took his role helping biologists in the study of various species very seriously."
It is interesting that the Breakfast Bible refers to smoked salmon Benedict as an Antipodian classic, because there is a restaurant in Devenport, New Zealand, (a suburb of Auckland), called Hemingways. But rather disappointingly, they don't call the dish "Eggs Hemingway". (Smoked salmon is just an option under Eggs Benedict). However, the dish does appear as "Eggs Hemingway" at The Waterfront Bar (Raumati Beach, NZ).
There is actually a restaurant in Toronto called Hemingway's that does call their smoked salmon Benedict "Eggs Hemingway". What's even more interesting is that the restaurant is owned by New Zealanders!
Eggs Hemingway, at kiwi-owned Hemingway's in Toronto?! COULD IT BE, that "Eggs Hemingway" was imported to Toronto by Kiwis?!
It is worth noting that Ernest Hemingway lived in Toronto for 6 months, between 1923 and 1924, working as a journalist for the Toronto Star. Could this be the connection?
When I contacted the restaurant, they said:
"The name of the bar was tossed around with some of the early staff while having a few drinks. It's quite a popular name for bars internationally as well."
They named their smoked salmon Benedict after the restaurant, which has been operating since the early 80s. It is therefore possible that Hemingway's in Toronto is the original source of the name "Eggs Hemingway".
Eggs Benjamin
According to Wikipedia, smoked salmon Benedict is known as "Eggs Benjamin" in some parts of Canada. A quick Google displays a couple menus in Ontario, and one in Berkeley, California. I have no idea why anyone would call it this.
Eggs Montreal
According to Wikipedia, this is the predominant name for the dish in New Zealand. But when I asked the New Zealand subreddit, very few people were familiar with the term.
"I thought it was reasonably common – have seen the three poached varieties (Benedict, Florentine, Montreal) on various cafe menus over the past couple of decades in and around WGN." – restroom_raider
"I've seen it on maybe two breakfast menus around Wellington (out of about 30). So pretty rare, and I had to ask what it meant." – DontBeMoronic
This one is particularly confounding, because Montreal isn't even known for smoked salmon (and you would expect "Montreal-style" to refer to smoked meat). However, it could be the case that the connection is in virtue of Montreal's Jewish food culture (i.e. bagels & lox).
Eggs Victoria
This one makes sense because not only is Victoria known for its eggs Benedict (and brunch in general) but it is in British Columbia which is famous for its wild salmon.
In a similar vein, the dish is called "Oregon Benedict" at the Woodstock Inn Brewery in New Hampshire.
In Victoria, however, the dish is usually just called smoked salmon Benedict. Or – if you're at Floyd's Diner, it's a "420 Benny", and if you're at the Shine Cafe (where I had the best Benny of my life) it's called the "Nemo".
Then again, the dish could always be named for Victoria, Australia.
Conclusion
Unlike Norway, which actually does have a tradition of eating smoked salmon with eggs, the connection to Halifax is more of a stretch. While we do have some noteworthy producers, (like the famous Willy Krauch), smoked salmon was, historically, more of an export than a local delicacy.
I will stick to my original theory that this is a New York thing. Or maybe a Florida thing. Eggs Halifax is most likely named after the Nova Scotia lox that is popular in New York and along the eastern seaboard. I see no evidence of the dish being called "Eggs Halifax" outside of the east coast of the United States.
As for what Haligonians call the dish, I polled my Twitter:
It would seem that naming conventions are based on general associations with smoked salmon, depending on whether people associate it with the Atlantic, the Pacific, Scandinavia, or… Ernest Hemingway.
New Yorkers associate smoked salmon with Nova Scotia, while Nova Scotians associate lox with New York. So here is what I propose:
We, here in Halifax, shall hereby call this dish:
Eggs New York.
---
Just kidding!(?) This post has taken me down a smoked salmon rabbit hole, and I will soon be writing a post about the history of smoked salmon in Nova Scotia. Stay tuned!
If you have any further insight on the origins of eggs Halifax, and why it is called this – please email me! lindsay@eatthistown.ca