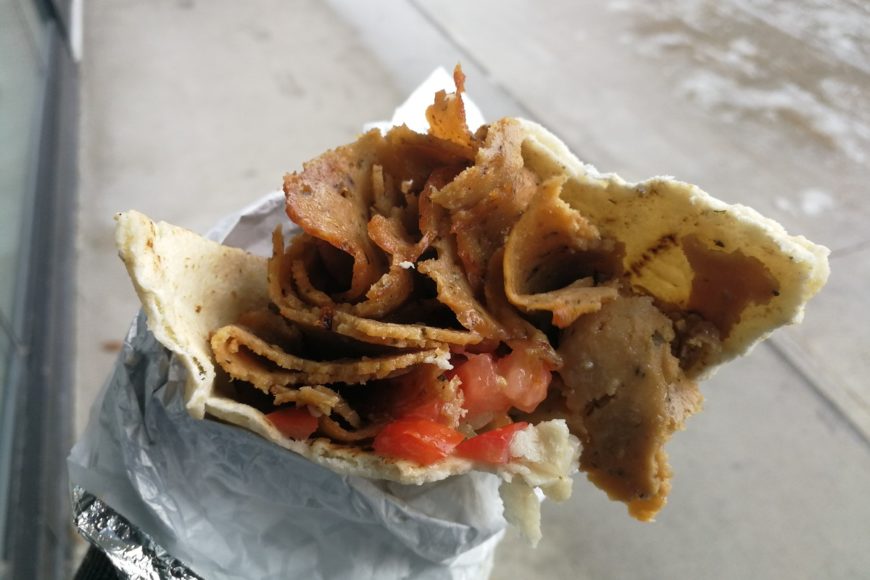 The Best Vegan Donair in Halifax
Over the years that I spent researching the donair, ultimately leading up to writing the Book of Donair, I sampled over 50 donairs in 6 cities. I have written posts about the History of Donairs, Calgary Donairs, Edmonton Donairs and even Toronto donairs. But this post about Vegan Donairs has been a long time coming!
If you are a vegan visitor to Halifax hoping to sample our official food in a flesh-free format, you have several options at your disposal. Because not only is Halifax brimming with donairs, it also punches above its weight in vegan food. Locals know this, but the question must still be answered: who makes the best vegan donair?!
I had tried 4/5 of these vegan donairs previously, but I decided that my big Veganuary project this year would be to eat every vegan donair in Halifax in order to rank them appropriately. Rankings can be fickle and subjective, so maybe your experiences and opinions will differ, and I could easily change my mind.
What I can say is that all of these donairs were enjoyable. All of them were good. None of them were perfect. But we are lucky to have so many vegan donair options, and I think there is something for everyone here. These are my rankings, as of January 2022:
5. Simply Greek (formerly Johnny K's)
This is the best vegetarian donair, and most authentic.
It is the only donair on this list made by a donair specialty shop, and it's got that foil-wrapped, pizza corner authenticity.
The problem is that they don't have vegan donair sauce.
With the absence of vegan donair sauce, you cannot have the best vegan donair. I have previously enjoyed their veggie donair dressed with hummus and hot sauce (as featured on my Top 10 Vegan Junk Foods in Halifax). But with the rebrand to Simply Greek, there simply isn't any hummus. I was not about to order a donair with just hot sauce, so I requested it plain. This is a good option if you are comfortable making your own vegan donair sauce at home (which I did with creamed coconut).
The seitan has a nice texture and the flavour works well with both coconut and milk-based donair sauces. I thought I tasted a hint of vegetable bouillon, which threw me off a bit. But overall, it is a good donair seitan.
Apparently there is only one guy at the factory, (Johnny K's/Simply Greek & Mezza have their own production facility), and if something happens to him, this recipe could vanish from the streets of Halifax! I'm also not sure about the status of Simply Greek – whether it will rebrand or change hands or get absorbed into Mezza. It would be cool to see Mezza add this to their menu, and to actually make an effort to veganize it. It would be a good addition, next to their new plant-based bowl.
4. G-Street Pizza
This is the donair with the best plating and the best sauce. I also really like the addition of jalapenos, which I think pairs really well with donair spice.
The first time I had the vegan donair at G-Street, it came on a house-made pita that was arguably its best attribute. Unfortunately, G-Street no longer makes their own pita, so points are lost there.
I also find the seitan a little spongey. If it was sliced a little thinner, or crisped up a little, this would be an improvement. I always end up picking some off to improve the ratio.
However, the donair sauce was so thick and creamy and there is an extra cup on the side. I wanted all of it!

G-Street's vegan meat and sauce is made by Honest Kitchen, so I have them to thank for that delicious coconut donair sauce.
Overall, I find this an enjoyable dish. G-Street also makes vegan pizzas and poutines with their own house-made mozzarella. If only they would bring back the house-made pita!
3. Real Fake Meats
I love everything that Real Fake Meats does, but in the grand scheme of donairs I rank this one in the middle of the pack.
They make their own seitan, (obviously, that's their specialty), and it has a nice spice and texture. It's sliced thin and soft, and wrapped up the proper way.
If the pita was grilled/steamed, and if it was just a little bit saucier, it would really capture the essence.
Real Fake Meats is take-out only, and it gets pretty close to the sidewalk donair experience, except that they close at 7pm. So there will be no donair sauce dripping down your pant legs as you sit drunkenly on the curb at 2am. It's a little more wholesome than that. A healthier choice! But I won't judge you if I find you drunkenly eating it on the curb at 2pm in the midst of some Gottingen Street day drinking.
2. Wild Leek
This one is my actual favourite. This is the one that I would order again and again and again and again. It's perfection.
But…. it's not a donair. Not in the most technical sense. So I'm bumping it down to the #2 spot. It is a donair wrap and it's got lettuce. If this were a meat donair it would be immediately disqualified. But you can't tell me it isn't delicious.
The house-made seitan is chunky and doesn't look anything like donair meat. But it's flavoured just right, and there are crispy bits and chewy bits, just like what I want from a donair. The textures and flavours and sauciness is all wrapped up into a handheld delight.
Wild Leek has been takeout/delivery only since the pandemic, but don't sleep on them. I love the food here.
1. The Wooden Monkey
This one is the best overall donair.
Wrapped in foil and presented on a plate with roasted potatoes (or upgraded side), this is not your curbside donair but they get a lot of the elements right.
The meat is from Big Life, and it is crisped up in the oven to give it a very pleasing texture. The coconut donair sauce is on point, and you get an extra cup. The flavours and textures were perfect, and I really enjoyed eating this.
My only criticism is that there could have been more seitan packed into the pita.
Still – this is light years better than the vegan donair I had at the Wooden Monkey in 2012. We've come a long way!
---
Where is your favourite vegan donair in Halifax? Let me know in the comments or hit me up on social media!