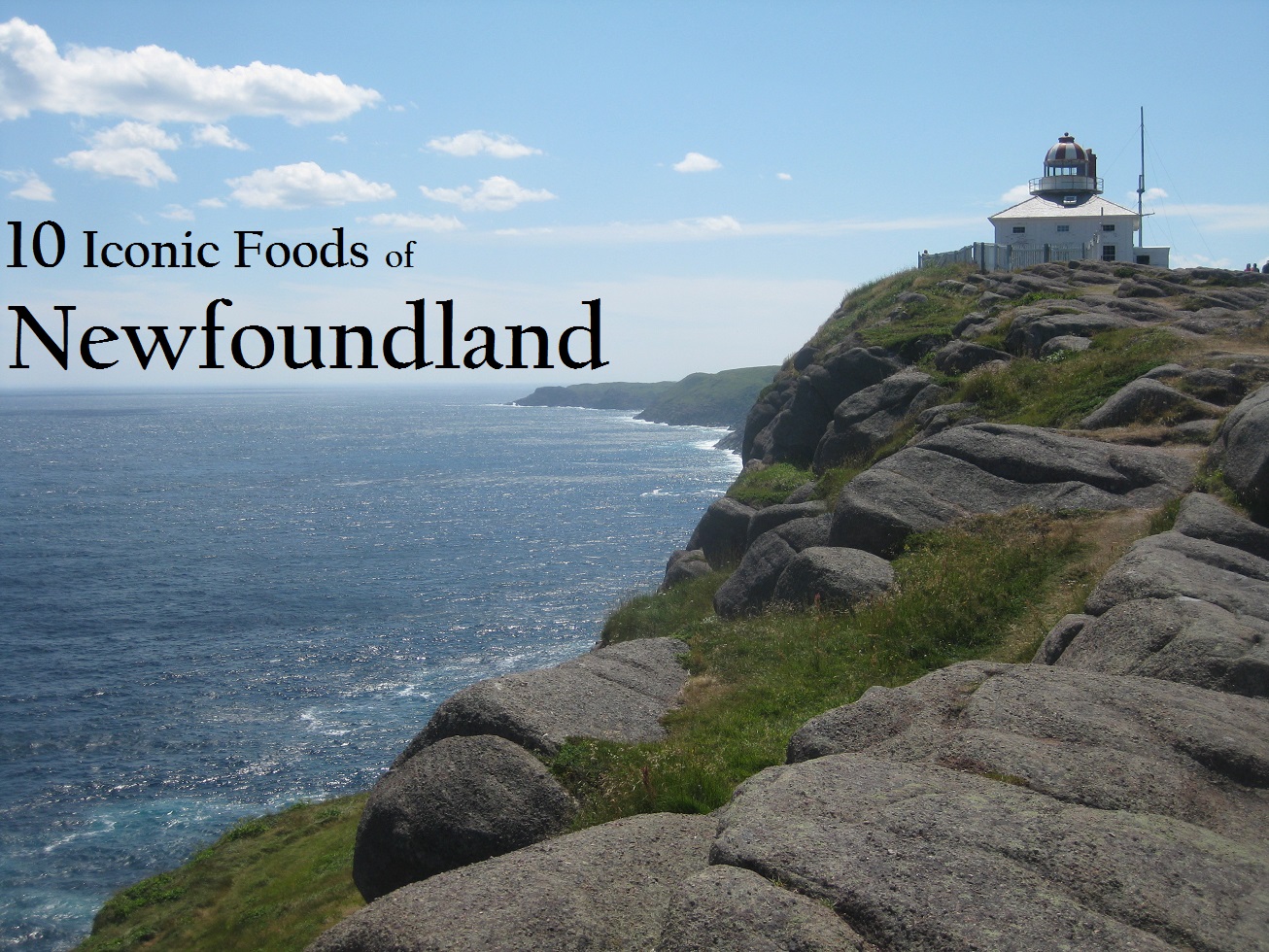 Iconic Foods of Canada: Newfoundland & Labrador
Newfoundland & Labrador is Canada's easternmost province, known for its ocean cliffs, icebergs, and those lovely windswept clotheslines.
Many of Newfoundland's culinary traditions are founded in resourcefulness and thrift: wild game, salted meats, tinned cream, root vegetables, mustard pickles, hard bread, and of course, cost-efficient bologna. Wherever you find a Newfoundlander, you'll find downhome cooking and a musical pride.
Meanwhile Labrador, which is adjoined to northern Quebec, has its own cultural roots and a traditional cuisine somewhere between that of Nunavut and Newfoundland.
Recently, St. John's has become a Canadian culinary hot spot, with renowned restaurants like Raymond's and Mallard Cottage serving up traditional ingredients with gourmet flair.
The last province to join Canada but the first in this series – Newfoundland is truly a unique culinary region. Here are 10 iconic foods of Newfoundland & Labrador:
1) Figgy Duff
Chosen by:: Gabby Peyton – The Food Girl in Town
Gabby is a Newfoundlander who travels to eat. Her blog, The Food Girl in Town is dedicated to (mis)adventures in travel, hotel and restaurants reviews and documents her travels around the world with her husband Adam with a dash of culinary history. As a food adventurer and freelance travel writer, Gabby is always planning her next trip, booking hotels based on restaurant reservations.
Photo Courtesy of Rock Recipes
"Not to be confused with the 1970s folk band by the same name, Figgy Duff is a traditional Newfoundland pudding dating back hundreds of years. This iconic dish is similar to the British Spotted Dick or Figgy Pudding and is typically made with flour, sugar, butter, molasses and spices like ginger, cinnamon and allspice. This simple, easy dessert is always boiled or steamed in a cloth bag with raisins. Yes, raisins, not figs.
Throughout Newfoundland's history much of the island referred to raisins as figs, the Cornish term for the shrivelled fruit — a direct result of the British influence on the province. Hence the name Figgy, while Duff refers to the pudding itself. Different duff renditions include blueberry or patridgeberry, but the more traditional one is made with raisins. Everyone loves Figgy Duff best, and it is prepared in the same pot as Jiggs' Dinner on Sundays, when friends and family gather for the big weekly meal (a.k.a scoff).
Like many Newfoundland dishes that have stood the test of time, there is no definitive recipe for Figgy Duff. But you can be sure every locally-made church cookbook has a recipe for it, with grandmothers passing on their own recipes to generations of hungry offspring. My grandfather was always in charge of the Duff, serving it hot with rum-molasses sauce after dinner on Sundays. He always used the same bag, carefully washing it and hanging it to dry after every meal. Nowadays, my family reserves serving the Duff on special occasions, smothered in the warm buttery rum-molasses sauce."
2) Cold Plate
Chosen By: Barry Parsons – Rock Recipes
Barry has spent many years developing and adapting recipes in his own kitchen. His blog, Rock Recipes, is where you will find some traditional favorites as well as his creations and adaptations of recipes to add a Newfoundland twist. Others are just great recipes, no matter where they came from but most have made repeated appearances in his Newfoundland kitchen.

Photo Courtesy of Rock Recipes
"A Newfoundland cold plate is something everyone in the province will know, and every family will have their own variations of essential additions to their particular version. Growing up in the 60's & 70's in Newfoundland, a cold plate was actually a weekly occurrence in my family and was the expected meal if visiting one of my relatives houses for Sunday supper. After the Sunday noon meal of roast of beef, ham, chicken or turkey the leftover cold meats would be served up for supper with a variety of deli-type potato salads, pasta salad and cole slaw.
Nowadays, this meal is recognized more as a bit of an indulgence and is served in my own family only a few times a year now, usually following big Holiday meals like at Easter, Thanksgiving or Christmas. A cold plate can also be the theme for a coordinated pot luck supper around the Holidays where each person can be delegated to bring a particular cold sliced meat or a selected salad. It's also a terrific buffet idea for parties or open houses during the Holidays which is how we now most often serve it."
Did You Know? Elliston is the Root Cellar Capital of the World, and hosts Roots, Rants and Roars, a celebration of the food, culture, land & sea of Newfoundland & Labrador.
3) Jiggs Dinner
Jiggs Dinner, the most quintessential of Newfoundland foods, is a one pot meal of salt beef boiled with cabbage, potatoes, carrots, turnip (rutabaga) and sometimes turnip greens. This is similar to the "boiled dinners" in the Maritimes and New England, which tend to use corned beef, riblets or cottage roll rather than salt beef. They also lack the accoutrements of a full Jiggs Dinner: pease pudding and figgy duff!
Jiggs Dinner is often accompanied by roast turkey with dressing and gravy, in which case the meal is referred to as "Sunday Dinner". Leftover Jiggs Dinner is eaten as a hash the next day, which my Newfoundland friends refer to as "couldnts" (couldn't finish).
4) Fries w/ Dressing & Gravy
Newfoundland "dressing" is decidedly not "stuffing". It is a mixture of breadcrumbs, butter, onion and summer savoury that is sprinkled onto roast turkey. It is also thoroughly enjoyed on French fries with gravy – a real "dirty feed" that you will find in diners and take-outs.
5) Cod

Cod Fish Stew at The Sailor's Galley Restaurant in Bay Bulls
Cod is the most historically important of all Newfoundland foods. Salt cod was the backbone of Newfoundland settlement, and continues to be eaten there today.
Fishcakes
are a popular preparation, and salt cod is often married with pork fat ("pork scraps" or "scrunctions") in a dish of potatoes or bread.
Nowadays fresh cod is more popular (even with the collapse of the fishery in the 90's), but no part of the cod is wasted. Cod tongues and cheeks remain popular cuts. You'll also find cod stew, pan fried cod, fish 'n chips and cod au gratin (which is pronounced in a decidedly Anglo fashion).
6) Fish 'n Brewis
Fish 'n Brewis came about from the need to feed people on long sea voyages with imperishable foods. Brewis (pronounced "brews") is thought to be a Middle English term for bread soaked in fat. You make fish 'n brewis by soaking hard tack (e.g. sea biscuit, hard bread) overnight and then boiling it and mixing it with boiled salt cod and "scrunchions" (fried pork fat).
7) Moose
Photo Courtesy of Mi'kmaq Momma
Moose are not native to Newfoundland (that would be official provincial animal, caribou) but were introduced in 1878 and, more successfully, in 1904. This coincided with the new railway line and access to Newfoundland's wilderness interior – which was gaining popularity among sport hunters and fishermen.
Wild moose cannot be sold commercially, but chances are somebody will "know a guy" and you can easily get your hands on some barbecued moose steak, moose stew or my favourite, bottled moose!
8) Toutons
Toutons are fried bread dough, traditionally eaten for breakfast with molasses. Alternatively, they can be used to make breakfast sandwiches. The Bagel Cafe in St. John's serves up a fantastic touton breakfast sandwich with eggs and bacon, or the proper choice: bologna.
9) Bakeapple
It's not a baked apple, it's a bakeapple! It is thought to be have evolved from baie qu'appelle which means "what is this berry called?" in some form of archaic French, likely the old Norman/Breton dialects of Western Newfoundland, a.k.a "Newfoundland French" (as opposed to Quebecois or Acadian French).
Or you could call it cloudberry, which sounds better than "swamp berry" or "bog apples" (they tend to grow in bogs). It's a "Knotberry" if you're in England, or "Low-bush Salmonberry" if you're in Alaska. But if you're in Newfoundland or Labrador, it's a bakeapple and very prized indeed.
These berries are tedious to pick, and are somewhat expensive. You'll find them sold on the roadside, in jams and sauces, and baked into tarts. Oh, and don't forget bakeapple cheesecake!
Photo Courtesy of My Dark Cove Pantry
10) Pea Soup
Newfoundland-style Pea Soup is made from yellow split peas and leftover salt beef, with chunks of potatoes, turnips, carrots, and doughboys (dumplings).
Did You Know? Newfoundlanders have a unique affinity among their fellow Canadians for Pineapple Crush and Big Turk chocolate bars.
Other Newfoundland foods: partridgeberries, baked beans, white bread (always with 3 humps), jam jams, lassy mogs, and the elusive seal flipper pie!