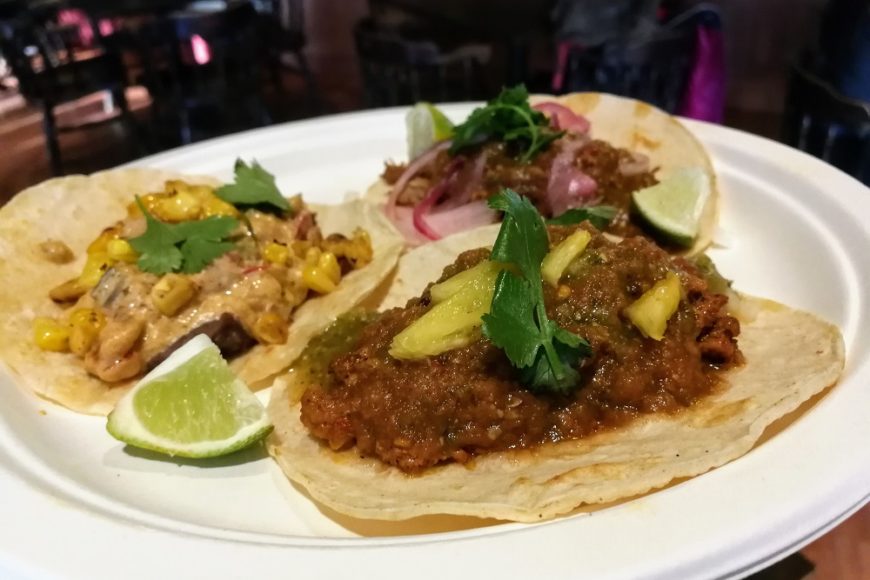 Halifax Taco Quest: "De Moda" Edition
Welcome to the final leg of my Halifax Taco Quest, where myself and a team of taco enthusiasts search for the best tacos in Halifax. It all started with the Vegan Taco Quest, and from there we did the Classics, Al Fresco options, "Authentic" restaurants, and here we are today hunting down the most bougie tacos in the kingdom. This will take us to the hipster realms of the North End, and the yuppie drag of Argyle Street.
Joining me on this quest: Halifax ReTales, Moxey Munchies, LA HappyGuts, and MJ the Potato Queen.
We hit up: Taco Lina's, El Chino Snack Bar, and Antojo Tacos + Tequila.
Who makes the best tacos in the Hypedom? Let's find out!
Taco Lina's
2605 Agricola Street
(Update 2020: Taco Lina's moved out of Gus' Pub and current status is unknown)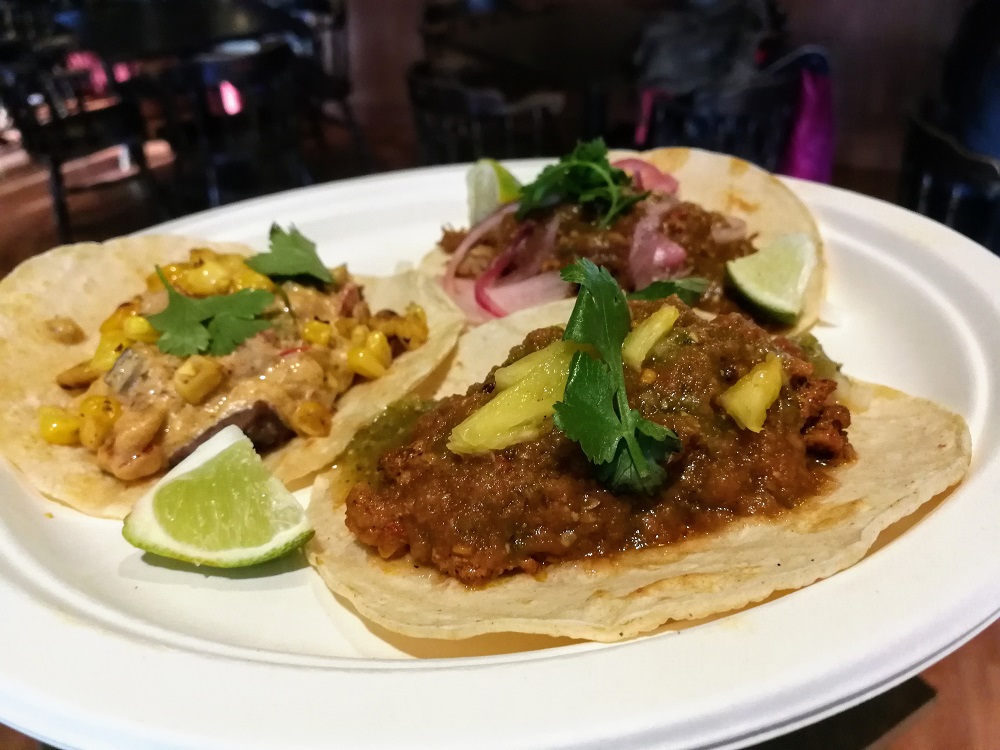 Options ($5/each):
Carnitas
Al Pastor
Carne Asada
Baja Fish
Deep Fried Tofu
Fried Chicken
Veggie
Barbacoa
Taco Lina's is currently at the helm of the kitchen at Gus' Pub, and I just love the juxtaposition of dive bar and hipster kitchen.
The corn tortillas were packaged, but nicely grilled for a bit of crisp and chew.
The Carnitas and Al Pastor both featured pulled meat completely draped in salsa. They were pretty tasty, but the carnitas didn't have that distinctive crisp, and the al pastor was unbalanced; it was covered in so much salsa that it impeded the interplay of pineapple and pork. At first glance, it looks more like Al Sloppy Joe than Al Pastor.
These weren't the most sexy looking tacos, but they were served with lime and garnished well. We weren't super pleased about the disposable paper plates, though.
LA had the Barbacoa which she really enjoyed. The beef was topped with cilantro crema, jalapeno, radish and crispy onions. "The taste is very bright, even without extra sauce and I loved the fried onions".
The Fried Chicken Taco is a fusion concept of fried chicken, lettuce, pickles, and slaw in taco form. MJ says the chicken was nice, but that it was cooled down by the rest of the toppings which were, as she puts it, "boring, plain and too cold".
My favourite taco of the day was easily the Veggie. It was described as "vegan beans, charred corn, and creamy calabaza" (which I am told is a sauce of shredded zucchini and cream). I'm a sucker for refried beans and these were so earthy and creamy, complimented by the flavourful sauce and textured corn. It doesn't come with any salsa, but a squirt of spicy avocado salsa and it was just the ticket!
At $5/taco these are expensive, but filling. Our enjoyment of the flavours outweighed the imperfections.
El Chino Snack Bar
2398 Robie Street
Options ($10 for 2):
Pork
Fish
Veggie
El Chino Snack Bar is the sister restaurant to Robie Street Station. It is only open 4 days a week (evenings), and you can expect Mexican and Chinese street food, but no silly fusion dishes. I have previously blogged about their nachos being the best in Halifax, and I'm also a big fan of their dumplings and tequila cocktails. But what about the tacos?!
The first thing you will notice about the tacos at El Chino is the sheer amount of STUFF piled on the tiny tortillas. This has been a complaint I've held since my first time trying them and I'm still complaining, dammit! Can't argue with the value, though. It's a filling portion for the price, abounding with high quality ingredients. I especially love the pico de gallo. So fresh!
The tortillas are house-made. I find them a little soft and thick, but they are flavourful and hold together under the massive weight of the toppings.
I think the Fish was the table favourite:
"OH. MY. GOOD. GRAVY. This is a 5 star to me. The fish batter was crispy and light, the fish was cooked nicely, and I loved the crunch from the veg" – MJ, the Potato Queen.
The Pork had mixed reviews:
The pork was juicy and full flavoured, but the spices were a little challenging. It wasn't a hot heat, but cinnamon, cumin & clove. We were told it was sugar-free, but I personally think you need just a touch of sugar to round out these spices. LA theorized that the spice ratio should be more in favour of cumin. Others felt more chipotle sour cream might offer a counterbalance.
The Veggie Taco features crispy home fries with sriracha mayo, salsa, red cabbage and pico de gallo. I was a credulous at first. Hash browns in a taco? Holy Carboli!
I definitely had to pick a few potatoes out of this taco before I could pick it up to eat it. It was awkward, clumsy, and heavy.
But the flavours were great.
"Yummy potato and you could bury me in that spicy mayo," wrote MJ. "The potato taco was different but I immediately want more of them," says Moxey.
I'll agree. Once I picked out enough potato chunks to fold my tortilla over the fillings, it was a nice texture and I'm still thinking about it.
Antojo Tacos + Tequila
 1667 Argyle Street
Options (from $4.50-$6):
Carnitas
Carne Asada
Al Pastor
Beef Tongue
Roasted Mushroom
Crispy Cauliflower
Chipotle Chicken Tinga
Antojo was definitely the most bangin' taco joint we've visited thus far, which I suspect is partly due to its Argyle Street digs and also due to the branding genius of Legendary Hospitality (same peeps as Stubborn Goat and Durty Nelly's).
Out of all the taquerias we visited that day, Antojo had the best execution of meats. They were distinctive, textural and flavourful. My only complaint was that the Carnitas lacked the necessary crispy crunch.
I appreciated the table salsas, which allowed for whimsical DIY flavour enhancements.
My complaint about Antojo from the beginning has been the lacklustre tortillas. I mean, I've had packaged corn tortillas that haven't detracted from my meal, but these are so big and elastic they might as well be flour tortillas. Their size can also have the effect of dwarfing the fillings, making for an unflattering appearance. On the bright side, they are very sturdy and quite capable of wrapping around their contents for easy eating. Still, they are almost like the caricature of a corn tortilla.
As I was contemplating this, I heard someone exclaim: "Oh no, I've made a mistake!"
It was LA, who had just bitten into her mushroom taco. I guess the strong mushroom flavour was more than she had bargained for…. or maybe it was the epazote, which has a pungent flavour described as having notes of oregano, anise, citrus, mint, petroleum, pine, turpentine or tar.
It's an acquired taste. But she eventually grew into it.
"Could have used more queso, as the mushrooms overpowered the taste," she wrote. "Pretty good texture, but could have been improved with some crunch."
My favourite taco was the Beef Tongue Taco. The tongue was tender, if slightly salty (says ReTales, who also enjoyed it), and the taco was easy to pick up and eat. It was simple and balanced. That's what I want in a taco.
The Al Pastor Taco, on the other hand, was quite rich, and it left a pool of oil on my plate. I didn't finish it. Moxey gave it credit for playing up the pineapple.
MJ had the Crispy Cauliflower Taco, which she lamented was cold and no longer crispy by the time she got to it.
Meanhile, her Chipotle Chicken Taco was heavy with beans, and "a bit one-noted".
"These tacos are made for a Maritime palate," she offered.
The Winner –> El Chino Snack Bar!
Even though El Chino's tacos are, infuriatingly, too awkward to pick up, they scored the highest and had some definite fans. It was not a wholehearted consensus, and the scores were actually very close. This may have been the tightest race in Taco Quest history! Each taqueria was so different, and each had its strengths and weaknesses, appealing to various personal preferences.
El Chino, though, they just have that extra touch of class.
In my next post I'll be releasing my Top 5 Tacos in Halifax! The best of the best tacos – try them all before The Coast's impending Taco Week….