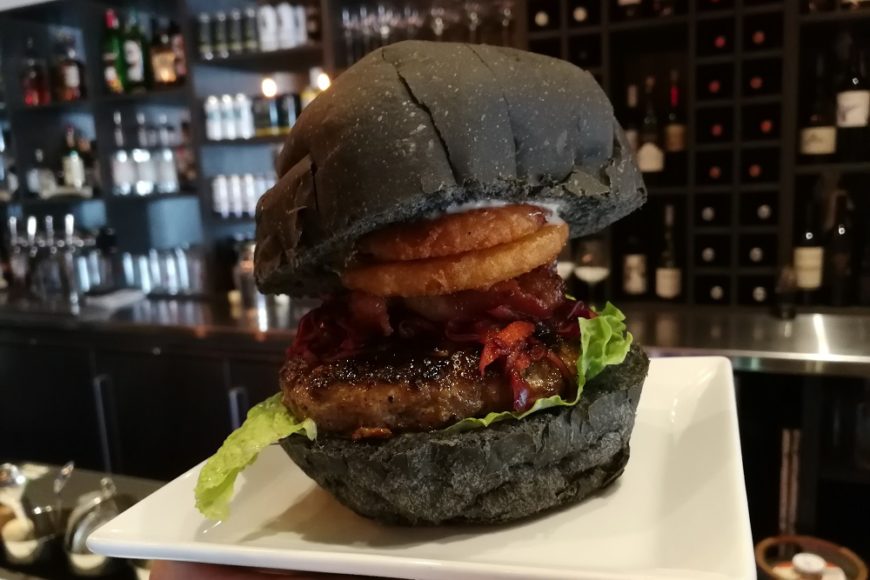 Halifax Burger Week: A History Pt. 2
We are two days into Halifax Burger Week and the city is definitely buzzing with burger hype! I've already published a History of Burger Week in which I talk about the origin of the event and address some of the controversy surrounding it. Now that I've got that off my chest, it's time to get back to the burgers!
I'm going to reflect on some of the highlights over the years, what I've learned from years of burgering, and disclose my Burger Week 2019 Hit List! I'm already 8 burgers in, and you can follow me on Twitter and Instagram to get on-the-spot reviews!
Back to 2013
21 Participating Restaurants
$10,000 Donated to FEED NS
My Status: I tried 8/21 burgers. See my Burger Week 2013 Report.
The most bumpin' spot in 2013 was definitely Ace Burger @ Gus' Pub. They were selling their Deluxe Burger for $5 and the city descended upon this legendary dive bar, sometimes waiting over an hour, sitting on the stage or in the VLT room. It was never more clear how Burger Week was bringing the community together to support local.
Burger Week Pro-Tip #1: While it can be tempting to eat as many burgers as possible, you'll enjoy Burger Week much more if you just pick a few burgers and really enjoy them. Burger crawls with 4-way splits don't really allow you to enjoy the burgers, and neither does forcing yourself to eat when you're not hungry. I promise that your satisfaction from one or two burgers will far outweigh your FOMO. 
2014
Participating Restaurants: 50
Donations to FEED NS: $20,305
2014 was the first year that The Coast selected Burger Ambassadors, and I was determined to win this role as soon as I heard about the contest. I'm not going to lie, that first ambassador contest was pretty sketchy. To enter, I had to submit a "burger selfie" and all of the selfies were on an online voting page. The problem was that the software wasn't blocking duplicate votes, so it was impossible to tell who was actually in the lead, or whether duplicate votes from the same IP addresses would eventually be skimmed off (they were, on the final night, as we all sat on the edge of our seats pressing the refresh button on our browsers!)
Shenanigans, I say!
Long story short: I won. I was given $200 cash, an ambassador sash and made an appearance on Breakfast Television with fellow ambassador, Nikki Burge.
As ambassador, I sampled 21 burgers. Two that still stand out in my mind are Cheese Curds's Triple Bacon Cheese & Mushroom Melt and 2 Doors Down's Smokehouse Slider.
2 Doors Down introduced their Smokehouse Burger (a $5 slider for Burger Week) w/ smoked gouda, bourbon barbeque sauce, crispy shallots, bacon, onion jam, chipotle aioli. This would become a regular, full-sized menu item and still on the menu today.
Ace Burger introduced their Jughead Burger to the world: a basic burger with cheddar, bacon strips, ketchup and caramelized onions. It has also been a regular menu item every since.
See my 2014 Burger Week Wrap-Up.
2015
Participating Restaurants: 59
Donations to FEED NS: : $42,347
Burger Week 2015 kicked off on a bright, sunny day, but there were still remnants of a hellish winter. Burger Questers had to scale snow banks, circumnavigate giant puddles and dodge melting icicles on their meaty pursuits.
My status: I tried 19 burgers. My top two were EnVie's Vegan Big Mac and Cheese Curds' Grilled Cheese Reuban Burger.
See my Burger Week 2015 Wrap Up.
One of the most bumpin' spots was the Fickle Frog – it was busy, hot and super smoky! The little dive bar wasn't used to pumping out that many burgers and they didn't have a proper ventilation system to handle all the smoke. The neighbouring Lord Nelson's fire alarm was triggered and the whole thing was just a shit show. The Fickle Frog was ordered to cease making burgers until upgrades were made.
This was also the year that Josh Rankin and his Burger Team tried all 59 Burger Week burgers – an epic accomplishment! He had recently started up his blog, Life of Burgers, and documented his progress as Burger Ambassador.
Josh's favourite burger of the week? The Steakhouse Slider from 2 Doors Down:
"Every now and then, a burger comes along that is so delicious that you just need to take a minute to evaluate what you just put in your mouth. This is exactly the case with The Steakhouse Slider from 2 Doors Down. The mushrooms were plentiful, and really great. The patty, as always, was cooked to perfection, and it tasted like heaven. However, my favourite part of this burger was 100% the corned beef mayo."
2016
Participating Restaurants: 79
Donations to FEED NS: $36,269
I was in Calgary and totally missed Burger Week 2016! This was the year that the cheap burgers increased to $6.
Ambassador Colin McDonald was particularly impressed with the Kangaroo Burger from The Press Gang:
"The kangaroo meat was incredibly flavourful and they mixed it with pork belly to add some fat and that make it super juicy and melt in your mouth. The combo of flavours with the topping was amazing, the crisps and onion rings with the beet confit made it stand out!"
Meanwhile, Ambassador Chelsey Mock was enamoured with the simplicity of the burger from Jenny's Pub.
Burger Week Pro-Tip #2: If you want to maximize your FEED NS donations, and money isn't an issue, make sure to hit up some of the $5 donators: The Bicycle Thief, Chives, Eliot & Vine, La Frasca, and The Old Triangle. Ask the $6 burger restaurants if they have a donation bucket – I know Krave Burger does – and toss a toonie.
2017
Participating Restaurants: 90
Donations to FEED NS: $70,655
My Status: I managed to sample 12 or so burgers, but I didn't do any burger blogging. To be honest, nothing really blew me away in 2017 but a few highlights were: The Auction House's Oats McGoats, Tempo's Pizza Corner Burger, and The Stubborn Goat's Thai Duckin Burger (which contained no duck, but was instead a unique chicken and mushroom patty with sesame-orange daikon slaw).
Ambassador Nick Greeno's top pick was the Esquire's Bedford Melt Burger with its Canadian cheddar, peameal bacon and in-house maple mayo.
"It was like they took the 'classic burger' image I have and cranked it up to 11. It was damn near perfect I think".
2018
Once again, I planned a trip to Calgary that coincided with Halifax Burger Week. What can I say – I travel in the shoulder season! As fate would have it I was in Calgary for YYC Burger Week, and while I thoroughly enjoyed my Calgary burgers, I watched on Twitter with much FOMO for Halifax Burger Week.
Ambassador Evangeline Sing's favourite burger was Vandal Doughnuts' Wake N Bacon: a coffee glazed bacon fritter with a 5oz beef patty, melted cheddar, more bacon and an espresso mayo. Halifax went crazy for Vandal Doughnuts and they are back this year with another doughnut burger.
Meanwhile, Relish's Big Wack made headlines when they got a cease and desist from McDonald's for trademark infringement. The burger is now known as the "Trademark Infringement Burger" and it's back for Burger Week 2019!
Other burgers that lit up my social media feed were:
Rinaldo's Uncle Sam Burger: house-made brisket burger, American cheese, bacon, MOZZA STICKS, lettuce, pickles, tomato, onion & pepperoncini special sauce.
Primal's Black Widow (which is making a return this week!) – one of the most Instagramable burgers with its activated charcoal bun.
King of Donair's Garlieburger – donair meat sandwiched in between garlic fingers. Not really a burger, but Haligonians go crazy over shit like this.
Burger Week Pro-Tip #3: A lot of restaurants aren't making much profit off of their burgers alone, especially if groups are coming in to split a burger 4-ways and drinking water. Consider ordering drinks or a side to help restaurants increase sales. And remember that restaurant employees are working really hard during Burger Week, so be nice and tip well!
Burger Week Hall of Fame
These burgers make their rounds every burger week and are $6 favourites every year!
Krave Burger – Bacon Jam Cheeseburger
Grass-fed beef, ground in-house, topped with real cheddar, pickles, Krave sauce and sweet and smoky bacon jam on a butter-toasted bun. 
Krave Burger makes my favourite burger in the city, and I like that they do a pretty basic burger for burger week because their beef is amazing. The beef is the emphasis of this burger, and it's accentuated by the special Burger Week ingredient: bacon jam.
Le Bistro by Liz – Crispy Haddock Burger
Fresh Nova Scotia haddock in a panko crust and topped with sharp cheddar, lettuce, tomato, red onion and house-made tartar sauce on a brioche bun.
Le Bistro has changed up their bun this year, but I'm sure it'll be just as good, or maybe even better, than years past. The house-made sauce and the fresh, crispy haddock are the real stars in this full flavoured fish sandwich.
Elle's Bistro – Jalapeno Beer Cheeseburger
Local beef marinated in Saltbox stout, topped with Propeller IPA cheese sauce, beer candied bacon, fresh jalapeno and an onion ring. 
I love this burger so much! Elle's Bistro makes beef-forward burgers in Lebanese Bakery buns, with just the right combination and proportion of ingredients. It's the perfect mix of salt, heat and sweet with a nice crunch.
Darrell's – Peanut Butter Burger
Certified Angus beef topped with cheddar, bacon, tomato, crisp lettuce, ketchup, mustard, relish, mayo and peanut butter.
Darrell's legendary peanut butter burger is a regular menu item, but only during Burger Week can you get it for $6!
Burger Week Pro-Tip #5: Choose at least one plant-based burger. We should all be making an effort to reduce our meat consumption. I realize Burger Week is the epitome of indulging on the least sustainable type of meat, but choosing one plant-based burger is at least a noble gesture. And besides, you might really like it! 
My 2019 Hit List!
Primal – Black Widow: wild boar patty, smoked bacon, onion ring, red cabbage gochujong slaw, beer-naise, "chimilanrto" – it's just so pretty, and I've got residual FOMO from last year.
AFrite – Caesar Burger: rim-salted AAA sirloin, Clamato ketchup, spicy bean relish, house-smoked bacon, asiago, vodka-pickled celery. I've been wanting to check out AFrite and this unique theme for a burger is enough to make this a must-try for me!
East of Grafton – EOG Burger: house-ground brisket, Oulton's bacon, charred scallion and dill pickle relish, cheddar cheese and fancy sauce. This sounds like a classic burger with upgraded ingredients, which I find alluring.
Brooklyn Warehouse – Brooklyn Donair Burger: house-made donair meatloaf, roasted tomato relish, raw onion, Hickory sticks, and donair sauce aioli. Okay, that's just fun!
Real Fake Meats – The Overflow: Seitan patty topped with vegan cheeze string poutine, skewered with sliced apple, pickle chip peanut butter and raisin chocolate thingy and a gummy. This one is too weird not to try!
British Bulldog – 007 Bond, Burger Bond: 7oz local ground chuck, double slices of smoked cheddar, double smoked bacon, crispy onions, sweet chili jam and deep fried brie. You had me at "deep fried brie".
Station Six – The Southern Standard: classic beef patty with BBQ brisket, with deep-fried smoked cheddar, creamy slaw and house-made pickles. And I hear they're serving it up with sweet tea – yee-haw!
Lot Six – Pepper Don't Preach: peppered beef patty with stout caramelized onion, mushroom duxelles, hot Dijon aioli, Appenzeller Swiss and fresh spinach.
Stubborn Goat – The Nutty Mushroom: plant-based walnut and mushroom patty, arugula, chickpea mayonnaise, red pepper relish, brioche bun. I love that the Goat is doing a vegan burger – a bold move and I respect that.
elements on hollis – El Trumpo's Wall: Donald's Mexican/American Burger: Mexican-spiced beef and pork patty, crispy bacon, American cheddar, Franks Red Hot pico de gallo, guacamole ranch dressing, lettuce, tomato and crispy tortilla chips. I love the theme! There are a surplus of Mexican-themed burgers on the roster this year, but this is the one grabbing my attention.
The Canteen on Portland – The Canteen Double Cheeseburger: Two all-beef patties, melted havarti, special sauce, lettuce, dill pickles, frizzled onion on a  house-made sesame bun. I've been hearing lots of good things about The Canteen's burgers, and now with Chef Renée Lavallée on this season of Top Chef Canada, all signs point to The Canteen!
Burger Week Pro-Tip #4: Make sure to check out a few restaurants you've never been to before. You just might find your new favourite spot! 
And remember, our local restaurants thrive on our patronage every day of the year – so if you like a restaurant, give them some repeat business! 
FEED NS also needs support all year long, so consider giving a personal donation. 
---
Have a Happy Halifax Burger Week, everyone! 
What are your favourite burgers? Hit me up on social media and let's talk burgers!