Halifax Burger Week 2014 Round Up!
I never thought I'd say this, but I am definitely burgered out. In one week I sampled 21 burgers! …Yes, we often split our burgers into halves, but the sum total of my personal eating still amounts to about 16 burgers (The math: half + half = 1,   2 sliders = 1,  slider + half = 1).
I miraculously, and by no means without credit to my friends, family, and TMAN comrades, won the Coast's Burger Ambassador Contest in the days leading up to Burger Week. What this got me was a week of free hamburgers (well, almost), a "Burger Ambassador" sash (epic!) and 5 minutes of fame on Global's Morning News.
I was going to extensively cover Burger Week whether or not I won, but the burger bucks certainly made my job cheaper.
Eating hamburgers everyday is surprisingly hard work, so I took days off where I would just eat fish or veggie burgers. My stomach was rumbling and bothered by day 7, but I still managed to scarf down a Rock Bottom "snow burger" during White Juannabe Wednesday. Because…. you know, closure. 
While I didn't get to try every Burger Week burger, I did get to try almost half of them. This is the part where I rank and rate them, which has proven to be exceptionally difficult. But here goes:
Top 3 Crowd Favourites:
These are the top picks based on the consensus of my food team who were with me on days 1, 4 and 6.
1st Place:  2 Doors Down – Smokehouse Slider
This burger also takes the cake for most perfectly cooked beef, with choice quality cuts being served at a pinky medium. It should also get a prize for the most flavour hidden in such a small package. Pazow! We've got bacon and onion jam, we've got smoked cheddar, we've got chipotle aioli AND chorizo BBQ sauce in a rich brioche bun. Is this overkill? Nah. It seemed to work. The condiments were a bit too sweet for me, but the praise and raving filled the restaurant and continued on down the street…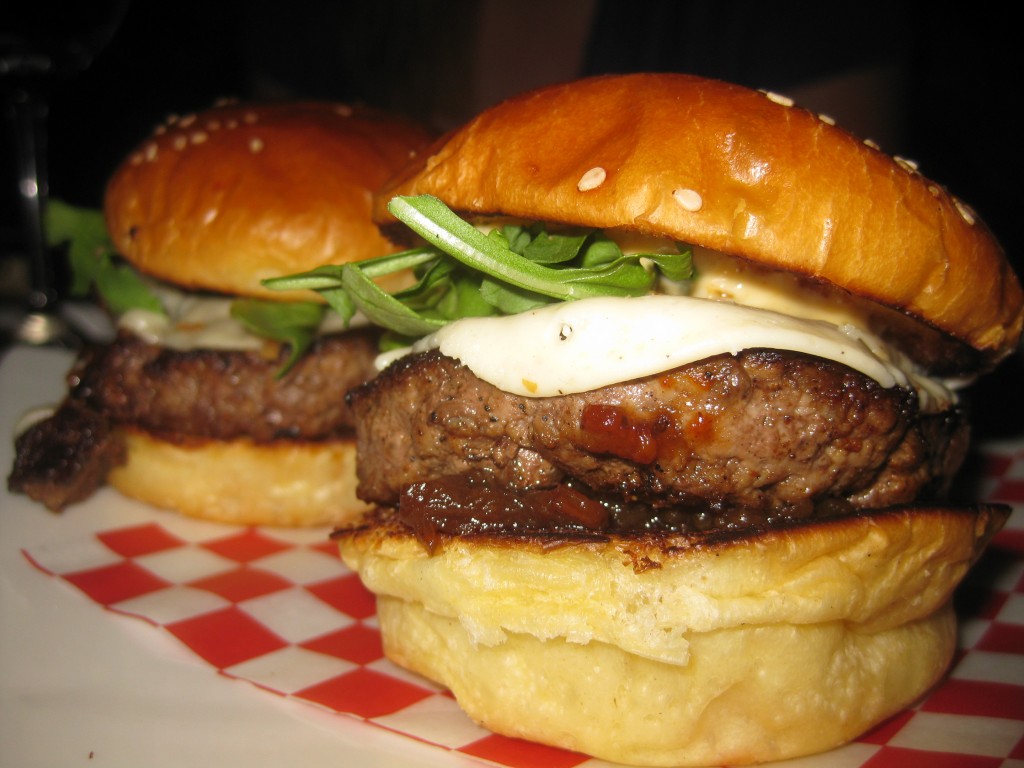 2nd Place: Canvas – Brisket Burger
This thing had big beefy goodness with black mustard, fried onions and smoked bacon.
3rd Place: Ardmore Tea Room – Benny Burger
A diner-style burger greeted by thick-cut ham and a runny egg, slathered in Hollandaise sauce and embraced by a simple sesame seed bun. This totally surpassed our expectations.
Eat This Town's Top 3:
1st Place: Ceilidh's Pub – Gourmet Nacho Burger
Unlike other nacho burgers, this one had the ingredients blended right in with the beef. The result was exceptional, and elevated by the crunchy lettuce tossed in Caesar dressing. This one is on the regular menu, so go get it!
2nd Place: Cheese Curds – Triple Cheese Bacon and Mushroom Melt
This burger was an incredible indulgence and a great way to start Burger Week. It was big, meaty, cheesy, and had a little zip from banana pepper relish and chipotle mayo.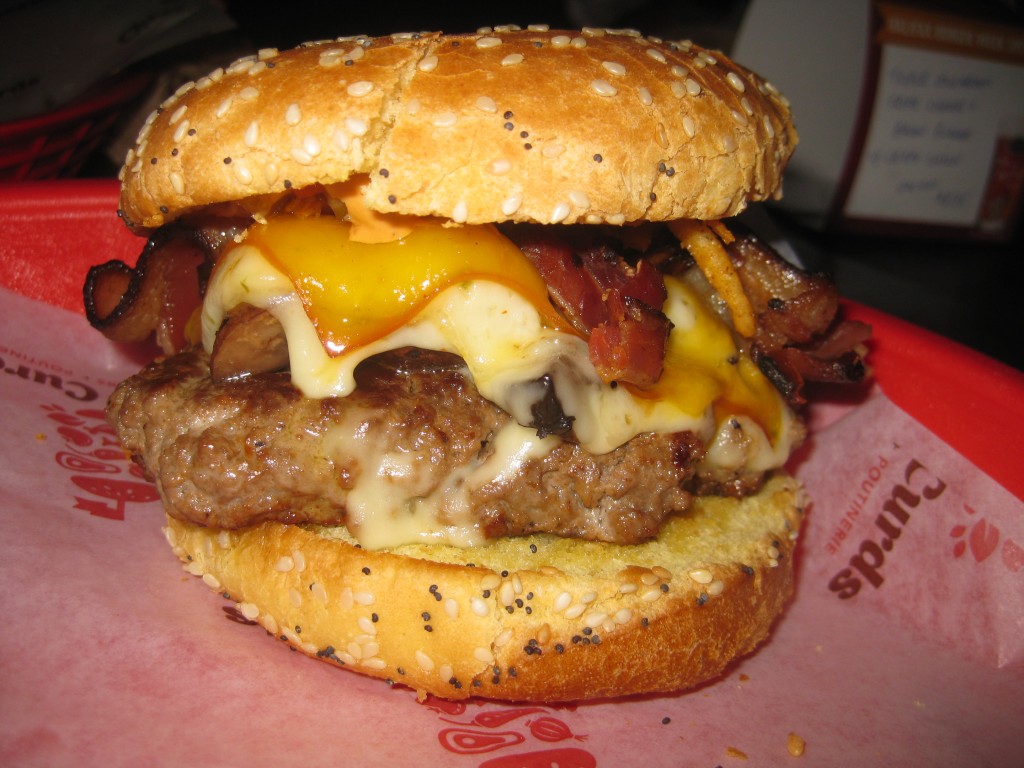 3rd Place: EnVie – Vegan ABC Burger
This was a a sticky tofu patty with apple jam, portobello bacon, and cheddar "cheese". Served with a kale Caesar salad, it was probably the healthiest burger I ate all week. It was also one of the most satisfying.
Honourable Mention: LeBistro by Liz – Haddock Burger
This panko crusted haddock burger with house-made tomato remoulade is so good, I feel compelled to give it an honourable mention. The good news is, it's on the regular menu!
Other Mentions
Burger Week Award for Big Beefy Goodness: Celtic Corner – Trio
I think you get the idea…
2nd Place: Canvas – Brisket Burger
3rd Place: Cheese Curds
Burger Week Award for Best Bun:  The Grill at CUT
This house-made bun was so good we could have just eaten it with the Korean themed condiments.
2nd Place: 2 Doors Down (brioche bun)
3rd Place: Dee Dee's (sweet potato bun)
Burger Week Award for Most Interesting Concept: Flip Burger – Mac 'n' Cheese Burger
I realize there were two mac 'n' cheese themed burgers on the roster this year, but Flip Burger really delivered with their giant slab of deep fried mac 'n' cheese.
2nd Place: Relish – Mac Attack (for the waffle fry buns!)
3rd Place: Jameson's (Irish Curry) & Auction House (Andouille) (tie)
Burger Week Award for Best Atmosphere: Jameson's Irish Pub
I had no idea this place existed, since I don't often make it out to Cole Harbour. But thanks to Burger Week, I'll be returning here for the intriguing menu, the friendly service, and the great neighbourhood atmosphere.
2nd Place: The Grill at CUT
3rd Place: Gus' Pub and Chickenburger (Tie)
Award for Most Generous Contribution to FEED NS: Cheese Curds
Award for Most Over-Used Condiment: Chipotle Mayo … not that I mind.
I am happy to report that I have only gained 0.5lbs during burger week, but I wouldn't necessarily recommend you try this at home!  Comment below and let me know- what was your favourite Burger Week Burger?