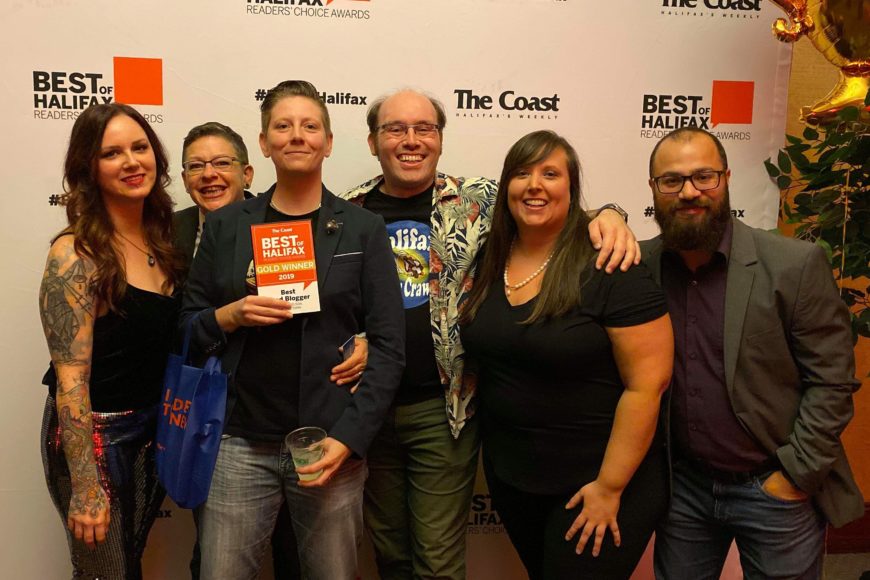 A Few of My Favourite Things (2019)
Every year I write a round-up of my best meals, but this year I've decided to make a little list of some of the best things to eat in Halifax and a few tasty things I've eaten in other locales. You'll find some old favourites, new discoveries and stuff I've been excited about in 2019!
You might notice that I'm posting less frequently, and that's because I'm working on a big project that I will reveal next year! As for 2019 – it was a big year for me: I got married! I went on an amazing honeymoon to Portugal and Spain with my Side Dish! I won Best Food Blog in The Coast's BOH for the 5th consecutive year! I made appearances on Global TV and News 95.7. I conducted a citywide Taco Quest, searched for the best Clubhouse Sandwich, did a Vegan Month, and published the long overdue History of the Donair Part 2!
Thanks to LA, The Side Dish, Denton, Cailin, Mach (pictured above) and Halifax ReTales (not pictured) for your friendship and support!
Now here are a few of my favourite things: my go-to dishes, favourite restaurants, and stuff I've been obsessed about in 2019! Please enjoy responsibly!
Salt & Pepper Squid at The Orient
From the freshest of egg rolls, to Peking Duck and Hong Kong-style lobster, The Orient is serving up the best, most elevated Cantonese food in Halifax. Chef Ivan invited me out for a multi-course dinner, and I was immediately a fan. I enjoyed the experience so much, I convinced my family to celebrate my dad's birthday here, and everyone loved it!
For the best experience, call ahead and tell Ivan how many people are in your party and what you'd like to pay per person. He'll devise a wonderful meal full of flavours and surprises – and quite possibly the best salt 'n pepper squid in town!
Tuna Nigiri at Dora-Q
Dora-Q is easily my favourite spot to eat nigiri sushi in Halifax. I love their warm, seasoned rice and I am especially excited when they get fresh, local tuna! Keep your eyes on their social media for this special dish, and splurge on otoro (tuna belly).
Jerk Chicken at Brawta
Brawta opened recently on Grafton Street (former Scanway digs) and I was immediately impressed by the lovely ladies and positive vibes as I walked in the door. I was impressed with the big portions and delicious meats – oxtail, goat curry, and my favourite: jerk chicken! They even make jerk tofu and soy patties for the veg crowd. Wash it all down with a Ting! A hearty and delicious meal.
Spaghetti Carbonera at Mappatura Bistro
Everyone should know by now that Mappatura Bistro is my favourite restaurant (I said it on TV, so it's official!). Mappatura offers a fantastic lunch deal: Minestrone Soup or Green Goddess Salad with a Spaghetti of your choice ($18). Chef Terry's carbonara is a celebrated dish, making The Coast's 2019 list of "20 Things to Eat Right Now" and MY list of things you should have already eaten! Get on it!
Ribeye Steak at Primal
This might actually be my favourite meal of the entire year! My go-to dish at Primal has always been the short rib, but The Side Dish and I decided to go splits on a rib eye steak as a whimsical treat, and the flavours were earth shattering! Primal rotates their steak offerings, but carnivorous diners should be making a visit to this resto, pronto!
Vegan Food at Real Fake Meats
I'm so impressed with Real Fake Meats, a small vegan "butcher" shop with regular and rotating menus of comfort favourites. Their breakfast sandwich made my top 3 Vegan Junk Foods earlier this year, and I was overjoyed with their Taco Week effort: Surf (battered jackfruit) and turf (seitan steak), with super fresh DIY condiments. I am so impressed with the creativity, execution, and variety here.
Daily Specials at Mashawee
Mashawee is where I go if I'm craving a home-cooked meal, and I usually just get whatever is on special that day. Pictured is Chicken Kabsa: marinated chicken leg, served with your choice of biryani or kabsa rice, plus hummus and coleslaw. I always feel so nourished after eating here (plus, the portions are HUGE so you can easily get two meals out of a $15 plate).
Perogies at Sourwood Cider
Sourwood Cider opened this year on Cornwallis Street, unbeknownst to some, obviously, if their BOH snub is any indication, but I am telling you: this place is GREAT! I've gone several times with The Side Dish until we tried everything on the menu. We couldn't stop thinking about it each time: the freshness of the slaws, the perfection of the pastas, the hospitality, the flavours…. I don't know what is going on in that kitchen, but the food is shockingly good!
Just about everything from Creamy Rainbow
I was a little wary when my beloved neighbour, Taco Del Mar, closed down and was replaced by a bakery. But as soon as I walked into Creamy Rainbow, my heart surged with the sight of so many Chinese buns! I was giddy to have access to so many fresh Chinese bakery items.
Helen Zhao completed the baking program at NSCC and then went to work for a bakery in China before opening her own business in Halifax. There is always an eclectic selection of Chinese cakes & pastries, specialty drinks, donuts, cupcakes, cream puffs, macarons, and the infamous doggy mousse cakes.
Pasta at Rinaldo's
I expected good pizza and hero sandwiches at Rinaldo's. I did not know what to expect from the pastas, but the Sausage Cavatelli Alla Vodka was a pleasant surprise, stealing the show at our table, as we desperately tried to order everything on the menu!
Chicken Karaage at Kitsune
I FINALLY made it to Kitsune, right on time, and claimed one of the 4 seats in the restaurant, front row as Ami Goto sliced fish and formed oblongs of rice with skillful hands. "I think this is the best Dragon Roll I've ever had," I think to myself, but then the chicken karaage, the pièce de résistance, arrives! You just gotta try it!
Mac 'n Cheese Sandwich at the Firkin and Flyer
I generally have low expectations for airport food, and I assure you I'm just as surprised as you are by this entry. I decided to carb load at the Firkin and Flyer before a red eye flight to London, and hot damn! You can chuck the fries, but that toasted buttery bread filled with delightfully cheesy pasta was just the ticket!
This slice of margherita pizza from Yeah Yeah's
This was mind-blowingly good! Closest thing to a New York slice. Locations in downtown Halifax (Barrington Street) and Dartmouth (Ochterloney Street)!
Tuna Tartare from Bar Kismet
The signature dish at Bar Kismet has become a citywide favourite, and if you haven't had it yet the FOMO must be critical by now! It's dazzling just to look at. Once you take it all in, it's time to mix it all up, sacrificing beauty for flavour. Paired with slightly crispy, slightly soft "allumette fries" (which is really just a fancy way of saying French fries) you get a nice, quite possibly addictive, interplay of flavours and textures.
Dumplings at El Chino Snack Bar
Last year I declared that El Chino makes the Best Nachos in Halifax, but I generally won't waste an opportunity to talk about the dumplings. Pro-tip: on Wednesdays you can get dumplings and a pint of beer for $16.
Getting caffeinated at Coffeeology
Coffeeology is another new neighbour of mine, and I was immediately impressed with the coffee-forward, minimalist approach that owner and sole barista, Kay Kim, has implemented. He trained in Seoul, which is known for its coffee culture, and Kay is a strong believer in pour-over coffee and Laughing Whale beans. The guy knows his coffee, and makes it with care. He also does a few unusual drinks, like turmeric lattes and a drink he calls "Sprola" (espresso & cola).
PB&J Burger at Rock Bottom
Rock Bottom makes some of the best burgers in the city. Their patties are made with a house-ground mixture of brisket, inside round, and suet.
Forget about that peanut butter burger down the street. Rock Bottom's version is made with a peanut butter cream cheese and it's everything. They briefly had a glorious PB & J option, which added bacon jam to the mix. Damnnn! Now they have two separate burgers: Bacon Jam and Peanut Butter, and I'm ready to start a petition for reunification…
But why can't I stop thinking about Xtreme's Onion Ring Burger?
When The Coast listed Xtreme Pizza's Onion Ring Burger as one of their "20 things to eat right now", I didn't believe the hype. I still don't believe it. It's just a basic cheeseburger with onion rings on it (I think?) that magically shows up at my door sometimes. So why can't I stop thinking about it….?
Verano's Taco Week Taco
I'm so excited about Verano. They just seem to put that extra effort into their lunch crowd-focused menu, with really fresh ingredients lovingly composed into sandwich and soup fare. But my real excitement is about their Latin American lunch specials, and their quasi-secret menu tacos, which are always available but not always broadcasted. Whatever. Verano was basically the unofficial winner of my Taco Quest, and the roast pork loin taco with mole sauce they did for Taco Week was simply the tops.
Our wedding cake from 24 Carrots Bakery!
A friend of ours is a baker at 24 Carrots, so it was a natural choice to reach out to them for our wedding cake. Now I'm obsessed with their buttercream icing cupcakes. (Help!)
Homemade Noodles at Beaver Sailor
I showcased Beaver Sailor last year on my East of East Dining Series, and I'm still in love. Beautifully cooked, homemade noodles with lots of umami flavour.
The most offal dinner at Rumblefish
Rumblefish may be no more, but I'll never forget this fun and daring feast. Clockwise from top left: headcheese, blood ravioli, sweetbreads & fennel salad, chocolate liver pate. I want to see more offal in 2020 please!
The desserts at The Trainstation Inn
The Side Dish and I went on a trip to Tatamagouche last summer for a beach day and a quiet night at the Train Station Inn. We hung out in the Governor's Carriage, playing backgammon and drinking local wine. I love the desserts at the inn, which always feature seasonal foraged fruit!
Left: blueberry pie, Right: carrot cake cheesecake.
Steak Dinner at Mother Webb's
Man, I expected Mother Webb's to be pretty friggin' basic country food, but I hadn't actually been to this iconic, mid-way-to-Cape-Breton stop. I loved everything from the tavern vibe to the house special: a bone-in, NY rib steak aged 31-40 days, char-broiled on old-fashioned black iron grates and served with a baked potato and a toasted, buttered hamburger bun for $22.99 – sign me up! Fantastic.
This open-face pizza burger I had in Sydney
I was doing research for my post about Cape Breton Pizza Burgers and came to have knowledge of the open-face pizza burger at Pizza Palace in Sydney. I am better for having eaten this.
Jaco's Donair in Saint John
Who knew I would find one of the best donairs I've ever had in Saint John, New Brunswick?  Jaco's uses specially made halal donair meat from Bonte, and it's a slam dunk!
This doner kebab I had in Porto
Had my first German-style döner at Estambul Doner Kebab (next to the fancy McDonald's in Porto). A server came out and took our order and brought us giant beers, as is the custom in Portugal. Ice cold beer on the vibrant streets of Porto and this tastiest of sandwiches! Toasted pide bread with fresh veggies, yummy doner meat, garlic yogurt and chili sauce. I can see how this relative of the donair swept across Europe!
Francesinha Sandwich at Cafe Santiago
Porto's signature sandwich is the francesinha, which means "Little Frenchie", as it was a Portuguese adaptation of the croque-monsieur. It's got toasted bread with ham, roasted meat and sausages, which is all draped with cheese (and sometimes a fried egg) and ladled with a beer and tomato sauce. We thoroughly enjoyed Cafe Santiago, sitting at the counter with our Super Bocks, watching the down-to-a-science process of what appears to be the only menu item. Cafe Santiago's francesinha recently made a list of the 50 Best Sandwiches in the World!
Bifana Sandwiches
But my favourite Portuguese sandwich has to be the bifana: thinly sliced pork cutlets in a Portuguese bread roll. Just add Portuguese mustard (I have some being shipped as I write this!) and piri piri sauce.
I love the simplicity of this sandwich. The francesinha might be more dazzling, but this is the sandwich I would marry.
---
There you have it! Some of the best things to eat in Halifax, and a few highlights from my Maritime travels and honeymoon. Happy Holidays and Happy New Year!