Nova Scotia's Destination Restaurants
This post was made possible by Tourism Nova Scotia, who sponsored my road trip around Nova Scotia on my search for the best destination restaurants. All views and opinions are my own.
Nova Scotia is an amazing road trip province. Drive one hour, and you are in an entirely different landscape with a unique culture and cuisine. The Annapolis Valley is lush and fertile, bursting with vineyards, orchards, farm markets and wineries. The South Shore is dotted with colourful fishing communities and Acadian settlements, Cape Breton is known for its Celtic culture and highlands.
The Atlantic Bubble of 2020 provided an opportunity for us to explore the Maritime provinces, and to really appreciate what we have here at home. It looks like 2021 may involve more staycations and Nova Scotia road trips – but that's okay with me! Nova Scotia has so much to see and do.
Often I will pick a town I want to visit and go from there. Sometimes it's a beach or landmark I want to experience, or a swanky resort. But usually, for me, it is the alluring pull of a culinary destination.
Nova Scotia is blessed to have a whole cast of "Destination Restaurants" sprinkled around the province. These are not tourist traps you stumble into, hungry and indiscriminate, but the very reason you got in the car and hit the road. They are all unique in their own way, whether it's a spectacular view or an acclaimed chef, but they all celebrate the plentiful bounty of fresh Nova Scotian ingredients.
Sitting on a patio with a glass of wine, overlooking the ocean, you realize: this could be anywhere in the world that people pay to see.
But this is your own back yard.
Here is your 2021 culinary bucket list.
1. Founders House (Annapolis Royal)
Located on the Fort View Golf Course in Annapolis Royal, the Founders House is a New England Colonial style home built in 1874. The dining room is clean and spacious. The service is some of the best I've had anywhere. The food: remarkable and elegantly plated.
The Chef, Chris Pyne, got his start at his Dad's pub at only 14 years of age, but worked his way into award-winning restaurants in Calgary, Toronto, London, and Wales (where he helped grow the James Sommerin into a Michelin Star restaurant).
He had the opportunity to move his family to Nova Scotia (where his wife is originally from), buy a house and become head chef at an exciting new restaurant.
He loads up on fresh local ingredients at the Annapolis Royal Farmer's Market every Saturday, and changes his menu frequently, taking advantage of the peak times for all the local produce.
One of his favourite local ingredients is sea buckthorn, which is a native berry providing locally grown citrus. "I never worked with it until I moved to Nova Scotia and there's a guy at the market with pounds and pounds of it seasonally and I stock my freezer with it."
Chris also makes one of the best desserts I've ever had: Electric Blue Cheesecake. This is a play on Chef Noble's signature Stilton Cheesecake (from NOtaBLE). Chris' version has Blue Harbour's Electric Blue cheese and is topped with a local honey gel. It is garnished with pine nuts, pear and golden raisins cooked in browned butter. If you see it on the menu, it is a must-try for lovers of blue cheese, cheese cake, and cheese plates alike!
Chris, along with Laura and Gavin (owner and head bartender of the Founders House) have also just opened the Whiskey Teller Pub. They are putting Annapolis Royal on the map, and it's about time!
Founders House
3816 Nova Scotia Trunk 1, Annapolis Royal, NS
2. Juniper Food + Wine (Wolfville)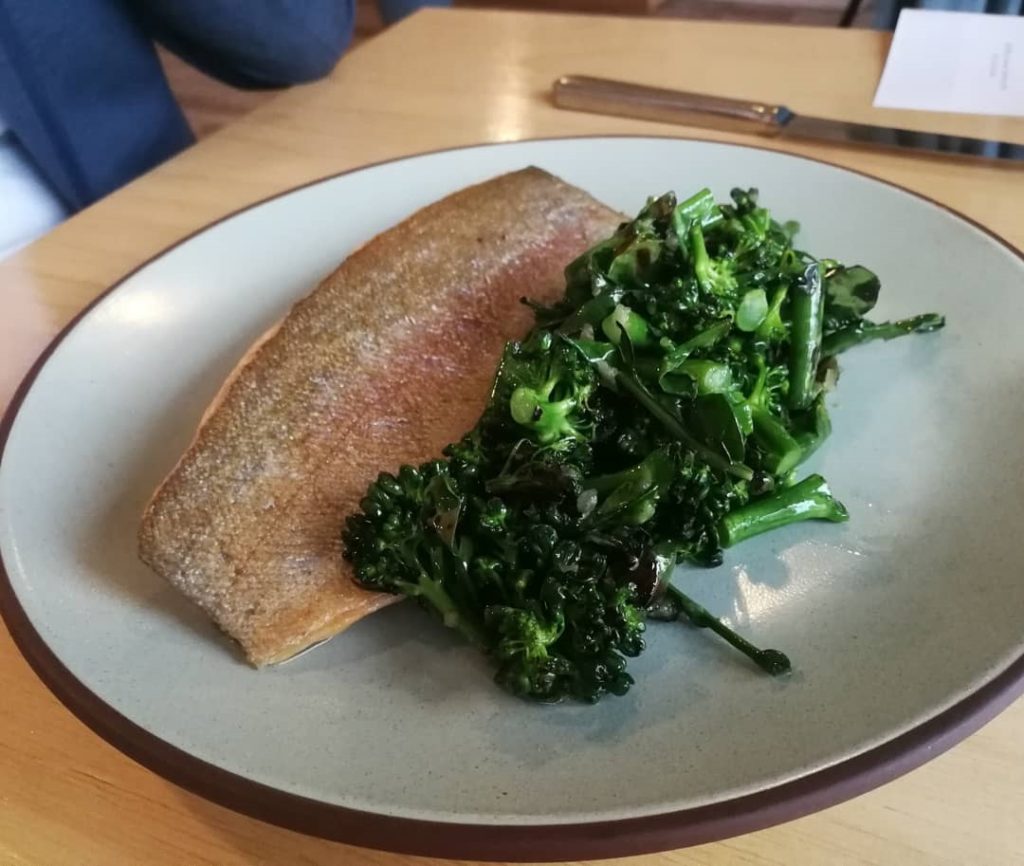 Chef Geoff Hopgood is easily one of my favourite chefs. I had the chance to visit his acclaimed Toronto restaurant, Hopgood's Foodliner, before he closed the doors in 2017. There he served inspired takes on his favourite east coast comfort foods (like his amazing gourmet donairs).
Since then, he decided to move his young family back east for a better quality of life. He ditched donairs and started up Annapolis Salt, making sea salt from the Bay of Fundy, and opened Juniper, a 16-seat restaurant and wine bar in downtown Wolfville.
Chef Hopgood offers a versatile and inspired menu using seasonal local ingredients, including what he can forage or dig out of the Bay of Fundy. This is complimented by Annapolis Valley wines and cider from the Annapolis Cider Company right across the street.
I was particularly impressed by the flavour-forward simplicity of this rainbow trout with dazzlingly delicious charred broccolini. Everything just screamed of the freshness of the Annapolis Valley.
Juniper Food + Wine
389 Main St, Wolfville, NS
3. L'Abri café, restaurant et bar (Cheticamp)
Jaron Felix, a NSCD graduate, was rubbing his hands together in entrepreneurial enthusiasm, when an opportunity came up to buy a restaurant in his hometown of Cheticamp. His friend Basil Doucet had been working as a flight attendent, and was growing tired of the long layovers at luxury destinations all over the world (hey – it's a hard life!).
Jaron and Basil watched the sun set over ocean, surrounded by the international travellers of the Cabot Trail (Basil was working at Cabot Links at the time), and thought: this could be anywhere in the world. This is a destination.
Jaron had the background in art & design, so he got to work renovating and redesigning. They didn't have a lot of money, but they had Acadian resourcefulness, and created a warm grandmotherly vibe with upcycled decorations and furniture. They wanted the restaurant to be exemplary of Acadian hospitality, but without the Acadian flags plastered everywhere.
The menu consists of elevated Acadian fare, as well as dishes inspired by Basil's world travels and kitchen collaboration. Think: steak frites, chicken fricot, Cajun fishcakes, Basque-style cheesecake.
L'Abri means "shelter" or "hideaway" and alludes to Cheticamp's famously ferocious winds. The logo is an upsidedown fishing shack, which Jaron tells me was inspired by old stories of shacks blowing over in the wind. "You can barely plant trees or flowers," says Jaron. "They break in the wind". (Just recently, a local child found a message in a bottle from 1995 that had blown from the ocean to a tree in his backyard).
But there along the windswept coast is a warm shelter where you can go and feel transported to a different place, with sophisticated fare and Acadian hospitality.
L'Abri café, restaurant et bar
15559 Cabot Trail Rd, Chéticamp, NS
4. Maritime Express Cider (Kentville)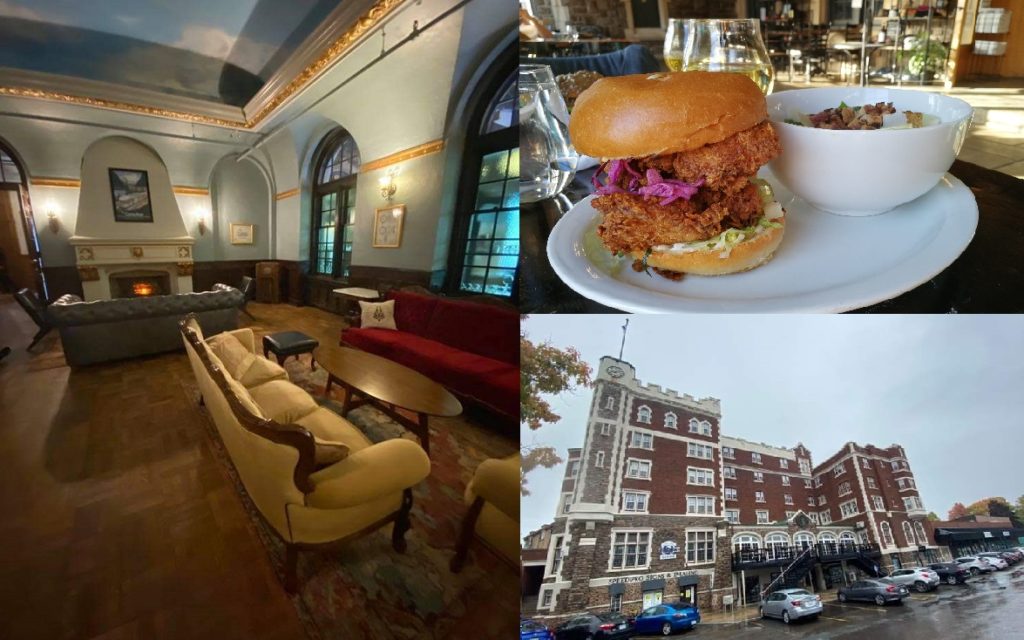 Maritime Express Cider is located in an old railway hotel, the majestic Cornwallis Inn. From 1891 to 1936, wealthy American tourists would take steamboats to Yarmouth, and ride the luxurious Flying Bluenose to Halifax. The hotel was commissioned by the Dominion Atlantic Railway in 1930 and was considered one of the most architecturally beautiful hotels in Canada.
The Maritime Express taproom opens into the old mezzanine, restored to its former glory with reclaimed original furniture, and the ballroom, which is still available for events. Many of the ciders have names like Train Hopper and Boxcar. Everything is an ode to the age of rail.
The menu is approachable, with elevated pub fare at reasonable prices. Steph Levac (who will be appearing on Top Chef Canada this spring!) is almost entirely self-taught, with a bit of restaurant experience under Chef Ray Bear at Studio East.
He moved to Nova Scotia in 2012, to lay down roots with his family, and soon found himself in the catering business. "I lived a block from Pete's Frootique (in Wolfville) so the ingredients were there. But it got expensive trying to teach myself every single day," he says. He got into foraging, learned about local producers, and networked with local chefs.
Eventually Steph decided to start a bagel business at the Wolfville Farmer's Market. Tantalizing salmon lox bagels started showing up on my Instagram feed and that's when I first took notice of Steph.
After a stint manning the kitchen at Just Us! Coffee Roasters, he was looking for something new and Maritime Express snatched him up. He is still making bagels (you have to try the gin & beet cured salmon!) and the fried chicken burgers and frites are quickly becoming famous.
Maritime Express Cider
325 Main St, Kentville, NS
5. Bessie North House (Canning)
Bessie North House is a 130-year-old farmhouse at the foot of the North Mountain in the Annapolis Valley. Surrounded by local farms, orchards and vineyards, they serve a hyper-local, 7-course prix fixe menu that changes weekly, based on what finds its way from farm to table.
Owners, Susan and David, are a powerhouse, passionate about all things culinary, hospitality and farming the land. You might remember David from Front & Central, (his previous restaurant, in Wolfville, NS), and Susan from Avondale Sky Winery (where she used to manage the retail operations).
David is an engineer-turned-chef, transferring his technical mind to culinary applications. He graduated from Le Cordon Bleu with flying colours, and has a bit of an avant-garde approach to classic French cuisine. Techniques and whim aside, the most important consideration at Bessie North House is that the ingredients and guests are honoured.
Susan brings hospitality excellence to the front of house, where she wants guests to feel at home. Spectacular seasonal food in a welcoming, non-pretentious space is the goal.
There is no liquor license so BYOB (one bottle of wine per person). Reservations required.
Bessie North House
23 Bessie N Rd, Canning, NS
6. La Cuisine Robicheau (Saulnierville)
La Cuisine Robicheau serves the most elevated Acadian cuisine in Southwestern Nova Scotia. Owners, Nadine & Scott, have modelled La Cuisine Robicheau after the concept of authentic Acadian cuisine developed by Paul Comeau at his Grossess-Coques restaurant, "Chez Christophe" (1997-2012). The meals are homecooked classics, but very well executed, with the freshest local seafood and culinary care.
Bring your own wine, and enjoy the scenic view of Saint Mary's Bay, or swing by for a Thursday night kitchen party (from July-October) with local musicians and Acadian cheer.
I highly recommend the fish cakes, chicken fricot with dumplings, creamed lobster on haddock, and of course, the rappie pie!
La Cuisine Robicheau
9651 Nova Scotia Trunk 1, Saulnierville, NS
7. Wild Caraway (Advocate Harbour)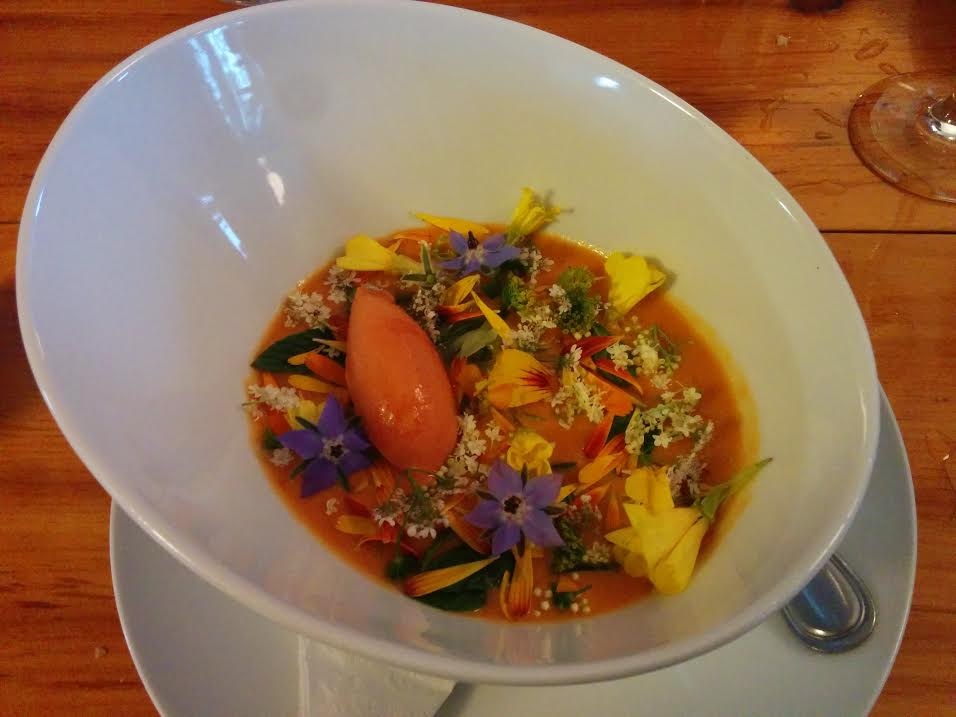 Sarah Griebel met Andrew Aitken while working and travelling in Australia, and "lured him to Canada with a doughnut on a stick". They bought a century old farmhouse in Advocate Harbour and renovated it into Wild Caraway, a restaurant and guesthouse.
Andrew had worked Melbourne's fine dining circuit for a decade, but was pleasantly surprised by the quality and freshness of the seafood and produce here in Nova Scotia, and the direct access to farmers and fishermen.
Every week Sarah and Andrew pick up $200 worth of vegetables from Broadfork Farm, and they supplement with their own garden and lots of foraging. "Our first date was me bothering Andrew to take me mushroom picking," says Sarah, who grew up on an organic farm in Alberta, milking cows, gathering Saskatoon berries, and picking mushrooms with her mom. "When Andrew finds a mushroom, it's like finding a beautiful flower."
Wild Caraway has hosted "Wild Foraging Dinners", and the foraging concept is becoming more central to the restaurant's model. They are now offering a 5-course fixed price dinner, showcasing the freshest seasonal fare. They also have a lunch and all-day take-out menu, with more traditional fare (the seafood chowder is particularly sought after).
Wild Caraway will open for the season in May, just in time for Mother's Day.
Wild Caraway
3721 NS-209, Advocate Harbour, NS
8. Captain Kat's Lobster Shack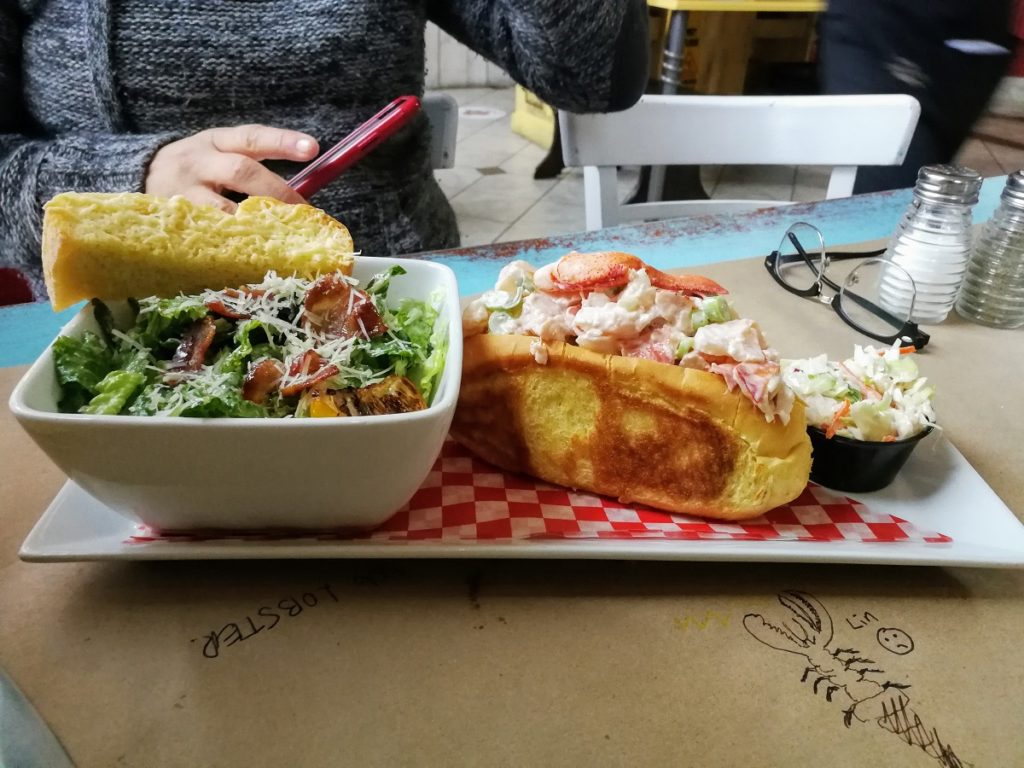 Located in the "Lobster Capital of Canada" (Barrington Passage, NS), this is the place to splurge on lobster, whether you want a traditional boiled lobster dinner or one of their signature lobster dishes. Southwestern Nova Scotia is known for its creamed lobster, and you'll find it here on bread, fries, fish cakes, burgers and even in the form of lobster fondue!
The restaurant is named after Captain Katlin Todd Nickerson, a 21 year old lobster fisherman who, along with his crew aboard the Miss Ally, tragically lost his life at sea. It is a solemn reminder of the dangerous reality behind Nova Scotia's famous lobsters and the communities that depend on them.
Katlin's mother, Della, opened Captain Kat's as "a way of finding the strength to keep going". It is now the #1 lobster destination restaurant in Nova Scotia. The dining room is unpretentious, with its paper table coverings and rural hospitality.
Captain Kat's Lobster Shack
3723 Nova Scotia Trunk 3, Barrington Passage, NS
9. Sugar Moon Farm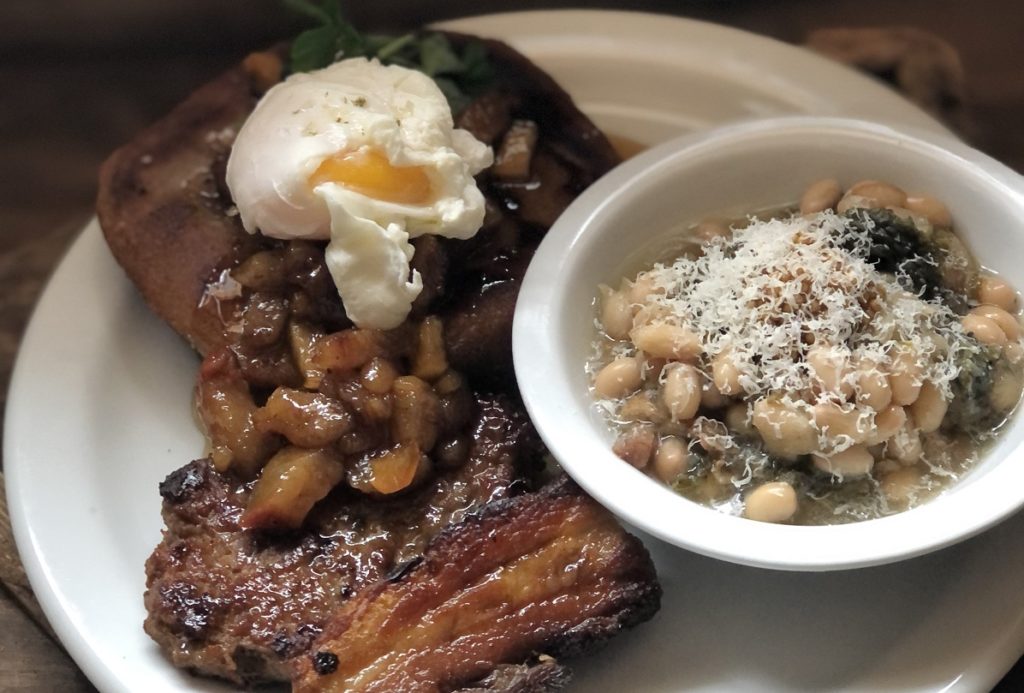 Sugar Moon Farm is a 200 acre maple syrup farm, serving up uniquely Nova Scotian sugar shack fare. They serve an elevated sugar shack brunch, and also host chefs throughout the year for special tasting dinners.
There are trails throughout the farm, for hiking and snowshoeing (Sugar Moon has rentals) so you can pick up a charcuterie plate to have on your hike, a breakfast sandwich to refuel, or an organic coffee with maple whipped cream to warm up.
Last year, Sugar Moon found a resident chef in Mike Spurell, a talent from Newfoundland, with experience at Mallard Cottage (St. John's) and Rge Road (Edmonton). He brought his expertise in preserving, fermenting, and working with meat to the restaurant. Sweet Earth Farm's berkshire pork figures prominently on the menu now, alongside Speerville Red Fife pancakes, made with fresh local eggs and buttermilk.
This is no ordinary pancake house. Sugar Moon Farm has a Slow Food mentality, transforming only the best local products into elevated fare.
Currently, due to covid-19, they are only offering take-out. But sugar season begins every March and they are now offering a "Maple Magic Package" which includes a tour, dine-in brunch, and sugar-on-snow! Also be on the lookout for chef nights in 2021!
10. Woodroad
Woodroad is a located in a timber frame house surrounded by forest and amazing ocean views. Dinner is an immersive experience, with seven course prix fixe tasting dinners prepared in an open kitchen, with each course announced by Chef Daryl MacDonnell. Each course is an experience of its own, featuring inspired plates of local, seasonal fare – from farm, sea, and forest floor. Top it all off with delectable desserts from the talented Anne Marie Woodgate, and this is a leisurely experience with lots to savour and discuss.
Located right off the Cabot Trail, Woodroad has a strategic position between Inverness (just 15 minutes from Cabot Links and Cabot Cliffs) and Cheticamp. The Western Shore of Cape Breton is transforming into a world class tourism destination, and Woodroad is the culinary star.
The action starts on May 14th.
Woodroad
2815 Shore Rd, Inverness, NS
Other destination restaurants:
Le Caveau (Grand Pré)
The winery restaurant at Domaine de Grand Pré, where Chef Jason Lynch crafts his terrior driven menus around locally sourced food. House-made charcuterie, Chef Lynch's famous chowder and, of course, the wine, are highlights. Open May 1.
11611 Nova Scotia Trunk 1, Grand Pré, NS
Wine Grunt (Windsor)
A cozy wine bar with the best selection of local wines I've seen anywhere. Live music, charcuterie, South African dishes. 3-course fixe prix menus on Thursdays ($25). Brunch on Sundays.

43 Water St, Windsor, NS
GRÁ|Earth to table dining (Kempt Head)
This is a truly authentic farm-to-table restaurant, well off the beaten path in a lived-in farmhouse. You'll be greeted by the chickens and a blazing stone oven, and you'll feel like you're visiting a friend's house for dinner. Most of the produce is grown right on the farm, and anything that Cherie can't supply herself, she sources from nearby farms and wharves. This is a big meal with lots of courses, so come hungry and prepare to spend a few hours taking it all in.
8874 Kempt Head Rd, Kempt Head, NS
The Beach Pea (Lunenburg)
I was saddened when Chef Martin Ruiz Salvador closed the highly acclaimed Fleur de Sel, but The Beach Pea is his more relaxed model, brimming with creativity and bustling warmth, alongside his other Lunenburg restaurants: Salt Shake Deli, South Shore Fish Shack, and Half Shell Oysters and Seafood.
128 Montague St, Lunenburg, NS
The Flying Apron (Summerville)
This is a restaurant, inn, cooking school, art gallery, gourmet food & gift shop and used book store. There are packages for everyone, whether you want a romantic getaway, hands-on culinary instruction, or touring and tasting the best of the region. The Flying Apron also hosts "Dining on the Ocean Floor", an incredibly unique, immersive, upscale dining experience right in the Bay of Fundy.
3 Summerville Wharf Rd, Summerville, NS
Quarterdeck Grill (Port Mouton)
Overlooking the stunning Summerville Beach, you will be hard pressed to find a restaurant with a better combination of scenery, food, and day trip potential. The Quarterdeck has been a road trip destination for 85 years, from its humble beginnings as a roadside canteen to the ultimate staycation resort. I haven't found a more perfect seafood chowder.
7499 Lighthouse Rte #3, Port Mouton, NS
Charlotte Lane Cafe (Shelburne)
The jewel of Shelburne, Charlotte Lane is inspired by Roland and Kathleen's local and culinary travels. The menu features succulent steaks, rich seafood dishes, pastas, salads and an award-winning chowder.
13 Charlotte Ln, Shelburne, NS
Train Station Inn (Tatamagouche)
In the heart of Tatamagouche you'll find a century old train station and railway cars dating from 1911 to 1978, converted into a boutique hotel. Yes, the cabooses are actually hotel rooms! The dining car is part of the experience, whether or not you stay the night, with the highlight being the delectable desserts made with foraged berries.
21 Station Road, Tatamagouche, NS
The Townhouse (Antigonish)
The Townhouse is a community-supported "local" (pub) with cocktails, craft beer, and gastropub fare.
76 College St, Antigonish, NS