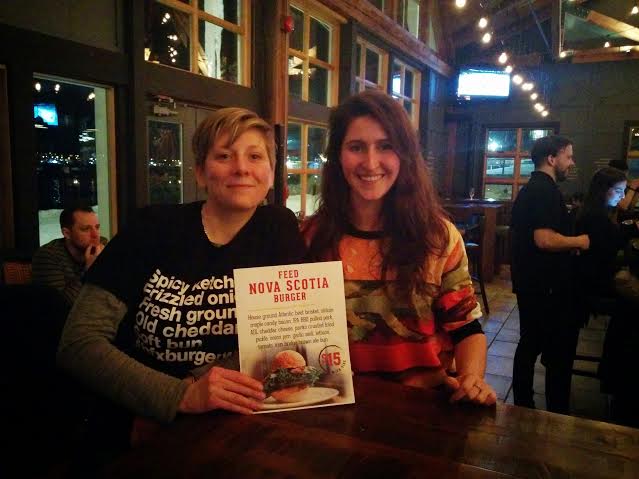 HFX Burger Week 2015: Mid-Week Report
– And An Interview with fellow Burger Ambassador of 2014: Nikki Burge!
Okay, so there are only 2 days left of burger week but that's plenty of time to eat more burgers!
As I write this, Burger Ambassador Josh Rankin, and his Life of Burgers team, have eaten their way through 43 of the 59 Burger Week Burgers! That is an amazing feat! Check out his reports on Life of Burgers, and follow him on Twitter for a play-by-play of all 59 burgers! So far he hasn't announced any official favourites, but I have heard the most noise about 2 Doors Down!
I'm only 10 burgers in, myself – but I've enjoyed them the way burgers were meant to be enjoyed: Slow, thoughtfully, with a side of beer and fries. While I do plan on tearing up the city on Wednesday to eat as many burgers as possible – there is only so much advice I can give you at this juncture.
Percentage of your dollars going to FEED NS (top contenders): 
The Old Triangle (31%)
Tempo (31%)
Lefty's (29%)
Canvas (29%)
Finbar's (29%)
Harbour City (29%)
Seasons (27%)
EnVie (25%)
*This data was scrounged from a list floating about the internet that someone compiled – I would love to give them credit, so if you know who it is let me know! 
Here is a Reddit thread of Burger Week Reviews for your perusal. Or if you'd rather I summarize it for you, I'm seeing a lot of people vouching for 2 Doors Down, Ace Burger, Krave Burger, Hali Deli, Cheese Curds, and Wooden Monkey. I also couldn't help but notice that a lot of people were really impressed with the Gahan House, so that is where I decided to meet up tonight with last year's fellow Burger Ambassador, Nikki Burge.
We converged to talk burgers and to reminisce about our time as Burger Ambassadors.
Eat-This-Town:  So… Burger Week 2014, you and I were the burger ambassadors…
Nikki: …and we've been dethroned, savagely dethroned!
Eat-This-Town: But you did put in an entry – you had the hamburger snow sculpture, right?
Nikki: Yes. It was quite the process actually. I dug in my backyard for 3 hours until I could build the shape of it and have it stay. We started stacking ice and snow up the sides and covering it with more snow.
Eat-This-Town: It sounds like a hamburger igloo!
Nikki: We almost did that, but then it rained. But yeah, I took watercolour paints and put them in a spray bottle, and my roommate sprayed around the hamburger while I took a paint palate and did outlines of everything with a paint brush that froze every two seconds. I took a picture and sent it to my mom and she called me right away and was like, "Don't you have more important things to be doing?" And I was like, "No, I don't actually".
Our burgers arrive: House-ground Atlantic beef brisket, sirloin, maple candy bacon, IPA BBQ pulled pork, ADL cheddar cheese, panko crusted fried pickle, onion jam, garlic aioli, lettuce, tomato, Iron Bridge brown ale bun – with a side. $2.50 donation to FEED NS.
Eat-This-Town: How was that burger for you?
Nikki: That burger was… I'm gonna say the perfect size as well as the perfect combination of different flavours that kept things interesting in each bite.
Eat-This-Town: Yeah like, the buns were infused with beer…. we've got deep fried pickles, candied bacon…
Nikki: (reading the description)… IPA BBQ pulled pork… cheddar cheese…. I didn't notice the cheese so much maybe because of the strong flavor of the pulled pork?
Eat-This-Town: I didn't notice the onion jam. I was really worried this burger would be too sweet, but it wasn't. It was a really nice balance of flavours and textures.
Nikki: I really liked the crunch of the deep fried pickles. The pickle had the perfect amount of salt to offset some of the sweetness.
Eat-This-Town: And the onion rings were a good side, and my beer was a good pairing too.  This I think was a pretty good burger experience.
What have you eaten for burger week so far?
Nikki: I started off by taking the kids I babysit to Relish. I was proud of the 6 year old, who finished her first burger ever and all the fries on her plate. Later that night I went to 5 Fishermen, and really enjoyed that burger. I liked the gravy on it especially. I went to The Auction House for their chorizo tandoori burger. It was really good. An interesting mix of flavours. I had a Flip Burger…
Eat-This-Town: I loved the Big Smoke.
Nikki: I was completely wasted when I ate it. It was my birthday and we spent the whole day at the Split Crow. It was like a gift on my death bed – I just inhaled it. I remember the crispy bacon and juicy burger… Today I went to Krave Burger and that one was actually really good. The bacon jam was noticeably nice.
Eat-This-Town: What I like about Krave Burger is their beef. It's not seasoned that much, but that's what I want in a burger. Just a juicy beefy delicious burger. I think they do a pretty good job at that.
Eat-This-Town: So how many burgers is that in total for you?
Nikki: I'm at 7 now.
Eat-This-Town: And I'm at 10.Every burger I've eaten in its entirety – all except one. I didn't get to do a lot of that last year. As ambassador, I was trying to eat as many burgers as possible. I'm enjoying being able to just eat a burger now.
Nikki: What was your favourite burger?
Eat-This-Town: I really like the basic burgers, Ace, Krave, Flip – those are all really good. I was quite pleased with the lamb burger at Seasons. It's a 6″ long skinny loaf on a long skinny piece of toasted focaccia and you kind of dip it in this yoghurt sauce.
Eat-This-Town: Also, the vegan Big Mac at EnVie – I expected it to be good and it was very good.
Nikki: What do you think about basic burgers for burger week versus the more drastic and interesting selections?
Eat-This-Town: Well, I think a lot of people like the novelty. I'm more of a beef person. But with that said, you gotta be attracted by novelty. Veggie burgers are especially fun because they have to be a little more inventive, I think.
Nikki: I'm interested in seeing what restaurants can do with the bun portion of the burger – like grilled cheeses, or waffles or whatever. I think that's an important part of the burger.
Eat-This-Town: So what burgers have caught your eye that you think are really neat?
Nikki: I'm definitely signed up for the Ardmore Tea Room Eggo Burger. Also, the Cheese Curds burger… that and Rogue's Roost. I'm always interested in a smoked meat sandwich type burger. I'd love to go to the Chickenburger, but I don't have a ride. I wish there was a "Burger Mobile" to help us get around.
Eat-This-Town: What's the next burger you're going to eat?
Nikki: That will likely be tomorrow at the Fickle Frog, just based on location. But I've heard good things about it.
Eat-This-Town: The Fickle Frog made me a surprisingly good burger.
Eat-This-Town: So… about that face you made on Global's morning show when I said I was "taking a break from burgers"….
Nikki: A friend just commented right away after seeing the video: "5.11 – your face", and I skipped ahead and I was like, "I did that on television?… in front of an audience?!"
Watch full video here.
Eat-This-Town: It was an awkward interview. It was very early in the morning and you had just eaten leftover burger poutine from your fridge…
Nikki: For breakfast, yeah. And that was sitting nicely in my stomach. But I didn't know where to look during the interview and I was on the far side from the interviewer, so I had this reaction that I thought was an aside, but was clearly caught on the cameras.
Eat-This-Town: Oh, it was all on camera! I saw the video and I was like, "she made a face at me!" Of course, I wasn't really taking a break from burgers – I was eating fish and veggie burgers for a day.
Nikki: Is that not taking a break?
Eat-This-Town: Actually though, the fish burger from LeBistro was really good. I've had it last year and this year. I think it's a great fish burger.
Nikki:  That one was really good, I will agree. I decided I had to try one last year after I knew you were doing it – you kind of put your toe in the water for me and I decided to follow along and actually try a fish burger. So thanks to you for opening up that world!
Eat-This-Town: So what are you going to do after burger week to burn off the extra calories?
Nikki: I'm going to England to play some top level soccer. So I'm going to figure out how burger week is going to affect my training. And I think my team finds it entertaining to see me doing wind sprints after making my way through 10-12 hamburgers.
—
That's a wrap for this Not-So-Mid-Week-Burger-Week Edition of Eat This Town! Stay tuned for my Burger Week Round Up when all is said and done. Happy Burgering!