Halifax Pizza Quest: The Battle of Quinpool Road
Greetings! I am happy to say that I have completed the first round of my Halifax Pizza Quest! … which you know nothing about because I haven't told you yet. Here's the scoop: I am dividing Halifax into "pizza neighbourhoods" and conducting a pizza quest for each area.  Ideally, this takes the form of a "pizza party" where my food team and I order a pizza from each establishment and critique them side-by-side (or in succession – whatever works).
Currently we are sticking to Halifax-based pizza shops with less than 10 locations (Alexandra's just makes the cut). There are also future plans to investigate gourmet and chain pizza in Halifax. For now, we are only examining delivery pizza.
Our Strategy:
Each party attendant is responsible for calling in an order for their appointed pizza place. All calls are placed simultaneously. Medium pizzas with pepperoni and green pepper are ordered – 'cus we're keepin' it real.
We used a 5 point scoring system for these categories: crust, sauce, cheese, toppings. There were 5 of us, making the total score out of 100. The speed of delivery is not included in the score, because logistics sometimes demands that you wait longer for a better pizza. However, we did take note of the estimated vs actual time of arrival and the temperature of the pizza upon arrival. Due to the nature of the event, this was not a blind tasting.
The points were tallied up to determine the winner. Each attendee also ranked the pizzas based on overall best impression – and this was considered as well.
Contestant #1: Freeman's
What stuck out most about this pizza was the generous, crispy, top-side pepperoni. The crust was also nice and crisp. The cheese was a little skimpy, and the sauce was 'aiight. This pizza took the highest score for crust, and second place for toppings. We were quoted a 30-35 minute wait but this pizza was the first arrival after only 20 minutes (we were literally next door). This pie was $15.99 plus tax, which came to $18.39. I have to say I was pleasantly surprised… I generally go to Freeman's for the tasty pints, not the food.
Contestant #2: King of Donair
King of Donair quoted us 35-45 minutes but arrived 10 minutes early. It was a pretty cheap pie at $13.75. It also tasted cheap. I picked up a taste/aroma of processed foods very early in my eating experience. The sauce was bland, the crust was soggy and the green peppers were sparse and careless. This pizza scored the lowest in every category, ranking it dead last. Well KOD, at least your donairs are good…
Contestant #3: Bramoso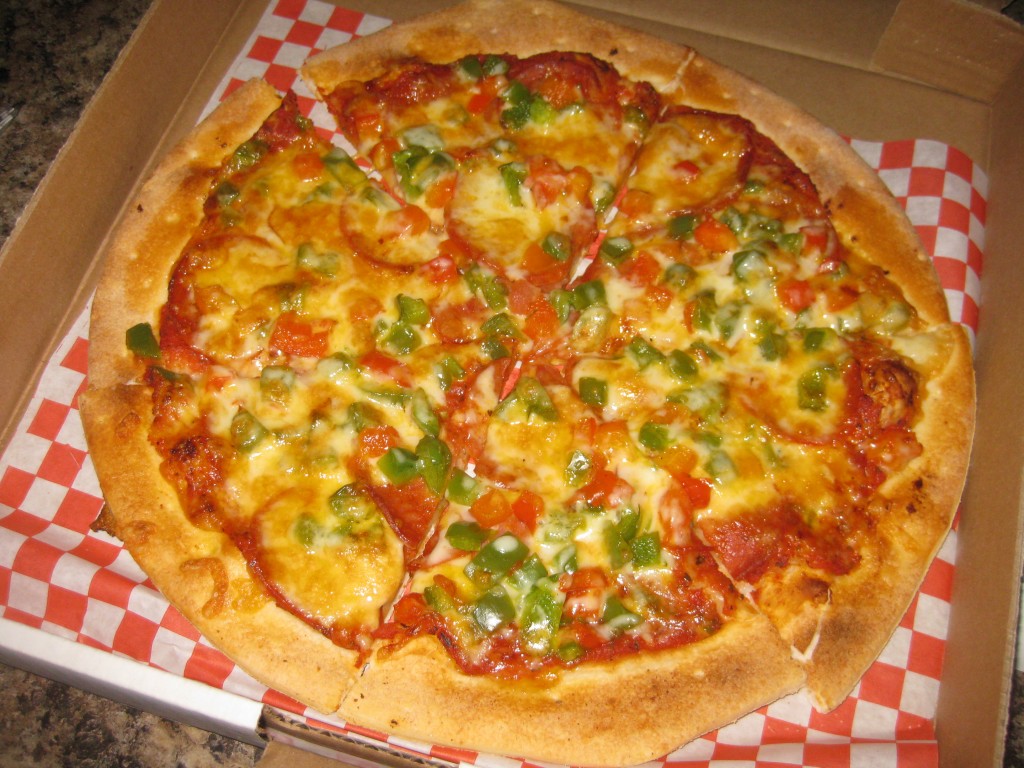 Bramoso makes a thin crust "artisan" pizza with locally sourced ingredients. Just check out all their local partners. But where Bramoso really falls short of gourmet pizza status is its "meh" crust. It doesn't begin to compete with the other thin crusts in town. What I loved about this pizza was the provolone/cheddar/mozza cheese blend – which is the standard cheese topping at Bramoso, though they have an admirable custom cheese list as well. While I loved the rich cheesy flavour, others commented that all they could taste was the cheese. Our pizza also came with a mix of green and red bell peppers, which was unexpected.
Bramoso makes a tasty pizza but it did not score as highly as I had anticipated. It was $14.94 and arrived earlier than quoted.
Contestant #4: Tony's Pizza
Due to an overpowering bias among my tasting comrades for surface pepperoni, Tony's actually beat Bramoso by 1 point for the toppings category! …which I think is incredibly inaccurate if you consider the superior quality of the toppings at Bramoso. But haters gonna hate – and pepperoni snobs gonna pepperoni-snub. That's democracy for you! But Tony's lost mega points for being skimpy on the cheese and soggy with the crust. For what it's worth, the pizza was also 2 minutes late. But at $13.35 this was the cheapest of the bunch. I think I'll stick to the donairs…
Contestant #5: Sicilian
Sicilian was the last pie to show up after 51 minutes, but they quoted us an hour or more so this was acceptable. The pizza was also piping hot! At $19.50 this was the most expensive pizza, and the only place to shamelessly charge us for delivery! Yet this was the only pizza that we all bit into and looked around at one another with "the look" – yes, this is the one. The sauce was generous and squirted out in little bursts with my little bites. I love that. The cheese was generous and tasted like quality stuff. The pepperoni was on top, and we all know that's a crowd pleaser! This pizza got the highest mark for cheese, toppings and for sauce. I was entirely shocked that I was enjoying a pizza from Sicilian so much, based on my medicore experiences at pizza corner.
Drum roll, please……..
The Rankings Based on Score:
First Place: Sicilian
Second Place: Bramoso & Freeman's (Tie)
Third Place: Tony's
Fourth Place: KOD
Rankings Based on Overall Impression:
1. Sicilian (3 votes)
2. Freeman's (2 votes)
3. Bramoso
4. Tony's
5. KOD
Sicilian Pizza is officially crowned the winner of Eat This Town's Battle of Quinpool Road!
See Also:
South End Halifax
West End Halifax
North Central
North of North
Dartmouth
Clayton Park
Fairview