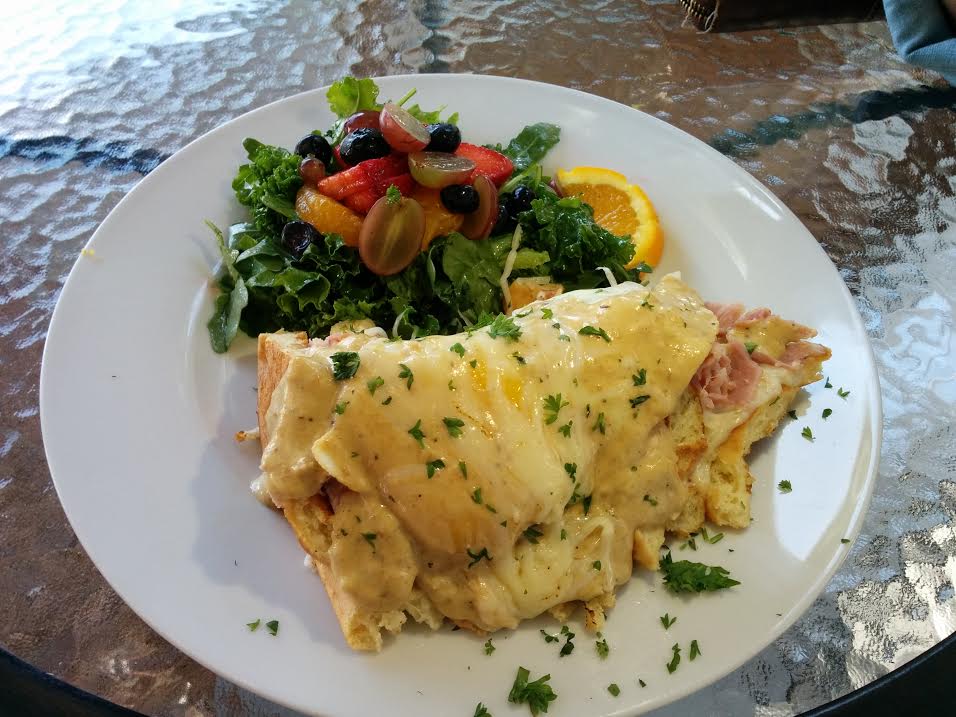 Brunch at Tess
*** Regretfully and unexpectedly, after I posted this blog Tess closed/switched ownership. Standby… ***
Tess
5687 Charles St, Halifax
This post is wayyyyyyyyy overdue! I've been so busy with Sausage Fest, BlogJam and a freelance gig that I haven't had time for my own blog.
This post goes back to a more summery time in early September when I had a good friend visiting from Victoria, BC. She had a slew of places where she wanted to eat in Halifax, and these included brunch at Tess – Halifax's #1 crepe restaurant. The last time we were here we had some great savoury crepes on the sunny patio. This time I wanted to check out the backyard terrace but unfortunately it was closed due to those nasty late-summer hornets.
My friend ordered a Smoked Salmon Benedict ($15). Tess has several varieties of "Crepe Benedict", but you can substitute the crepe for a Belgian waffle or a tea biscuit. My friend opted to do the latter.
She seemed to enjoy all of the components of this dish from the biscuits to the properly poached eggs to the Hollandaise sauce. I think this is the first time lately that I've encountered a house-made Hollandaise that elicited more of a response than, "It's okay". This Hollandaise was "quite good"! Three caper berries were served on the side, which I thought was a nice touch even if they are somewhat segregated from the benny itself (a good thing for caper-haters, I guess).
I thought for sure that I would order crepes on this occasion, but I was transfixed by the Croque Madame Waffle ($14) – which has been featured on You Gotta Eat Here!
While this looks very little like the dish served on YGEH, it was totally satisfying. Ham, fluffy waffles, melted gruyere, runny egg yolk that melded with the creamy mustard sauce – awesome sauce. I wasn't evening pining over the Hollandaise on the next plate over, like I am known to do, because this mustard sauce is the biz.
And I was SO FULL after eating this.
Thankfully, this calorie-laden food monster was served with a nice kale and fruit salad.
This balanced breakfast is exactly what I want when I am hangry for brunch: decadence, indulgence and deliciousness.