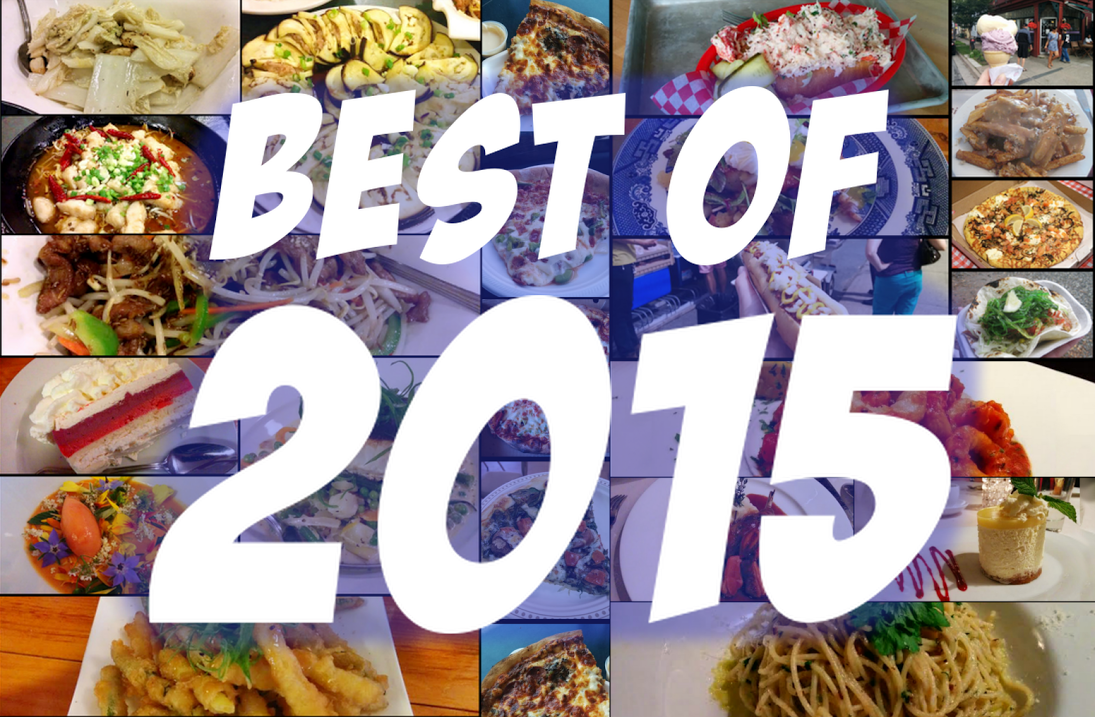 Best Meals of 2015
I mostly blog about pizza and other casual grub but once a year I like to take this opportunity to show and tell my fancier meals. I try to get out to a nice restaurant at least once a month (I think I averaged 1.6 per month this year).
I'll just talk about my best Maritime meals in this post. Rest assured, I had some great meals in Calgary and Toronto.
I will also declare my picks for pub food, brunch, pizza and Chinese food.
With so much good food in Nova Scotia it can be hard to narrow it down but here goes!
Best Meals (Overall)
1. Wild Caraway
3721 Highway 209, Advocate Harbour, NS
The family took a road trip up along northern Nova Scotia this past summer and we were fortunate enough to try Advocate Harbour's Wild Caraway. This meal was solid from the house clamato teasers to the gorgeously dressed gazpacho to the tasty dessert.
Seasonal ingredients took the stage: highlights were tempura beans and halibut with Nova Scotia hodge podge.This little rural gem is not to be missed! Make sure you have reservations.
2. Da Maurizio
1496 Lower Water St, Halifax
DaMaurizio is one of the best restaurants in Halifax, even if it falls into the tired realm of so-called "fine dining". I've never had a bad meal here, and my trip last January was no exception. The calamari is fantastic and I adored my simple pasta dish. The Spaghettini Aglio Olio e Peperoncino is spaghettini sautéed with garlic, olive oil, chilies, fresh Italian parsley and Parmigiano ($19). Perfect.
My duck entree was quite decent, and I was very much in love with the Lemon Mascarpone Cheesecake ($10).
3. 2 Doors Down
1533 Barrington St, Halifax
2 Doors Down is one of my favourite restaurants in the city, even though I had a couple of disappointments this year (I tried the mac 'n' cheese the one day it was dry?!).
But I had one meal here that was so good it redeems any other hiccups I may have encountered. The Smoked Pork Chop comes on top of a deep fried wedge of creamy mac 'n' cheese.  O.M.G. I'm glad this seems to be a regular menu item.
Best Appetizers
*These aren't ranked 'cus I don't wanna. 
Wild Caraway – Tempura Beans
3721 Highway 209, Advocate Harbour, NS
These babies put onion rings to shame; plus, they were made with fresh, local green beans. They were so good! As Wild Caraway constantly changes their menu to reflect seasonality and creativity, you aren't likely to find these. But I'm confident that you will find something equally pleasing.
Brooklyn Warehouse – Dragon's Breath Salad
2795 Windsor St, Halifax
This one's a classic and a regular menu item at Brooklyn Warehouse. It's sort of a deconstructed Caesar with local blue cheese dressing (made from That Dutchman's Dragon's Breath – *swoon*!)
Also bacon, Grana Padano, caper berries (yay!), crostini and a grilled lemon (Ooo!)
You eat this one with a fork and knife. Arguably the best salad in the city. $12
(I just realized that this also made my Best of 2013 list!)
Bicycle Thief – Stuffed Artichokes
1475 Lower Water St, Halifax
Every year my family goes to The Bicycle Thief for New Year's Eve. They put on a lovely evening, with champagne and ambiance. Yet every year I've been mildly underwhelmed by the food. This time I was surprised to see a new menu with my favourite item removed: the Panzanella salad, which I actually mentioned on my Best of 2014 list. After a few growls and whimpers I perused the appetizer menu.
Artichokes, crisp fried, fresh Ricotta, Grana Padano & Basil pesto stuffing, garlic braised Baby Spinach purée – $11
Yes, let's have some vegetables, I thought…
Wow! These were rich and creamy and perfectly satisfying. Would eat again.
Edna – Mushroom Toast
2053 Gottingen Street, Halifax
The mushroom toast at Edna  was rich, creamy, hearty – something you can't stop eating. I hope it reappears on the menu someday.
Honourable Mentions to the Calamari at Primal (same as when it was Fiasco) and DaMaurizio. Also the mussels at Agricola Street Brasserie.
Best Desserts
1. Train Station Inn – Raspberry Pie
21 Station Road, Tatamagouche, NS
The most exciting stop on our family road trip this year was the Train Station Inn in Tatamagouche! This is an actual train converted into accommodations. Check me out:
There is a dining car on the train serving okay meals, but the raspberry pie was out of this world! Fresh raspberries were handpicked that morning and made into a cool, refreshing pie by one of the owners. This was just bursting with whole, fresh raspberries!
This is only available when it is – I suspect in raspberry season.
Other cool stuff in/near Tatamagouche: Remember Adventures rents quadricycles and is right on the Trans Canada Trail (totally doing this next time), Jost Winery and, of course, Tatamagouche Brewing.
2. DaMaurizio – Lemon Mascarpone Cheesecake
1496 Lower Water St, Halifax
I used to be a cheesecake fiend, but as I got older I started to steer away from desserts. Then I got even older and my sweet tooth is starting to come back! Turns out I'm partial to lemon desserts so this dainty little cheesecake combines my past and present desires into one delicious package.
3. Bicycle Thief – Gelato
1475 Lower Water St, Halifax
I think the gelato/sorbetti at the Bicycle Thief will always be my standby on lists of good desserts. Whether you want something fruity or creamy, there is a fine selection to mix and match. May I suggest raspberry and lemon? Chocolate and peanut butter? Or my favourite: pistachio and hazelnut.
$3 per scoop
Best Pub Food
1. Tide & Boar
700 Main St, Moncton, NB
I took a little trip to Moncton early in the year and tried out the Boar Poutine at the Tide & Boar, on recommendation of a co-worker.
Boar Poutine ($16): braised boar, chicken gravy, cheese curds, house ketchup, caramelized onions, hand cut fries.
I normally shudder at the thought of ketchup on a poutine, but this was solid all around. The boar is already soaking and saucy, but you get a boat of chicken gravy to add at your will.
There was also some good beer to be had.
2. Grand Banker
82 Montague St, Lunenburg, NS
I went to report on the Grand Banker's Sausage Fest special – a local Greek's Oktoberfest Sausage with German potato salad, local sauerkraut, "Lunenburg pudding pops" and bacon maple mustard. You can read more about it here.
This was a special for Sausage Fest, but I am confident that the food at the Grand Banker is worth the trip. I was also able to try a bite of the "Lunenburger" with its local beef, smoked mozza and tarragon butter lobster … mmmmm! So good!
3. The Old Triangle
5136 Prince St, Halifax
The Pub Style Curry and Chips is a classic and one of my go-to pub dinners. It's nothing fancy, but it made for a swell St. Patrick's Day meal accompanied by haddock fish bites and the Triangle's famous sweet potato fries – shared among friends.
Chicken curry is served over fries with a pile of mushy peas ($16). It's simple, it's traditional and it's mushy. Love it.
Best Pizza
1. Piatto – Margarita Pizza
I have found this pizza to be inconsistent but when it's good it's really freakin' good! Can't beat the basics.
2. Mother's Pizza – Smoked Brisket
Some other mentions:
Bramoso – Sausage Fest Slice
Acropole (Pictou) – Combination Slice
The Wheel (Antigonish) – The Works Slice
Pizza Time (Pep, Mush, GP, On)
Best Chinese
1. Loong 7
3559 Robie St, Halifax
A co-worker (Thanks John!) introduced me to Loong 7 and ordered us a lovely authentic meal.
Pictured are: Sour Nappa Cabbage, TNT Fish in Soup (not really soup, but boiled fish in spicy broth with numbing Szechuan peppercorns!), Eggplant with Ground Meat and Cumin Lamb.
2. 9 + Nine
480 Parkland Dr, Halifax
I finally got to try this place! As per The Coast's recommendation we ordered the Golden Pocket, which had mixed reviews at our table. I thought it was neat, but it was really the Ginger Beef that amazed me. I had recently come back from Calgary (the land of ginger beef) and this stuff was almost just as good!
I have to admit I was envious of the table next to us who had grand platters of BBQ Duck and whole chickens and fishes… I look forward to exploring this place more.
3. Jacky's Cafe
5991 Spring Garden Rd, Halifax
I learned about this hidden gem from a Chinese co-worker (thanks John!) who told me they make good won ton noodle soup and Hong Kong-style Milk Tea. You can also do combination soups with pork dumplings or braised beef. This is now where I go to get my soup fix.
Brunch Results
1. Edna
2053 Gottingen Street, Halifax
Edna was our all-around best brunch experience. Read the review here.
2. The Coastal
2731 Robie St, Halifax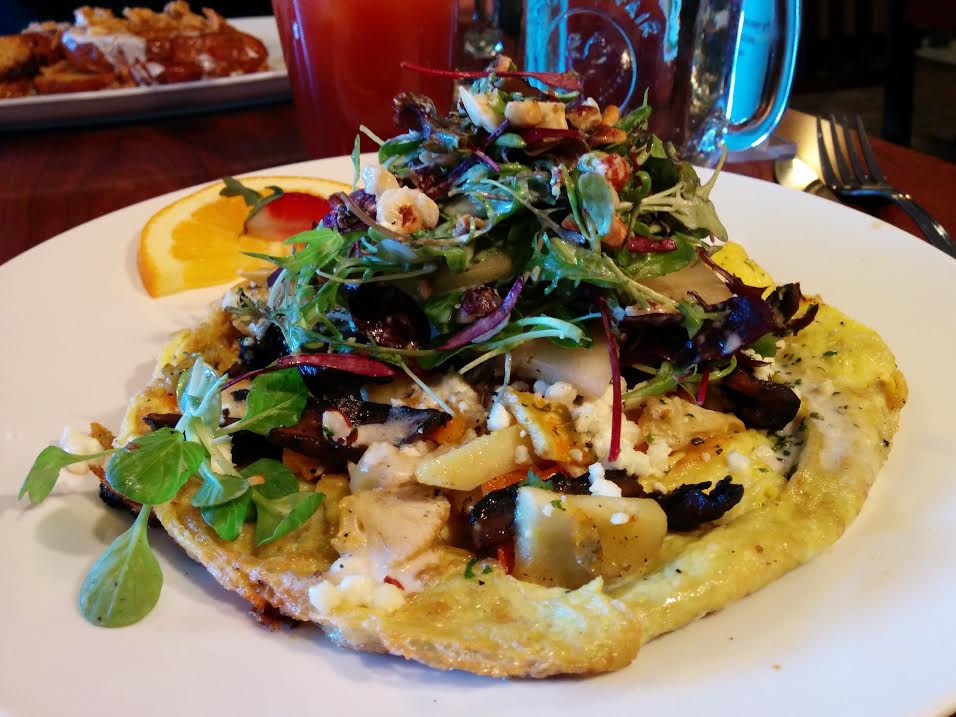 The Coastal is right up there with Edna when it comes to creative brunch fare. Check out my review here.
Honourable Mentions:
For a more relaxing brunch with no lines/waits/rush:
Bistro Le Coq
Or a damn good pub brunch at:
Tom's Little Havana or the Stubborn Goat
Best Caesars
Morris East
Stubborn Goat
Tom's Little Havana
Best Breakfast
Train Station Inn – Orange "Acadian" French Toast
Best Food That I Tried For The First Time
Steak Tartar at Bistro Le Coq
Seriously? How have I not tried this before? So good!
Runner Up: Salty Cheese at The Laundromat (Moncton) – it's like a highly addictive chewy, salty cheese string.
Runner Up: Szechuan peppercorns at Loong 7! (These actually numb your mouth but aren't spicy hot).
Wow! That's a lot of food and it's only the tip of the ice burg! I can't wait to find my best meal of 2016!
Where was your best meal of the year? Comment below!