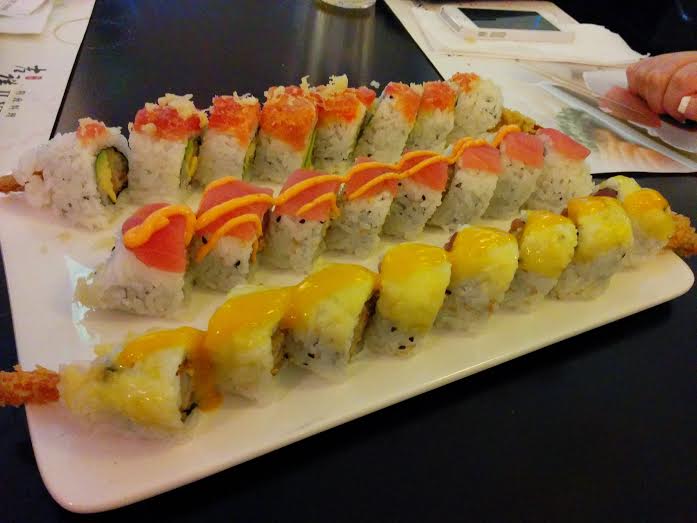 All-You-Can-Eat Sushi Quest: Ji Xiang
Dinner: $24.99 ($26.99 Fri-Sun & Holidays)
Lunch: $14.99 (add $1 Fri-Sun & Holidays)
(10% off when paying with cash)
Types of Sushi: Maki, Nigiri, Hand Rolls, Pizza
Sashimi Options: Salmon, Shrimp, Snapper, White Tuna, Crab Meat, Surf Clam, Mackerel, Egg
House Special Rolls Available: 15
Vegetarian Sushi Options: 8 rolls, 2 nigiri (+egg)
Tempura Options: Sweet Potato, Onion, Shrimp, Crab Stick, Assorted Veg (sweet potato, zucchini, squash, eggplant)
Kitchen Selections: deep fried items (incl. Chinese items like chicken balls and lemon chicken), skewers, teriyaki, udon soup, fried rice & udon
Dessert: ice cream (green tea, mango, vanilla, black sesame), deep fried banana.
Ji Xiang was originally a Chinese restaurant, and converted to an AYCE sushi spot presumably to capture some market share from this increasingly popular restaurant trend. It flipped pretty quickly, and it still looks like an old school Chinese restaurant, with all its dinginess intact.
Ji Xiang may be lacking in ambiance, but our servers were friendly enough. They didn't explain our plates to us, but when I paid at the cash register, a smiling worker was eager to answer my questions and I left with a feeling of warmth (before stumbling around the awkwardly placed fish tank that obstructs direct passage to the entrance).
As per usual, we started with an order of sashimi. The salmon was great, and I was comforted by the fact that the notorious butterfish was cut into smaller pieces. Our meal had a promising start.
The next course of nigiri was also solid, particularly the red tuna and unagi (not pictured) which arrived nice and warm. The tomago nigiri seems to be somewhat out of proportion to the quantity of rice, but it was generally enjoyable.
Denton ordered the unagi don from the appetizer menu, which arrived in the cutest little bowl. This little donburi is the perfect size for someone who wants a feed of eel all to themselves.
We ordered the Rainbow Sushi Pizza, which is cool because each mouthful contains a different kind of fish. Unfortunately, the dim lighting in the restaurant doesn't make for vibrant colours, nor was the pizza particularly flavourful.
The sweet potato tempura was cooked al dente, which is a nice way of saying it was under-cooked. The shrimp was too soft – totally lacking that shrimpy crunch I expect from a sizely piece of shrimp.
I was tickled to see lemon chicken and sweet and sour chicken balls on the menu. For fun, we ordered a couple of chicken balls – which were disappointing. However – the accompanying plum sauce appeared to be home-made, with the taste and texture of actual plums.
The chicken and beef teriyaki were both quite bland.
My personal favourite dish of the day was the chicken katsu. Yes, it may have been so thin in places that the chicken was virtually non-existent, but the batter was spiked with (I think) Chinese 5 spice, giving it a sweet spicy touch. I couldn't get enough of it.
We tried a couple of the deep fried rolls: the Halifax Roll and the Las Vegas Roll.
The Halifax Roll contained "white tuna" (escolar), "crab meat" (surimi), cucumber and tobiko. It was kind of meh.
The Las Vegas Roll contained assorted sashimi, cream cheese, avocado and "crab meat". This was the tastier option.
The Spicy Salmon Roll was a little heavy on the tempura flakes and rice, but some pieces were better than others. We noticed a faint spicy kick to the "spicy sauce" – which is actually pretty rare with so-called "spicy" rolls.
At first glance, the Avocado Salmon Roll seemed to have adequate amounts of filling…
… but as you can see, it is quite heavy on the rice.
The Maria Roll was probably our favourite roll of the day. It had tempura shrimp and avocado inside, and was topped with spicy tuna and tempura bits.
The Shogun Roll is a spicy tuna roll topped with more tuna and drizzled with chili oil. This had a nice little kick to it.
The Hawaii Roll had shrimp tempura and spicy tuna inside, and was topped with sliced mango. It was also supposed to be topped with crunchy almonds, but we could not detect any. Instead, the roll was dressed with that too-sweet mango sauce.
The best news of the day was that we were finally going to get to enjoy some black sesame ice cream! Yay!
Favourite Rolls: Golden Dragon Roll, Maria Roll, Shogun Roll (maybe?)
Other Favourites: Chicken Katsu, Plum Sauce, Salmon Sashimi, Tuna Nigiri, Unagi Don & Nigiri, Black Sesame Ice Cream!
The Good: Fast & Friendly Service (restaurant was not busy), Decent Sashimi/Nigiri
The Not-So-Good: Atmosphere/Bathrooms/FishTank, Some food was bland, Rolls were nothing special