My Top 21 Eats of 2021
I'm trying to remember the highs and lows of 2021 but it's all a blur! I think the highlights of my year were getting called back to work and finally getting to visit friends and family in Calgary. The lowest part of the year was losing my dear Grandmother 🙁
And I have just been informed that Betty White has left us. Sigh… Really? 2021 couldn't leave us without one more insult to injury?
…
I started the year by participating in Veganuary, and ended the year with an angry post about Burger Week. Here we are suddenly with my best of 2021. So here it goes, in no particular order:
1. Dear Friend Bar – Pan Con Tomate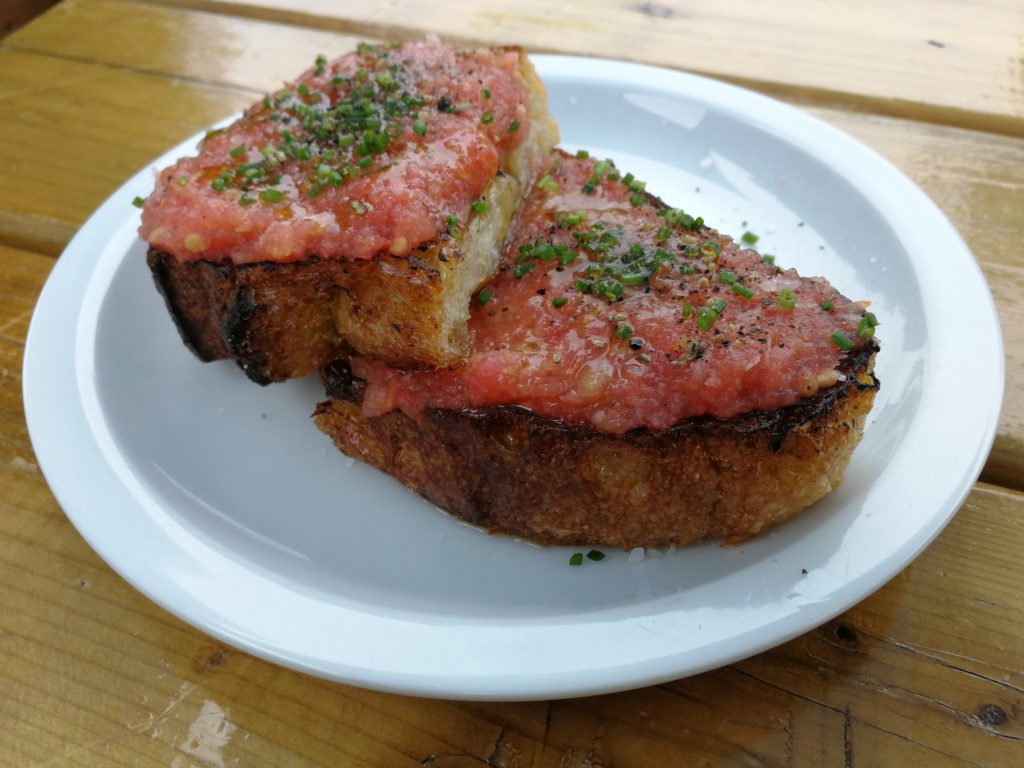 Downtown Dartmouth is blowing up, and always makes for a fun ferry ride + food tour. Dear Friend is a fabulous cocktail bar, and we were enamoured with this classic Spanish tapas. Fresh grated tomato on charred sourdough. It couldn't be any more simple, but that's what makes it perfect.
2. Hungry Bowl – Vegan Bowl
The Hungry Bowl recently opened at the Agricola roundabout, offering a variety of bowls, from smoothie bowls to keto power bowls. I've had the vegan bowl a couple of times now, which is served with a peanut butter sauce. It has black beans, a very generous serving of avocado, and the most delicious tofu on a bed of rice. A perfect work or post-workout lunch option.
3. Rudy & Olive's – Fish and Chips
I reviewed a bunch of fish and chips this year, but the best by far was Rudy & Olive's, a Newfoundland inspired newcomer to the Bedford Highway.
4. Cheeky Neighbour Diner – Chilaquiles
I haven't had any misses at the Cheeky Neighbour yet, and while the chilaquiles (breakfast nachos) are not a regular menu item, I just have to display this beautiful photo of one of my most delicious brunches to date!
5. Chanoey's – Pork Adobo Pasta
This Filipino pasta spot is inspired by Friends (the TV show: Chandler + Joey = Chanoey) and is a total gem in downtown Dartmouth. They are in the process of opening a second location on Quinpool Road (dangerously close to me!).
They do classics like spaghetti and meatballs, but I fell in love with this Pork Adobo pasta: linguine, caramelized onion, boiled egg, green onions, garlic butter, braised pork shoulder.
6. Side Hustle Snack Bar – The Smashie
This is one of the best burgers in the city and definitely the best smash-style. Soon to be moving from Portland Street (the Cole Harbourish end) to Portland Street (downtown Dartmouth), but we enjoyed it with some North Brewing beers at their original digs in the brewery.
*This is The Side Dish's #1 Pick.
7. Beverley Taco Service (Sourwood Cider) – Bean Taco
I've been a fan of Beverley Taco Service ever since they started out at the Stillwell Beergarden a few summers ago. They make the best tortillas in town, with imported heirloom corn from Oaxaca that they nixtamalize and grind themselves. They dominated my taco quest in 2019.
To my excitement, Beverley Taco Service recently took over the kitchen at Sourwood Cider too, and the tacos are even better than I remembered! While all of the tacos are good, I am particularly fond of the black beans.
8. Kam-Moon – Baladi Tray
Last January I participated in Veganuary, in which I went 30 days completely plant-based. (Spoiler alert: I'm going to do it again this year!)
The Baladi Tray at Kam-Moon (Halifax's only Egyptian restaurant) consists of ful medames (warm fava bean dip), fava bean falafel, pickled carrots, Egyptian bread and mint tea. (They were out of pickled carrots so we added some stuffed grape leaves to our order).
9. Springhouse – Chickpea Caesar Wrap
Another Veganuary favourite! I don't know how they get this so creamy, garlicky and wholesome with such tender chickpeas and such fresh, hearty greens but they do, and I still think about it all the time. I'm looking forward to trying more from Springhouse in January 2022!
Are you doing Veganuary? Springhouse has a small vegan grocery with lots of hard-to-find essentials.
10. Sapori Italian Street Food – Potato Pizza
Sapori is a fast Italian restaurant in the new Queens Marque, brought to us by the Il Trullo folks. I miss Il Trullo, and I sadly never got around to trying the pizza there. Happily, Sapori sells Roman-style pizza by the slice and it's some of the best slices you're bound to find in Halifax. I whimsically ordered the potato and it was delightful. With so many tourist traps on the waterfront, you can't go wrong with this place.
11. Rinaldo's – Detroit-style Pizza
But the best pizza I've had all year is the Detroit-style pizza from Rinaldo's. Detroit-style pizza is becoming quite popular, and admittedly this is the only one I've tried in Halifax. But I have been to Buddy's in Detroit, and I dunno… this might be better? Gasp!
12. Taco Del Jefe – Artichoke Taco
I went apple picking in the valley one fine autumn day, as one does, and made a point of trying out the new taco truck that hangs out in the Elderkins parking lot. The artichoke taco features battered artichoke in corn tortillas with cabbage slaw, pickled onions, cheese, and lime crema, and I think I could eat them every day of the year if that was an option.
They are closed for the season, but keep an eye on their Instagram.
13. Petite Patrie – Chocolate
I have recently fallen in love with the town of Kentville, but I had no idea that a boutique chocolate shop had opened this year until The Side Dish brought me back some chocolate from a work trip.
Petite Patrie specializes in bean-to-bar chocolate. Yes, they actually process cocao beans into chocolate, and they even make single origin, terroir-forward products with ethically sourced beans. I have never tasted such unique chocolate! You can read more about the amazing things they are doing here.
14. Kaiser's – Cold Cut Sub
I don't get out to Lower Sackville much, but I was glad to finally introduce The Side Dish to this vintage sandwich. Some say it's nothing special. I say there's magic in the onions…
But I'm easily impressed by cold cuts.
15. Labour Day Picnic – Pinwheel Scones
I started writing for Curated Magazine this year, and my second assignment was a piece about a South Shore "Daycation". One of my stops was Labour Day Picnic, along the Peggy's Cove loop near Tantallon. It is a restored church hall and the home of Lure Caramels. I was hard pressed to pick just a couple things from the display of pastries and sweets, but these pinwheel scones caught my eye and I have never spoken so highly of a scone!
16. Smoke Pitt BBQ – Fire Pitt Platter
Another stop on my road trip was dinner in Lunenburg at Smoke Pitt BBQ. I love BBQ that isn't overly dependent (or even touched) by sweet barbecue sauces, and this was right up my alley with lots of natural flavours from the smoke and fat. The honey butter grilled corn bread is such a nice touch!
17. Wild Leek – Vegan Donair
I'm hoping to do an exposé on vegan donairs next month, and I got a head start this month with Wild Leek's famous take. It might deviate from a traditional donair in several ways (lettuce, wrapped, uh, vegan) but the seitan is superb! It's crispy and chewy with a nice spice. This might not taste exactly like a donair, but what it is, is damn good. And I don't mean it tastes "good for a vegan wrap". I mean it's head and shoulders with anything else on this list, and I give mad props to any vegan kitchen that can accomplish that.
18. The Station Pub – Veggie Burger
The Side Dish and I have taken several trips to Annapolis Royal in recent years, discovering new favourite towns along the way. Bridgetown is a town that you might otherwise drive past or through, but we got good vibes so we returned last autumn for a fall foliage trip!
One of the main attractions in Bridgetown is The Station Pub, which is located in an old train station and operated by the folks at Lunn's Mill Brewing. The veggie burger was a sweet potato black bean patty with grilled halloumi and beet relish. Inspired and well executed, I think this is the best veggie burger I've ever had. And it was perfectly paired with some of my favourite beers in the province.
Don't sleep on this pub or this little town!
19. Chef Abod – Spinach Red Lentil Kofta Plate
I've heard much praise for Chef Abod so I figure I'll echo that sentiment now that I've had it a couple times. This was a lockdown gem for us. The food is top notch. Moreover, there is a vegan menu and a keto menu (cauliflower falafels, ya crazy ketoers!) so something for everyone.
I'm personally a sucker for red lentil kafta, and this did not disappoint.
20. Tom's Lobster Shack – Lobster Roll
I heard there was a new lobster roll shack at Peggy's Cove, but I never hold my breath for tourist-driven fare in postcard villages. Holy shit tho! The Classic Roll contains a generous amount of lobster with fresh lemon, mayonnaise, fresh herbs, celery, shallots and Tom's "secret spices" in a toasted sesame seed bun. Fancy! Purists will say it's too much, but I say it's the best lobster roll in Nova Scotia. Fight me!
21. Maritime Express Cider – Fried Chicken Sandwich
I'm sure I've mentioned at various points how much I like Kentville, and how much I like Maritime Express, and how much I like cider. Maritime Express made my Best of 2020 and here they are again!
The chicken burgers have become famous there, and for good reason! If you haven't had a chance to visit this wonderful cidery & restaurant located in a majestic old train station hotel and pretend it's the age of rail – you might want to choo-choo-choose this for your next road trip!
Bonus: My Best "Fine Dining" Meals of 2021
It's a tie between my Valentine's Day meal at Mappatura Bistro and the Dine Around Special at Gio ($50 for 3 courses was a steal!). I had a lot of misses in 2021 (sadly) but February was a good month for dining.
(I apologize for the lighting, but these meals were more about enjoying good food rather than this).
I'm counting my blessings this year, but I'm also really over 2021. What were your highlights and best meals? Let me know in the comments or hit me up on Twitter! I'm spending NYE at home sick (not covid, no matter how many times I jab my nose) so I'll be living vicariously through my various screens!
I hope for all the best for you and yours in 2022.