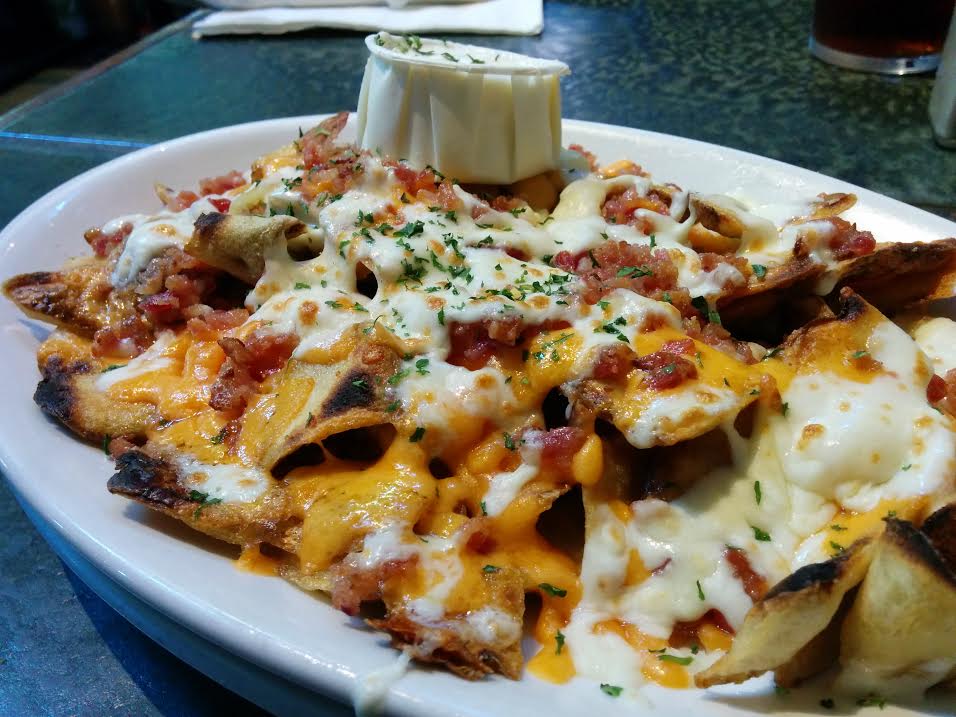 Nova Scotia Food Profiles: Potato Skins
Out in the big bad world potato skins are scooped out potato wedges or boats neatly arranged and dressed with cheese, onion and bacon. This sorta thing. They were purportedly introduced by T.G.I. Fridays in the 1970s.
But in Nova Scotia we do things a little differently…
Potato skins in Nova Scotia tend to use actual potato peelings/skins, which are spread out like nachos and smothered with cheese and bacon. You feel less like you're just eating a glamourized baked potato and more like life is awesome.
For me, good potato skins are real skins, nice and crispy with lots of melted cheddar, green onions and real bacon. A good sour cream is paramount. Some places season their skins with a spice blend, but I'm not particularly partial to this style.
I don't know why our potato skins are different from the rest of the world, but I'm glad they are. Here are a few places that are known to make some of the best potato skins in the province.
The Knot Pub
4 Dufferin St, Lunenburg, NS
I have generally been of the opinion that the Knot Pub has the best skins in Nova Scotia, although a recent sighting of bacon balls might signal a departure from the real bacon that I remember.
The Knot uses real potato peelings for their skins – so real, in fact, they often sell out! There are no green onions, but a sprinkle of parsley adds a bit of colour to the drool-worthy globs of cheddar and mozzarella.
Scott Skins at Joe's Food Emporium
434 Main Street Wolfville, NS
Scott Skins are a notorious Wolfville dish and the signature item at Joe's Food Emporium, featured front and centre on their menu.
These are not true potato skins, as they are made from slices of potato which are seasoned with herbs and spices. They can be served plain or cheesed, and with bacon bits or ground beef. Expect a cheesy, mountainous platter of joy.
You can also get 'em dressed like poutine or nachos.
Mic Mac Bar & Grill
219 Waverley Rd, Dartmouth, NS
These are widely believed to be the best potato skins in the HRM. Seasoned skins are smothered in your choice of mozza or nacho cheese blend and sprinkled with bacon bits.
I would advise against mozza-only skins because I find mozzarella to be too elastic (sucks when you pick up a skin and all of the cheese comes off the pile) and too bland. A bit of cheddar cheese adds flavour and goey factor. However, the spice blend is the real flavour-hero here, so you can get away with a more subdued cheese.
Maxwell's Plum
1600 Grafton St, Halifax, NS
Maxwell's makes the best potato skins I've had in Halifax. Nice long crispy skins are topped with real bacon, green onions and a good cheddar. Importantly, these are served with a quality sour cream.
Le Bistro by Liz
1333 South Park St, Halifax, NS
Le Bistro by Liz is also known for their potato skins, despite their casual emphasis on sorta-French fare. These would be good "date night potato skins", if you fancy such a thing, because Le Bistro has quite the romantic atmosphere.
The Loose Cannon
1566 Argyle St, Halifax
Photo courtesy of @michaeldinn
These are $6 on Thursdays and $15.50 w/ a pitcher of beer on Sundays and Tuesdays. Great deals, real bacon – what more do you want?
Other Places with Potato Skin Cred:
The Armview
Lion's Head Tavern
Your Father's Moustache
Celtic Corner
Clay West
Porter's Lake Pub & Grill
Pilot's Pub
Dave Doolittles
Where are your favourite skins?