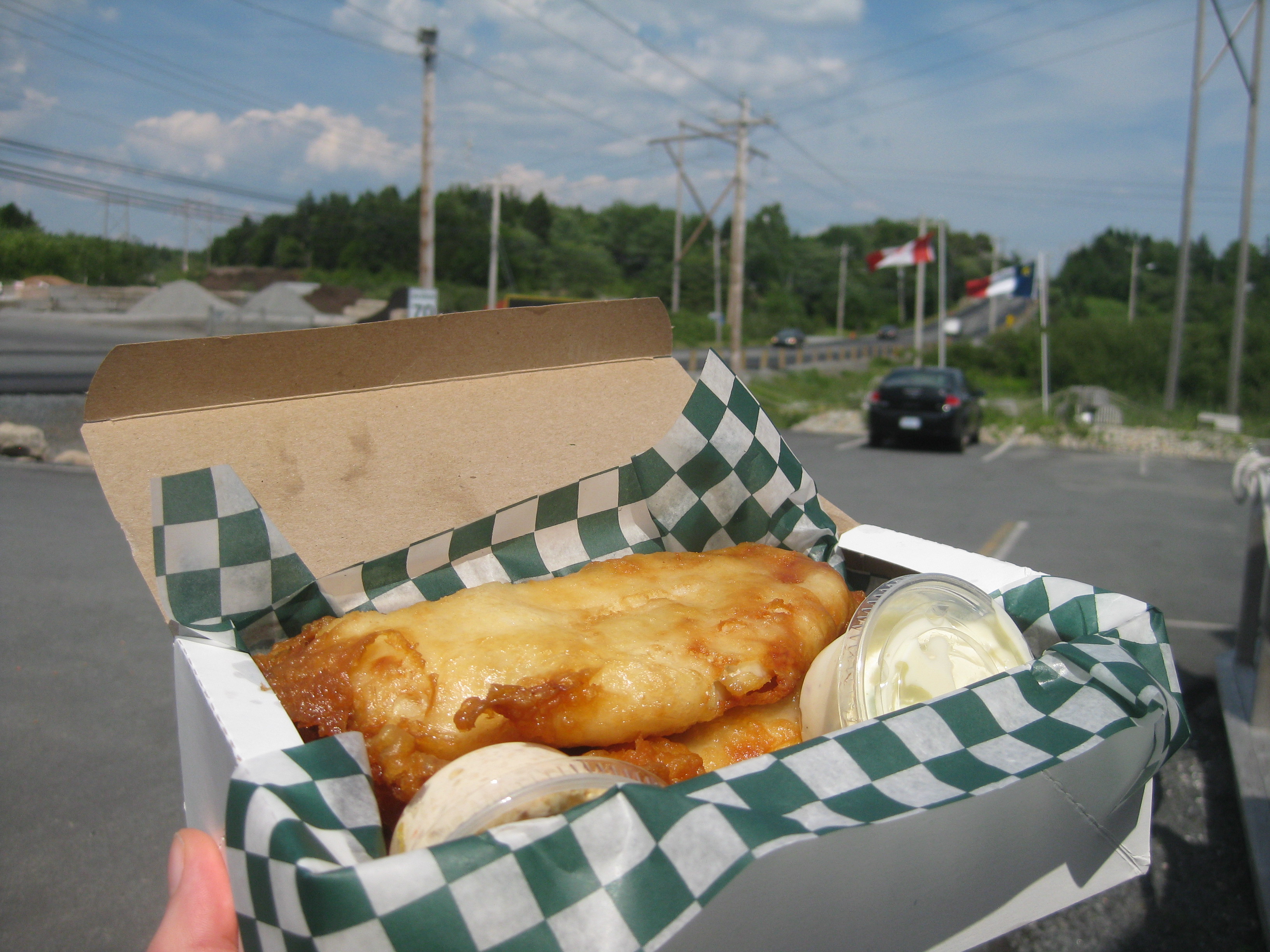 HFX Fish 'n' Chips Quest: Acadian Fish & Chips
Acadian Fish 'n chips
1990 Hammonds Plains Rd, Hammonds Plains, NS
Rating: 7/10
My Halifax Fish & Chips Quest continues, with a recent trip to Acadian Fish & Chips in Hammonds Plains. This summer I am making more of an effort to get out to those fish 'n' chips joints that require driving. Hammonds Plains is no easy trip for me, but a few weeks back I made it out there for important lobster roll research. I was quite impressed with the lobster roll, the friendly folks, and the quaint roadside location with the colourful Acadian flags and the lighthouse in the backyard. So I was eager to return in order to try the fish 'n' chips.
(Much thanks to my excellent brother for taking me places).
Here they are:
What we've got is two sizeable pieces of battered haddock, hand-cut fries and presumably home-made tartar sauce and coleslaw ($10.99). If you've been keeping up with me, you'll know that those packages of Kraft tartar sauce are the bane of my existence. This stuff was nice.
I think if you eat inside your fish 'n' chips are served on a plate, but we grabbed some seats on the small patio where take-out boxes were brought out for us. Fish 'n' chips is best enjoyed outside on a sunny day, so fish 'n' chips joints with outdoor seating have an unfair advantage in this respect. I also felt welcomed by a certain "down-home" hospitality. It was a fine way to spend the afternoon.
The fish appeared to be quite fresh and the batter was cooked to crispy perfection. When I stuck my fork in it I could see the grease rising to the surface, but otherwise the dish didn't feel too greasy. In fact, we all remarked that our bellies felt happy after the meal. They were not soaked in grease and burdened with heaviness. The cramped take-out box made it difficult to cut off a piece of fish without the batter falling off, so I eventually resorted to picking up my fish for hand-to-mouth service. As far as battered fish goes, this is some of the better stuff I've had.
The fries were good, if not under-seasoned, but you can always add your own salt. White vinegar was also provided. My method is stuffing a few fries in my mouth to join my fish and tartar sauce in one combined melody of flavours and textures. The coleslaw, which was decent but nothing too special, provided some relief from the one dimensionality of carbs and grease. It is important to me that places include coleslaw in the meal, rather than charging extra (which is another count against John's Lunch).
On this particular day, these fish 'n' chips turned out to be the perfect hangover cure, especially with a refreshing Smirnoff Ice. That's right – Acadian Fish 'n' Chips is licensed! … which gets more brownie points from Eat This Town!
Acadian Fish & Chips gets points for: 1) good portion size, 2) good batter, 3) hand-cut fries, 4) home-made tartar sauce, 5) coleslaw inclusion, 6) friendly service, 7) outdoor seating, 8) quaint roadside location, 9) lighthouse on site, 10) booze. They have pretty much nailed the fish 'n' chips experience, with only waterfront access missing from the equation.
Acadian Fish 'n' Chips is definitely a contender for best fish 'n' chips in Halifax.
Next up: Freddie's Fantastic Fish House OR Wharf Wraps… I'm not sure yet. Stay tuned!