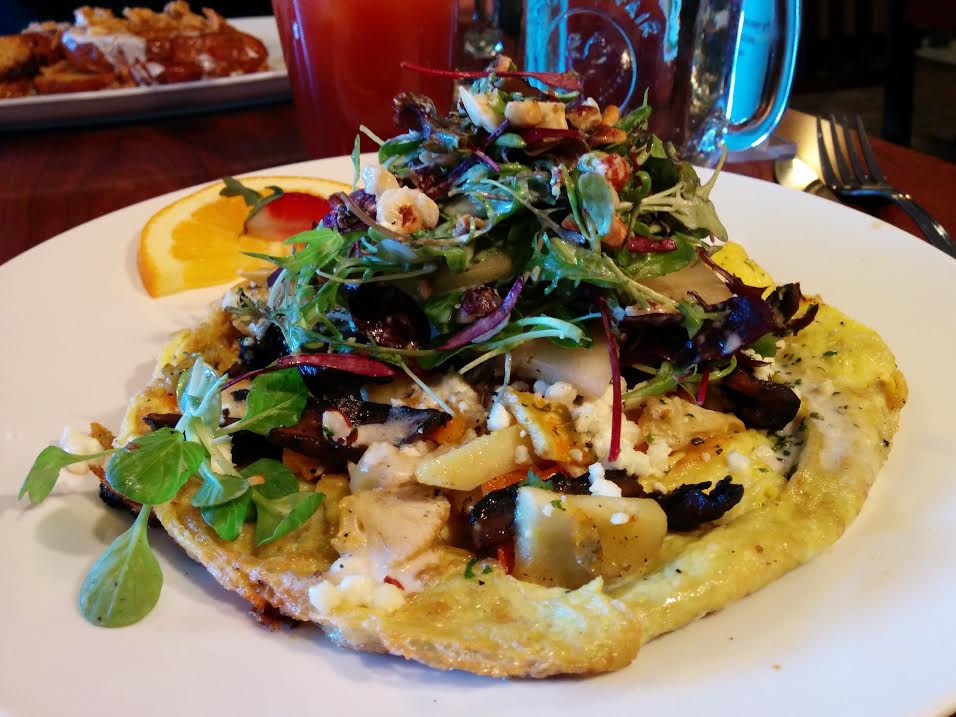 Brunch at The Coastal
The Coastal
2731 Robie St, Halifax
The first time I discussed brunch on this blog was my review of The Coastal Cafe (2012).
The Los Huevos Rancheros ($11.25) is just as iconic today as it was then, even though buffalo chicken has replaced the mole duck. This is one of my favourite brunch dishes in the city. I had it again recently without meat because I think it's weird to eat chicken in the morning in the absence of waffles.
In my original post, I struggled with the distinction between breakfast and brunch. The Coastal originally had the menu divided into two sections: "Breakfast" and "Not Breakfast" – even though the "breakfast" was a bit fancy and only available on the weekends (sounds like brunch, right?)
Now there is an additional menu: "Brunch". This is only available on the weekends whereas "Breakfast" is now only available during the week (even though most of the "breakfast" items are listed on the "brunch" menu anyway). Got it? Good.
Okay, so…
When I think of "brunch" I think of a relaxing boozy afternoon with decadent morning fare.
The problem with The Coastal is that it's not exactly relaxing.
It's one of those hyper-popular brunch spots with a big line up to the counter where you order and pay up front. It shuts down at 2pm and if you show up after 1 o'clock, like we did, you may see something like this:
It is not relaxing to stand in line wondering if your heart's desire is going to sell out. It is not relaxing to sit at a table, knowing that you ought to eat and run to keep the line moving along.
I was also surprised that I seemed to be the only one enjoying an alcoholic beverage. My Caesar was lonely among the lattes, waters and juices that surrounded us.
All of the brunch specials were sold out by the time we got to the front of the line, so we could have just enjoyed these same meals on a slower weekday… le sigh.
So why go to The Coastal? Well, the food is excellent.
My brother ordered The Perfect Date ($12.50): 2 French Toasted Brioche Sandwiches w/ Date Square Filling, Coconut Almond Crunch, Warm Spiced Honey Reduction and Vanilla Bean Yogurt.
Being the good guy that he is, he permitted me to try a bite and it was mind-blowingly good. I've never been so excited about date square filling!
I had The Walk in the Snow ($12.75): Baked Open Faced Omelette w/ Roasted Winter Vegetables and Goat Cheese, dressed w/ a Salad of Mulled Pears, Hazelnuts and Micro Greens, Maple Chevre Dressing, Brioche Croutons.
This was not my first choice but I was very happy with it! I didn't much care for the root vegetable aspect, but I was pleasantly surprised by the mixture of goat cheese, poached pears, microgreens and omg the hazelnuts! There were so many lovely flavours and textures cradled in the base egg; it was playful and it kept me interested.
I felt light and healthful after eating, yet I wasn't hungry for the rest of the day.
The coffee situation was decent. The Caesar was run-of-the-mill.
My verdict:
This is not a luxurious brunch, but creative and delicious food for very reasonable prices. Go for the amazing food. Get your boozy brunch elsewhere, rock star.