Brunch at Elle's Bistro
Elle's Bistro
1678 Barrington Street
Website 
I normally wouldn't consider Elle's Bistro to be a brunch place, as it is in many ways a classic, family-run diner catering to the downtown lunch crowd. They serve the typical milkshakes and all-day breakfast, burgers and home-cooked meals. They also serve some less-than-typical stuff, like peanut butter burgers and bacon-wrapped mac 'n cheese.
To be considered brunch, there are two basic requirements: there must be booze and there must be Hollandaise (or some other sort of chef-ish fare). Elle's Bistro serves eggs benedict, stuffed French toast, draught beer and boozy milkshakes so they qualify in my books!
LuShark and I popped in one weekend last month, and were seated in the new lounge area (formally Ideal Bikes). This is prime brunch real estate, fully equipped with a stage and a refurbished bowling alley bar. I eagerly ordered the Eggs Halifax ($13.95): A toasted tea biscuit topped with poached eggs and smothered in seafood chowder.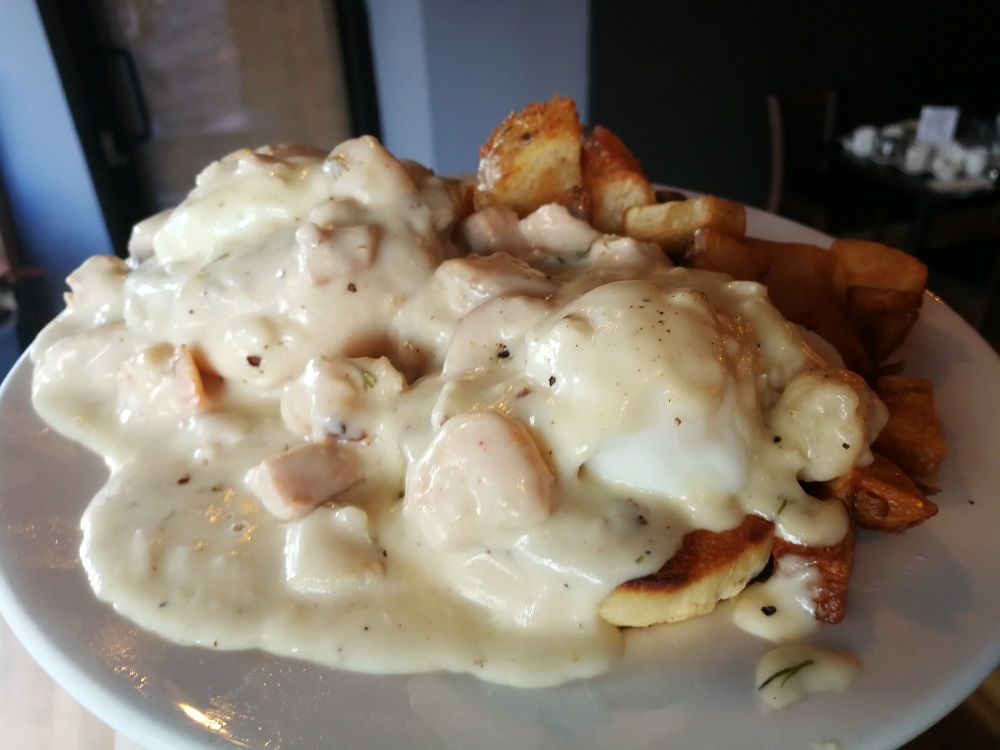 The description is an under-statement! The tea biscuit is lovingly baked in-house, and the "chowder" is more of a rich, creamy sauce with chunks of shrimp, salmon and scallop. This is a heavy breakfast, but it's oh so good! So Nova Scotian!
For all your seafood needs (advertisement)

My only complaint would be that my eggs were served medium, whereas I requested soft. This was a non-issue for me, as I don't mind medium poached eggs, but still an area with room for improvement.
LuShark, as per usual, ordered an eggs benny with ham ($9.95), or as she would call it, "eggs benny".
"ANYTHING BUT HAM AND IT'S NOT AN EGGS BENNY!"
She's a bit of a purist.
For those who relish in non-traditional bennys, or "NOT EGGS BENEDICT!" as LuShark would say, there are lots of varieties, such as Surf 'n Turf and Smoked Meat. You can also pay a buck to switch out your English muffin for a jalapeno latke.
As for LuShark, it turns out that this is the best eggs benedict she's had in Halifax! The Hollandaise and eggs were to her preference (she likes her eggs medium) and she approved of the thick-cut ham and no frills English muffin. That's how you do it.
The home fries were fresh and crispy, only needing an extra dash of salt. Props to Elle's Bistro for making their own breakfast potatoes, and extra props for making them awesome.
*Eggs Halifax is served Friday- Sunday
*The lounge is currently open on weekends (but expect extended hours in the future)